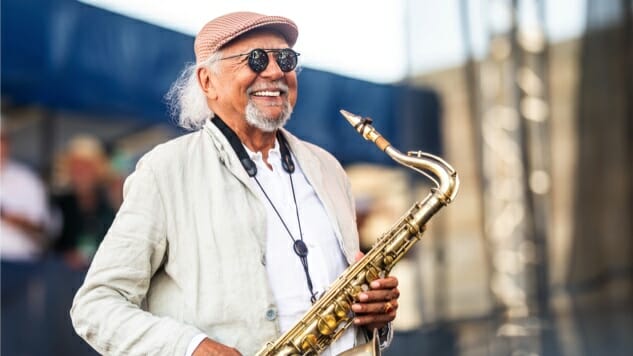 Three of the most influential percussionists of the 20th century were on hand for the Newport Jazz Festival last weekend, though only one of them was from the United States. And yet they all deserved a place at the three-day celebration of this art form invented by African-Americans a century ago. Jazz continues to attract virtuosos from around the globe—and those converts continue to inject their own culture into jazz.
Nigeria's Tony Allen, for example, changed African music forever in the mid-'60s when he teamed up with Fela Kuti to invent afrobeat. Kuti wrote the songs and sang the politically charged lyrics, but it was Allen's drumming that gave the sound its distinctive flavor. He found a way to combine the non-stop grooves of Lagos's highlife dance music with the elastic syncopation of North American jazz to create a rippling, nuanced pulse that allowed songs to go on for 10, 15 minutes without ever growing tiresome.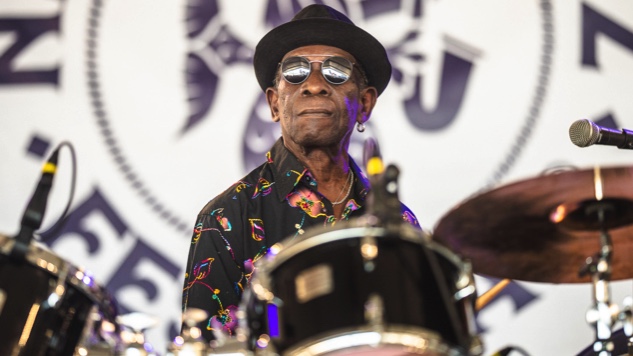 Tony Allen photo by Adam KissickAllen has spent most of his career keeping the dance music in the foreground and the jazz in the background, but in recent years he has flipped that order. At Newport, the 78-year-old percussionist led a quintet with the same instrumentation (drums, bass, piano, trumpet and saxophone) as the Jazz Messengers led by his early hero, Art Blakey. The two American horn players played short phrases that seemed to float upon the river of multiple rhythms. Now, instead of jazz transforming Nigerian music, Nigerian music was transforming jazz.
Just like Allen and Kuti, Brooklyn drummer Andrew Cyrille teamed up with pianist Cecil Taylor in the mid-'60s to fashion a musical breakthrough: an even freer form of free jazz. Taylor was pursuing a music unrestrained by chord changes or bar lengths, and he needed a percussionist who could keep the forward momentum going without those signposts. He found the perfect man for the job in Cyrille, a Haitian-American who could keep the rhythmic stream flowing no matter where the pianist directed it.
When Cyrille, also 78, performed at Newport as part of Trio 3 with the John Coltrane's bassist Reggie Workman and the World Saxophone Quartet's Oliver Lake, he wore a white baseball cap and blue-and-orange windbreaker. During Lake's "Newport Suite," a composition commissioned for this festival, Cyrille started the piece with a strolling pattern of rim shots, before erupting in surprising bursts of fury. When Cyrille took a long, unaccompanied drum solo, he again used a gradual build and ever-shifting patterns to command attention. At the end, he announced, "That was a tribute to Art Blakey."
Tabla player Zakir Hussain was already a virtuoso of India's classical music—an accompanist to Ravi Shankar and Ali Akbar Khan—when he discovered American jazz and found it added a new flexibility and vocabulary to Mumbai's ragas. Thus, it made sense that Hussain would be the South Asian drummer that England's jazz-rock guitarist John McLaughlin recruited for his Indo-jazz group, Shakti. Soon Hussain was invited into projects with such Americans as Bela Fleck and the Grateful Dead's Mickey Hart.
At Newport, Hussain reunited with the trio of Sangam, joining reed player Charles Lloyd and kit drummer Eric Harland. Sitting cross-legged on a riser beneath a nest of dark curls and behind a semi-circle of small hand drums, Hussain used his individual fingers to tap out rippling rhythms punctuated by sharp slaps. Because phrases in Indian classical music can be as short as three beats or as long as 128 beats, each musical sentence can go on at great length, but Hussain keeps each unit full of variety and momentum so a Western listener's patience is never tested.
In Sangam's Newport set, Hussain engaged his two collaborators in a give and take that reflected the collective improvisation of North American jazz. But because a lot of what Hussain was giving had its sources in India, this musical conversation had a South Asian accent. The rippling succession of Hussain's percussion notes are well matched to Lloyd's rippling runs of flute notes and thus encouraged the latter to play more flute than he usually does in a set. It's such a pretty-sounding instrument that it can easily become sentimental or even cloying. But Lloyd has a way of adding just enough tartness to his solos—often withholding expected resolutions—that he saves the instrument's loveliness from itself.
All three of these percussionists—Allen, Cyrille and Hussain—emphasize the lower pitches of the drum family. Allen and Cyrille focus on the bass drum and tom toms and play far less cymbals than their colleagues. And Hussain sticks to the lower-register tablas and foregoes India's castanets. Thus the three men avoid the high, airy splash of cymbals and other metal accessories that so often dominate jazz and concentrate of the booming bottom of the big skins. This lower range has echoes of the drum choirs of Western African villages, where the deepest roots of jazz lie.
Lloyd celebrated his 80th birthday year (the actual day was March 15) as the official artist-in-residence at the Newport Jazz Festival. He played with a different band on each of the three days: Sangam on Friday, the Charles Lloyd New Quartet (with pianist Jason Moran) on Saturday and Charles Lloyd & Friends (with singer/songwriter Lucinda Williams) on Sunday.
Besides Lloyd, the one constant in all three groups was drummer Eric Harland. The Houston musician, who joined Lloyd in 2002 at age 26, has grown up with the jazz legend, blossoming into one of the most gifted percussionists of his generation. Whether trading phrases with Hussain on Friday, with fellow Houstonite Moran on Saturday or with Dylanesque singer Williams on Sunday, Harland held his own. Williams sang two songs from her recent album with Lloyd, "Dust" and "Ventura," plus two other songs: the blues standard "Nobody's Fault but Mine" and Williams' old favorite "Joy."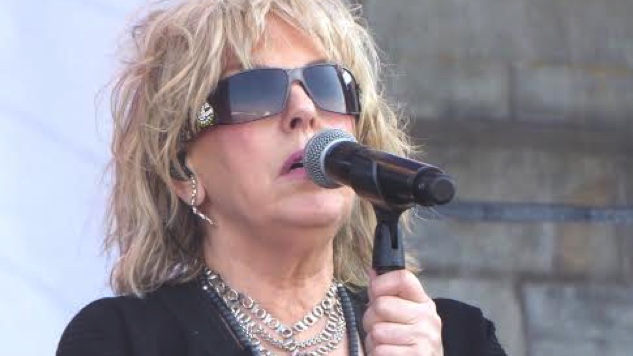 Lucinda Williams photo by Geoffrey HimesHarland was just one of several young drummers at the festival who suggested that bottom end of jazz will be in good hands in the future. Dan Weiss, for example, grew up in New Jersey, but he became a serious student of raga percussion, studying the tablas with Samir Chatterjee for 20 years. He's accomplished enough to provide the beats for the Indo-Pak Coalition, a trio featuring Indian-American saxophonist Rudresh Mahanthappa and Pakistani-Canadian guitarist Rez Abbasi.
This trio delivered one of the weekend's best sets. Working with the same rippling flow as Sangam, the Indo-Pak Coalition added a steely edginess and more exotic harmonies to the music. Mahanthappa complemented his alto sax with a tableside sampler and Abassi lent a buzzing electric-guitar tone. Holding it all together was Weiss, who sat on the stool to play his drum kit and slid down to the floor to play his tablas. He bounced up and down like a yo-yo, but the rhythm was seamless.
Another impressive young drummer was Allison Miller, who has released one of the year's best jazz albums (Science Fair, a quintet session co-led by Miller and pianist Carmen Staaf). Miller came to Newport with another project, however: Artemis, an all-female, all-star septet, featuring pianist Renee Rosnes, singer Cecile McLorin Salvant, clarinetist Anat Cohen, trumpeter Ingrid Jensen, tenor saxophonist Melissa Aldana and bassist Noriko Ueda.
Miller is a small woman, but she has a muscular sound, something that's always needed from the drummer in an under-rehearsed all-star band. Like the other drummers mentioned above, Miller tended to live down in the drum kit's sonic basement, bringing out a deep, resonant sound that kept the music grounded. She seldom repeated herself, finding ever-new ways to keep the pulse fresh.
Israeli-American Cohen is perhaps the world's best clarinetist right now, a distinction she reaffirmed during her solos with Artemis. Even more impressive was her unaccompanied duo set with Brazilian nylon-string guitarist Marcello Goncalves on Saturday. The two musicians were perched on black barstools, Goncalves facing Cohen and Cohen facing the audience. Together they wove counterpointed melodic lines through the lyrical compositions of Brazil's Moacir Santos. Originally arranged for big bands, these beguiling tunes were boiled down to their essence by the two deft musicians.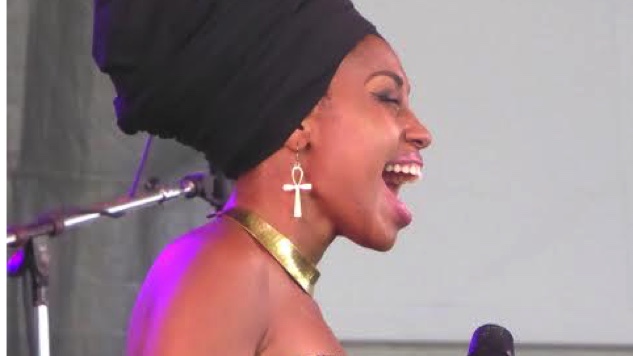 Jazzmeia Horn photo by Geoffrey HimesTwo other women made a big impact at the festival. Dallas's Jazzmeia Horn, with just one album to her credit, proved just how much she has grown since those sessions with a stunning set on Sunday. A willowy figure beneath a towering black turban, the 27-year-old Horn sang hard-swinging standards and heartbreaking ballads with an authority that belied her young age. And when she left the words behind to sing scat syllables, she proved as nimble and inventive as the trumpets she resembled.
That same afternoon, Laurie Anderson performed in a trio with Christian McBride, a jazz star so bright that he was selected as Newport's new artistic director in 2016, and the classically trained Rubin Kodheli. Anderson, Lou Reed's widow, mostly played instrumental music on an electric violin, her buzzed sawing contrasting with McBride's plucking on the upright bass and Kodheli's bowing on the cello. Anderson threw out the themes, and her two partners bent them into new shapes.
But every once in a while, Anderson would deliver one of those droll, deadpan monologues she's famous for. On one occasion, she offered a witty synopsis of the classic Greek play, Aristophanes' The Birds, describing how a Greek hustler convinced the local fowl to build a wall between heaven and earth so they could profit by collecting tolls. Anderson noted that the play has certain contemporary echoes. And as she went into her violin solo, a seagull from the nearby Narragansett Bay swooped low over the crowd and crowed its agreement.