Stranger Things Star Joe Keery Makes a Cameo in Post Animal's "Ralphie" Video
Images via Alec Basse, Polyvinyl
Music
News
Post Animal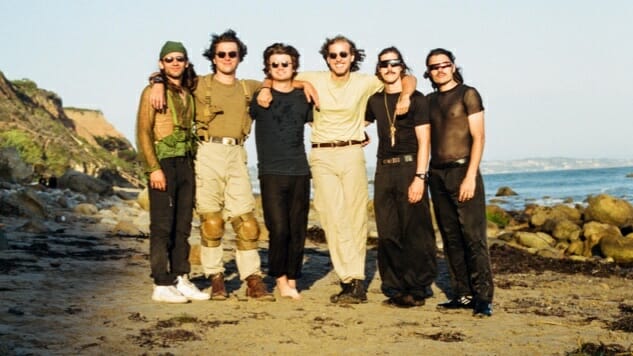 Maybe you didn't know Joe Keery, the actor best known as Stranger Things' most swoonworthy character Steve, is also a founding member of rising Chicago psych-rock band Post Animal—not only that, he also plays guitar and sings on their debut record, When I Think Of You In A Castle. Keery's been pretty busy filming the hit Netflix series and, you know, fighting demogorgons over the last few years, so he's no longer an active touring member of Post Animal right now. He did, however, reunite with the guys for their new music video for "Ralphie," a track from When I Think Of You In A Castle, which landed in April.
The clip is currently Apple Music-exclusive, so if you've got an account, dig in right here.
The video is a cheesy but humorous take on space-age treasure hunting. Some kitschy video effects (i.e. a very unrealistic explosion), kooky dance moves and a laser gun brawl culminate in the guys' finding "the oasis," where a meditative Keery is waiting for them at "The Oasis," i.e. a rock in the middle of the sea. Then there's a ring-around-the-rosies situation, followed by a group hug. It's official: DIY Chicago rock is great again.
"Oasis is anywhere you can get together with all your buds," Post Animal say of the video. "Over the last few years a lot has changed for our band and we have learned to really appreciate the time we get to spend with one another. It was great to come full circle and catch up with Joe for this video, and we had a blast doing it."
In June, Post Animal shared a creepy video for "Tire Eyes," the third single from When I Think Of You In A Castle. Prior to that, they shared the slickest, psychiest of the singles, "Gelatin Mode," which you can hear here. And last summer, we at Paste had the privilege of debuting the band's delightfully creepy "Special Moment" video, which you can revisit right here.
If you're not in the Apple Music club, you can still watch Post Animal perform "Ralphie" during their recent session in the Paste Studio below.