Róisín Murphy Tarnishes the Triumph of Hit Parade
The disco-pop singer delivers some of her most electric solo work to date, but her recent transphobic comments overshadow its greatness and contradict her celebration of individuality
Music
Reviews
Róisín Murphy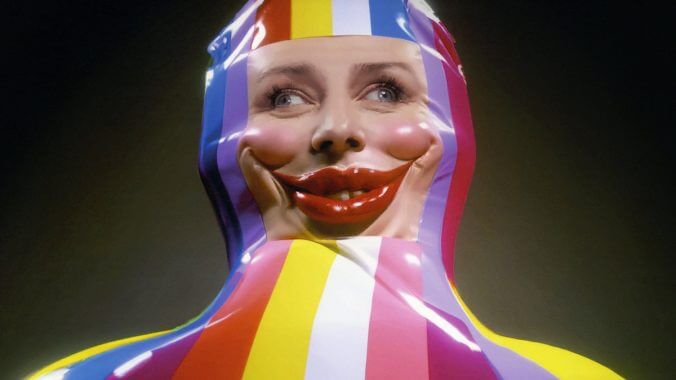 Although Róisín Murphy has been recording music since the '90s, it wasn't until 2020's Róisín Machine that the Irish singer/songwriter had her most successful commercial breakthrough as a solo artist. That record's sweet-and-sticky collection of hypnotic disco-pop and funky house jams not only catapulted her into more international renown and recognition, but it also came at a timely moment when indoor public spaces were off-limits and we were in desperate need of something to simulate being at the club again. Alongside her reigning pop queen peers Dua Lipa, Rina Sawayama, Lady Gaga, Charli XCX, Kylie Minogue and Jessie Ware, Murphy provided quarantined listeners with a blissful, escapist balm to groove to as we waited with bated breath for news of the pandemic's end. Though Róisín Machine could never fully replicate the experience of surrendering to the power of the dancefloor with a bunch of strangers, it certainly came close.
Three years later, the clubs have reopened, but the world has changed dramatically. Pop music in particular has undergone a worrisome mutation, with the algorithms of Tik Tok assuming control over the attention economy and reshaping the industry to favor bite-sized, easily digestible, nostalgia-heavy songs. Murphy's music stands out for being the opposite—long, sonorous, evocative of a time and place but never in a superficial way. While that may not earn her any new fans (and for other, more pressing reasons that are mentioned below), her rejection of traditional or trendy templates makes her position in the ever-evolving pop landscape all the more notable.
Murphy doesn't seem too concerned about where she's at either, as her sixth album Hit Parade is yet another lovely, sexy, confident record that continues what Róisín Machine started, refining and evolving Murphy's vision of what the future of pop could sound like. If Róisín Machine was an intense, humid embrace of dancing and sweating through the apocalypse, Hit Parade is a lush, sleek exploration of how to live your life in the hereafter.
Her proclivity for genre fluidity remains present on Hit Parade, but this time around, Murphy benefits from an alchemic collaboration with DJ Koze. She previously worked with the German producer on the masterful "Illumination" and "Scratch That," two songs from his 2018 classic Knock Knock—so it's no surprise that Koze's thumping, polyrhythmic beats mesh well with Murphy's eclectic, eccentric production style. Both artists share a paradoxical loose and precise touch that feels almost like watching two magicians at work, casting a spell over their audience by doing one awe-inspiring trick after the next.
That sense of sonic sorcery comes into play almost immediately on "What Not to Do," the album's stormy opener—whose title Murphy echoes in an alluring drawl over a groggy instrumental. It's an effective introduction that foreshadows the darker, steelier material that lies ahead and acts as a compelling foil to the gentler, goofier, lighter work that makes up much of the record. For instance, what follows "What Not to Do" is "CooCool," Hit Parade's cozy lead single that finds Murphy gleeful and giddy about the feeling of falling in love again. Amid soulful jazz guitar and horn arrangements, Murphy imagines a better world than ours where we have the time and space to communicate our desires and get back in touch with our inner child.
More gooey, starry-eyed innuendos abound on Hit Parade, expressed via pitched-up vocals and playful, irreverent lyrics ("The Universe"), rapturous percussion and synths ("Free Will") and thrilling, Prince-esque guitar riffs ("The House"). The darker second half of Hit Parade is also just as rich—revealing a vulnerability aching underneath the first half's bright and rosy presentation on songs like the cinematic "You Knew," the glitchy, hip hop-inflected "Two Ways" and the bewitching, intimate "Can't Replicate."
At first glance, it seems Róisín Murphy has a keen insight into how romantic and sexual attraction comes with its own set of consequences—that with every crush comes a torture of the soul, every loving relationship a whole set of emotional baggage and every yearning for connection a potential rejection. But, in the context of Murphy's opinions outside of her music, there's something ironically questionable about her understanding of accepting people for their flaws and how exasperating it is when that isn't reciprocated. Recently, Murphy came under fire for posting transphobic comments on Facebook about gender-affirming care, where she deemed puberty blockers "fucked" and called trans youth "little mixed up kids," despite unequivocal evidence that puberty blockers save trans children's lives.
For someone whose whole artistic ethos centers around the celebration of individuality, it's disheartening that that sentiment isn't reflected in Murphy's politics—and it's an especially egregious belief to hold during a wave of anti-trans legislation in the U.S. Not only that, but Murphy's non-apology apology, lack of disownment of her words and attempt to retreat from the public discourse around this very widely misunderstood issue renders her recognition of her mostly queer fanbase completely hollow. We shouldn't expect any pop star's views on hot-button topics to be perfect (most aren't), but there's a clear line to draw when it comes to people's identities—and avoiding responsibility to unlearn one's ignorance instead of leaning into self-reflection and education is a cowardly, disappointing move.
That Róisín Murphy's inflammatory remarks and misguided follow-up statement arrived right before Hit Parade's release shouldn't negate the album's great qualities, but they cast a pretty heavy shadow over it—making the record an all the more frustrating, contradictory listen. Hit Parade would've been an exciting, soothing antidote to the existential crisis of the post-pandemic pop music universe. Instead, it's career-defining in the most tragic way, serving as a dispiriting reminder that even seemingly progressive allies don't always practice what they preach.
Please consider donating to Point of Pride, an organization that provides financial support to trans folks in need of gender-affirming care.
---
Sam Rosenberg is a filmmaker and freelance entertainment writer from Los Angeles with bylines in The Daily Beast, Consequence, AltPress and Metacritic. You can find him on Twitter @samiamrosenberg.