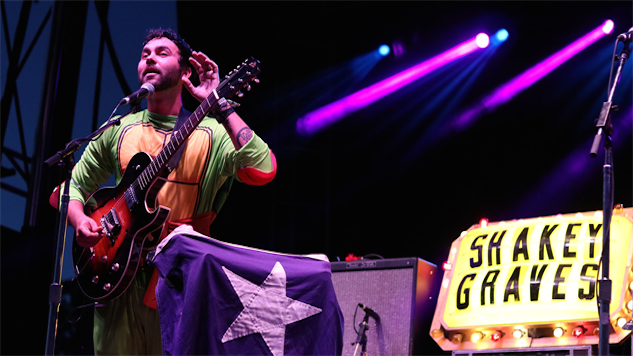 Shakey Graves' Alejandro Rose-Garcia has one of those inimitable voices that come along pretty rarely in indie music. With the husk of Tallest Man on Earth, the grizzled whisper of Willie Nelson (Rose-Garcia's fellow Texan) and the raspy edge of someone like Frances Quinlan, Shakey Graves is one-of-a-kind.
On this day (Nov. 14) in 2014, Shakey Graves stopped by the Daytrotter studios to play a few songs from his stompin' indie rock debut And The War Came. As Daytrotter's Sean Moeller wrote at the time, "Rose-Garcia has a wonderfully gruff, Texas way about his side-winding storytelling. It's sweet and it's dusty and it's full of venom, if needed." Indeed, Shakey Graves specializes in grit, and that's apparent in the four songs he played on that day: "House of Winston," "Family and Genus," "Only Son" and "The Perfect Parts."
This year we caught Shakey Graves play for an excited crowd at Nelson's Luck Reunion, which happens annually during South By Southwest just outside of Rose-Garcia's native Austin.
Listen to Shakey Graves' 2014 Daytrotter session below. Further down, check out Shakey Graves playing "Where a Boy Once Stood" for a Paste Riverview session during SXSW 2015.