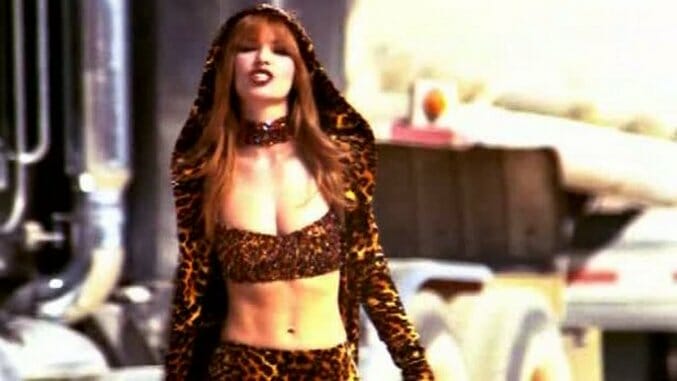 All hail the queen of modern country and her magnificent costumes! Shania Twain has graced us with some of the best hooks in pop-country and some of the most infamous looks in music video history. And as she readies the release of her fifth album Now, due out the Sept. 29., we can start to imagine the fashion choices her new songs will inspire. Until then, though, here's a look back at her best (and worst) looks.
11. "Up!"
This is surely Shania's most iconically bad ensemble. While chokers have, indeed, made a comeback, the one she wears here can't cancel out her bedhead on steroids and the 100-pocketed cargo pants with heels. She's channeling some serious Alanis Morissette vibes, which just reflects poorly on Canada. The video does also include her dog and an IRL Pinterest board of Shania's milestones and memories, which sort of makes up for the fashion mishap.
10. "The Woman in Me (Needs the Man in You)"
Shania spends 97% of this video raising her arms and bending backwards in a sheer white flowing number in the Egyptian desert. It's beautiful, thanks primarily to the stunning pyramids in the background, but boring, much like the song itself.
9. "Love Gets Me Every Time"
This video doubled as a behind-the-scenes peek at shooting the artwork for her album Come On Over, and the look can best be described as a seductive pose on top of what appears to be a skinned Elmo. It's classically '90s in the best and worst ways (just check out that hair) and fittingly over-the-top for country's style risk taker.
8. "I'm Gonna Getcha Good"
This video follows in the early-2000s futuristic traditions of Jessica Simpson and Janet Jackson but with, crucially, a lace bodysuit. It's either brilliant or deplorable depending on your thoughts on Cher, but regardless, it's unforgettable. Twain also sports an all-leather getup while riding a motorcycle and chasing low-budget robots, but, really, it's all about the lace.
7. "You've Got a Way"
Surprisingly on-trend for 2017, Twain's dress in this 1999 music video is not unlike a Unicorn Frappuccino. The rainbow of flowers and tulle is the stuff of fairy-obsessed six-year-old dreams on a grown adult woman and it's terribly fabulous. Ironically, this look totally contradicts Julia Roberts's girl-next-door style in Notting Hill (the song is included in the movie and clips of the movie appear in this music video, as well). In addition to this dress, Twain even sports a flower crown, the perennial go-to accessory for festival-goers.
6. "Forever and For Always"
Somehow with this look Twain appears both comfortable and confounding by donning a semi-backless sweater crop top that defies the laws of gravity. She pulls it off easy-breezy as she strolls along the beach to one of her lightest and loveliest songs. The video also traces a couple who meet as kids and stay together through old age. It's a still-relatable sentiment as warm and fuzzy as the singer's wonderful barely-hanging-on do.
5. "You're Still the One"
Wait, we're talking about the naked man taking off his towel, right?
4. "From This Moment On"
Twain's most gorgeous ballad deserves the goddess-inspired treatment of this video. Dressed in a high-neck golden gown, slicked-back pony, flawless eye makeup and a bindi, she glides barefoot down an orchestra-flanked staircase to the epic conclusion of the song. The whole thing is even shot in what looks like a pre-Instagram Instagram filter. Truly breathtaking, this look is surely Shania's sleekest.
3. "Any Man of Mine"
Sorry, Britney and Justin, but no one did denim-on-denim better than early Shania. This outfit is classic farm-girl-next-door, complete with cowboy hats, chaps and a few horse kisses for good measure. This was among Twain's first introductions to country superstardom and remains one of the most legendary video looks from the genre.
2. "Man! I Feel Like a Woman!"
Let's go, girls! Twain flips gender stereotypes by donning menswear (that trench coat!) in front of some dead-eyed mega-hunks who don't have the slightest clue how to play guitar in this Robert Palmer-riffing video. Gender-fluid fashion is again a hot topic at the moment, but she tackled the subject with fun and flair almost 20 years earlier.
1. "That Don't Impress Me Much"
This has got to be Twain's most iconic look: She's carrying a leopard-print hatbox, for goodness' sake, while also donning a leopard print two-piece, leopard print hooded jacket, and leopard print gloves and boots. In this video we find our animal-printed heroine hitchhiking through the desert and turning down a slew of self-absorbed men offering their "help" (if you call dumping a canteen of water over your head in slow motion assistance). It's a bold and memorable ensemble that matches Twain's bold and empowering kiss-off of a song.