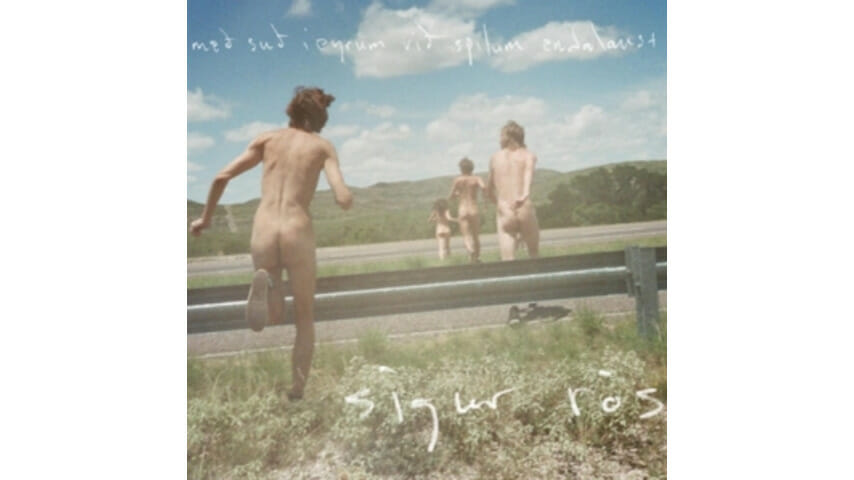 Icelandic post-rockers find fresh perspective on revelatory record
I once got drunk at Björk's house and did a little jig with her garden gnome beneath the green ribbony glow of the Northern Lights. I danced on the bar at the now defunct Reykjavík all-hours bar Sirkus, and sang George Harrison's "Got My Mind Set On You" with a beautiful blonde ice queen. I climbed a glacier and stood tippy-toe on a grey mountain of moss to glimpse the stone building where Vikings first colonized the island nation in the 9th Century.
But all I really wanted to do when I went to Iceland was see the swimming pool. Not just any swimming pool, mind you. This one had magical powers—or so it seemed. Because it was in this refurbished public watering hole that Sigur Rós had birthed some of the most otherworldly sounds to ever be labeled "indie rock." So I hopped in my friend's car and pointed it north, ignoring my throbbing bladder until I reached a tiny outpost called Álafoss. There, in a building not much more stately than a shack, I found the place, now called Sundlaugin studio.
I cupped my hand to the window, repeatedly fogging it with my breath, taking in the antiquated Neve console, the banks of discarded guitars and the cellos propped against one wall like hunks of an asteroid spit up by the galaxy. When I finally gave in to my urge to pee, I couldn't bring myself to sully Sundlaugin's perimeter. Instead, I hiked to a nearby stream. It seemed so much more respectful.
Ever since 1999 when their second album, Ágætis Byrjun, spread like a handshake drug among gob-smacked tastemakers, Sigur Rós has carved out a rather impossible legend. Looking back, it's amazing how much it stood out in a year crowded with milestones: Magnetic Fields' 69 Love Songs, The Flaming Lips' prog-pop reinvention The Soft Bulletin, the percocet twang of Wilco's Summerteeth, and Pavement's swan song Terror Twilight.
Somehow—amid all those landmarks—it was a blue cardboard sleeve with a silver alien baby on the cover that made the most curious impact. Intricately enunciated words nobody could understand. A polysexual angel singing and moaning as he dragged his bow mournfully across the guitar. Loud/soft/loud dynamics that took then-rote rock 'n' roll expression to a state of near constant orgasm. It didn't sound human. Hell, it didn't even sound earthly.
As Sigur Rós closes in on 15 years together, that thick misty aura of What-the-Fuck? remains firmly intact. The band has made a career out of mystery, touring the world behind blinding white lights pointed into the crowd's eyes, hammering out songs that creak like a tinkling music box rigged with explosives. But after four albums, they seem to realize that—while pioneering your own niche of epic chamber rock is great—sometimes temporarily leaving the ether to dab your feet in the mud of more traditional sounds can be refreshing. Revelatory even.
The nearest comparison is Radiohead—after autistically following their own contrarian muse through the glitchiness of Kid A and the desolation of Amnesiac, Hail to the Thief was a melding of the band's extravagant leanings with the meat-and-potatoes Brit pop that put them on the map. On Sigur Rós' fifth album, Með suð í eyrum við spilum endalaust, they're reaching the same sort of trailhead. While the band has no similar frame of verse/chorus/verse familiarity, there seems to be an attempt to view things from a fresh perspective: For the first time, Sigur Rós ventured outside of its partially subterranean studio in the frigid North Atlantic, instead working in New York City, London and even Havana, Cuba!
Its expertise at majestic drone remains, but the group colors outside of well-established lines this time around, pounding on tribal drums during "Gobbledigook," smearing swaths of mellotron across "Fljótavík" and "Straumnes," and pulling back on its patented reverb in favor of crisp, clean lines. It's not just in the songs, either. Most Sigur Rós albums come packaged in a glacial sheen, but Með suð í eyrum is being released within a month of its completion, giving the production an intimate, immediate feel. Piano pedals are audibly pressed, sighs and studio chatter twitter in the background, notes are missed. Even the silence between songs carries weight. It makes you think that maybe there's more to the naked asses on the cover than just, well, naked asses. The whole of Með suð í eyrum seems to be about laying oneself bare, leaving the process open to mistakes and the possibility of dicey experimentation.
On "Festival," Jónsi Birgisson spends the first half of the song backed only by an organ and his gently sawed guitar. The high, lonely wail sounds like a prayer, beautiful in its frailty and (one imagines) its requests for forgiveness. He's answered on the backhalf by a pounding chorus of kick drums and plucked bass strings, culminating in a mushroom cloud of percolating brass. And then there's "Ára bátur." Recorded in one take with the London Sinfonietta and London Oratory Boy's Choir, it's stunning—monumental in balls and bravado. All told, the song features 90 people singing, playing and blowing at the same time, all pressing gently to a singular explosion of Big Bang proportions. When it finally happens right near the eight-minute mark, it absolutely weakens the knees. Sigur Rós has never unleashed goose bumps like this.
But the real revelation on Með suð í eyrum is the much-fretted-about first English-language song the band has ever recorded, "All Alright." It's a risky maneuver. What if, behind the tricky linguistics and musical napalm, Birgisson's really just singing about getting laid? Ya know, "Paradise by the Moon Rock Lights?"
But no. While the track itself is prototypical Sigur Rós (a slow-mo marching band of muted brass and piano), finally hearing Birgisson's fragile, sometimes cracking voice croaking out lines like, "Maybe it's time to move on / Maybe today"—nouns and verbs to which I can attach feelings and emotions—it does resonate.
It's a thing of singular beauty. The kind of thing that keeps you staring, fogging up the windows as your eyes and ears glaze over in wonderment.