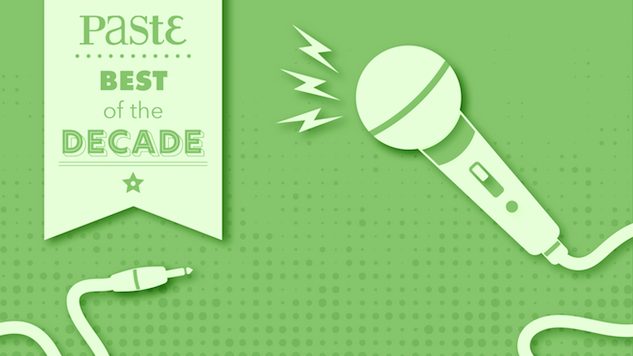 "I walked off you / And I walked off an old me / Oh me, oh my I thought it was a dream," Maggie Rogers sings on her breakout hit "Alaska." The pop singer was referring to a trip she took to the titular state, but the feeling you get when seeing her perform the song live—and any of the artists on this list—could easily be described as such. We seek out live music because concerts have the power to heal us, to make us forget the nasty past and dance (or walk) off our shame and heartache. And there was plenty of collective pain and trouble (as well as joy and celebration) to sort through this decade. A good show can very often feel like a dream, or church, even if you're not spiritually inclined. You may leave a Florence + the Machine show trying to contemplate how it's possible that this singing angel is actually of this earth, or maybe you've walked away from an IDLES show with a 30-foot high, even though you're completely sober. It's nearly an indescribable feeling, but we took a stab at it anyways and rounded up our favorite acts of the 2010s and thusly attempted to package those feelings into words. So here are the best acts we saw in the past 10 years, as voted by the Paste staff.
20. Rubblebucket
In an era where overnight internet fame forces artists to hit the road and/or play live even if they're nowhere near ready, Rubblebucket is a breath of fresh air. By contrast, the Brooklyn-based party-arty-art-pop band spent the past decade touring around the country and delivering life-affirming performances that augment their recorded music rather than simply replicating it. As a result, they've built a fan base without borders, where jam-band fans, indie-rockers, jazz adventurers and dance kids can come together and bounce or bliss the night away. The centerpiece of Rubblebucket's show is shapeshifting frontperson Kalmia Traver, and the backbone of their appeal is their irresistible pop instincts. But it's the horns—those splendid, sparkling horns—that'll sneak in through your ears and sink their hooks into your brain. There are worse things to have in there. —Ben Salmon
19. IDLES
Ever had a really, really good therapy session? The type where you feel uplifted and full of purpose, ready to take on whatever anxieties lay ahead? That's what it feels like to leave an IDLES show. You'll scream a lot, you might cry, and you might jump off the stage into a crowd of hands, or guitarist Mark Bowen might literally stand on top of you (in his underwear, natch!) These are the realities of an IDLES show, and as chaotic as all of that sounds, it's something you absolutely must be a part of at least once in your life. Led by Joe Talbot, this Bristol band does not hold anything back, and as an audience member you won't either —Annie Black
18. Old Crow Medicine Show
Despite appearances, Old Crow Medicine Show is not a bluegrass band; it's an old-time string band, a dance band playing Southern Appalachian music on acoustic instruments. In other words, they've become one of the best live acts in American music not because of their virtuosity but because of their high-energy showmanship and terrific songwriting. Most of the members play at least three old-time instruments, and they're constantly swapping roles and trading vocals as they go from rural anthems to mountain story songs to river hymns to wordless hoedowns—and that's part of the pleasure of seeing them in concert. The personnel has changed a lot over the years, but the spirit remains the same, with the wheel spinning around the axle of Ketch Secor, the lead vocalist, chief songwriter and circus ringmaster. To watch them lift an unusually young crowd at Nashville's Ryman Auditorium out of their seats to boogie to square-dance music is to witness the hillbilly equivalent of an E Street Band or Crazy Horse show. —Geoffrey Himes
17. Arcade Fire
Say what you will about them, but I dare you to tell me that you don't feel anything when seeing Arcade Fire in a massive festival crowd screaming the "oohs" of "Wake Up" while hundreds of lit-up beach balls descend from the heavens. Or when Will Butler climbs the scaffolding on the side of a stage while playing the drums. Or while Win Butler jumps up on his piano, screaming as if his life depended on it. Or when Régine Chassagne twirls around like a figure skater with ribbons during "Sprawl II (Mountains Beyond Mountains)" with absolute joy on her face. Or during their surprise cover of a local band on every night of the Reflektor tour. Or how about when the entire crowd dresses up in crazy costumes for a secret show? Or maybe when the entire band walks off the stage onto the festival grounds to perform a handful of David Bowie covers with acoustic guitars and a megaphone? Sure, their last album or two may have been disappointing and they've become known for their flippant attitudes towards the press and their fans, but they're still one of the most cathartic and fun bands you'll ever see live, always so full of surprises that you'll never know what trick they have up their sleeves next. —Steven Edelstone
16. U.S. Girls
One of the most extensive (and interesting) artistic evolutions of the 2010s has been Meg Remy's shift of her U.S. Girls project from unnerving noise-rock experiment to a sleek, funky agit-dance-pop band powered by her Toronto musical community. Along the way, U.S. Girls became a killer live act, too. Some of the credit goes to Remy's seemingly bottomless pool of highly skilled comrades who know their way around the pocket but also know how to rip the pocket right off the pants and shred it to bits. But even more credit goes to Remy, whose off-kilter brand of intensity bleeds through her performance, whether she's getting lost in a psychedelic disco breakdown or singing about relationship violence with startling clarity. The juxtaposition of the two—the sound and the subjects, and the way they intermingle in unfamiliar and unexpected ways—is a driving force behind U.S. Girls, and a major reason we named them the best live band of 2018. —Ben Salmon
15. Car Seat Headrest
"It's truly wild seeing Car Seat Headrest sound like an arena rock band (and be extremely good at it too)," I tweeted after seeing Will Toledo & co. at Brooklyn Steel, a 1500-capacity room, in September of last year. They got their chance just a few months later, supporting New York legends Interpol at Madison Square Garden, one-upping them on every turn. Opening with a still-unreleased song called "Can't Cool Me Down" that features the refrain "Hey, we're not supposed to be here!," they unconditionally proved the opposite, playing the most famous stage in America. Ever the consummate performers, they've always sounded perfectly mixed in whatever venue they've played, be it MSG or a sweaty club. The stages may keep getting bigger in the coming years, but they'll always have that perfect mix of an inspired indie band playing DIY venues and the ambitious mega rock act with multiple dressing rooms and a lengthy rider list. Few indie rock bands of this type have ever sounded this good wherever they go. —Steven Edelstone
14. Florence + the Machine
Florence and the Machine's live shows feel like an ephemeral fantasy world—one where to-do lists and the next morning back at work don't exist. Florence Welch is barefoot and dressed in flowy clothing as if she were a nymph, and her harpist only adds to this angelic woodland dream. Welch exudes unfettered joy as she runs, bounces and twirls across the stage with grace and vigor. It's the kind of show that doubles as an intense workout routine, particularly her dead sprints through crowds where even her security team struggles to keep up with her. Her boisterous vocal flutters and often unusual melodies would inspire any crowd, but pulling this off with the stamina of a marathon runner and the elegance of a Renaissance painting subject is an incredible feat. —Lizzie Manno
13. Alabama Shakes
Of course Alabama Shakes are one of the best live bands of at least the past 10 years. Why wouldn't they be? They sure as hell have the chops: They're all rock-solid players who know just what to play without overselling it, a level of good taste that's rarer than you'd think. They also have a musical chemistry that feels innate. The band locks into a groove like they were born to play together, so in sync that they might as well be plugged into some central hive mind that has a particular affinity for funky soul songs with a rock 'n' roll edge. Also, they have Brittany Howard. Not to shortchange Zac Cockrell, Heath Fogg and Steve Johnson, but Howard onstage is the very embodiment of charisma. She has a tornado of a voice that's even better in concert than on the band's two albums, and she sings like she is living every single word in real time, with so much conviction, so much emotion—really, so much raw joy to be doing what she's doing—that it's impossible to look away. Howard is a powerhouse on her own, too, as her solo album Jamie has made clear this year. Yet as clear as her creative vision is, Alabama Shakes are something like a force multiplier, and there's something that is extra compelling, and even transcendent, about the music that all four of them make together onstage. —Eric R. Danton
12. Mavis Staples
Mavis Staples started singing professionally in 1950, and trying to wrap your head around that while watching her going strong in 2019 is hard work. But it makes sense that the performance on stage can only be the product of seven decades of practice. With a tight band behind her blending a breadth and depth of American music traditions—from Gospel, soul and R&B to Americana and rock 'n' roll, she just draws all the love and goodness from your subconscious until it overwhelms every anxious thought or negative feeling. Ms. Staples is a national treasure, and deserves all the awards and accolades that have been thrown her way. —Josh Jackson
11. Courtney Barnett
Australian singer/songwriter Courtney Barnett's punk leanings don't always come through her recorded music like they do her live shows. From the first time I saw her at SXSW in 2015, there was no mistaking that on stage—her masterful guitar work recalls a lineage of garage and grunge heroes more than coffee-house troubadours. Her lyrics are often aptly referred to as conversational, but while that tag usually means tedious, there's a cleverness to her casual wordplay. The result is a growing library of songs that ring true, whether they're hard-driving tunes that cut sharply to the core of social injustice or wistful story-songs that just cut straight to the heart. If there were still such things as "hits" in her corner of the music world, her sets are full of them. —Josh Jackson
10. St. Paul & the Broken Bones
Alabama-bred St. Paul & the Broken Bones gained notoriety this decade for their funked-up blend of rock and soul, but they're known perhaps even more widely as live legends. Their status as top-notch performers is owed mostly to the energy and presence of frontman Paul Janeway. The singer doesn't just sing—he sings with every bone in his body. He doesn't just dance—he hurriedly traverses the stage, climbing on amps and under drum kits and anywhere he pleases (as far as his mic's chord will let him, that is). When Janeway is masquerading as the St. Paul character, there's no telling what he'll do. I once saw the band open a show for Hall & Oates at the Tuscaloosa Ampitheater, just an hour from their native Birmingham, and a cape-clad Janeway went so deep in the crowd, he required multiple spotlights and security guards to keep things under control. Seeing the eight-piece band live is nothing short of a euphoric experience. —Ellen Johnson
9. Mitski
When Mitski started playing shows earlier this decade, she would simply stand at the microphone and play. By the end of the decade, however, she was pacing back and forth, turning her show into a mesmerizing interactive art piece. Each song had its own specific dance, each lyric a different, calculated move. A basic table and a chair became stunning setpieces, each used to their fullest potentials. She cut her teeth in the DIY venues of Brooklyn where she let her music speak for itself. But just a handful of years later, she bid us farewell with two unforgettable shows on the hallowed grounds at Central Park in September, a testament to her meteoric rise as indie rock's new hero. She held the crowd in the palm of her hands those nights, silencing 5,500 people with absolute ease. It may be some time before we see Mitski return, but she has fully cemented herself as one of her genre's most exciting stars, one that's capable of putting on one of the most unique shows around. —Steven Edelstone
8. David Byrne
The most memorable performers often try to make the stage itself feel different and new, either with light shows, backdrops, props or other designs to transform that standard platform into something new. But there are some things that are almost always present: The drum kit in the back. The walls of amplifiers. The mic stands and cables snaking their way across the stage. Set lists taped to floors. So when David Byrne appears on a stage that's completely empty save for a simple table, chair and model brain, he's signalling that you're in for something different. Talking Heads was always one of the best live bands of their era, and Byrne hasn't lost that ability to keep the audience on edge, whether solo or paired with another consumate live performer, St. Vincent. On his 2018 tour, he appeared barefoot, in a dapper grey suit, alone on stage until he was joined first by a pair of dancers and back-up singers and, eventually, the rest of his dozen-strong troupe, all dressed alike, not a shoe to be found. With no drum kit rooted in place, six mobile drummers replicated the complex polyrhythms of a set list that ranges from Talking Heads classics ("This Must Be the Place," "Burning Down the House") to more recent songs and his co-write with Fatboy Slim, "Toe Jam." The choreography on stage was simple and exaggerated—dramatic poses and casual movements. At points, the whole band just rushed from one side of the stage to the other or pretended to fall asleep on the ground. But it was also full of an infectious joy, like all self-consciousness should be erased from the premises. Even with all the horns processed through a keyboard and the drums split into six parts, the music was surprisingly faithful to the originals. The look was completely different, but the music is just as tight, whimsical and groovy. Byrne no longer spasms at the mic, but "Letting the Days Go By" could have been the Stop Making Sense version, though this time he prowled the front of the stage like a TV evangelist. The hour-long set ended with Janelle Monae's righteously angry protest song, "Hell You Talmbout," with Byrne and his band chanting the names of police brutality victims: Walter Scott, Jerame Reid, Philip White, say his name. Eric Garner, Trayvon Martin, Sean Bell, won't you say his name? Freddie Gray, Aiyana Jones, Sandra Bland, say her name. Kimani Gray, John Crawford, Michael Brown, Miriam Carey, Sharonda Singleton, Emmett Till, Tommy Yancy, Jordan Baker, Amadou Diallo, say his name. It was a powerful finish to a set that has since inspired his own Broadway show. —Josh Jackson
7. LCD Soundsystem
LCD Soundsystem started the decade with what was supposed to be their farewell show, an epic goodbye set in the heart of the city that molded them. But that Madison Square Garden show was far from the band's last. James Murphy and his small army of genius musicians began playing shows again in 2016, and by the next year, they had a new LP out in the world. I caught them twice during their 2017 tour, and both shows are separately some of the most unforgettable live experiences of my whole life. It's not the twinkling orb-of-a-disco-ball that makes an LCD show special, nor is it James Murphy's desperate clinging to his compact ribbon microphone or even the earth-shaking "ahhhs" that fill the room during "Dance Yrself Clean." They're all pieces in the puzzle, but the best part of an LCD show is the synergy, between artist and audience, between man and machine, between rhythm and time. Just listening to the music, it's easy to assume that the person who created it is an intelligent being who clearly understands math and melody better than just about anyone else. But see them live a couple times, and you'll know James Murphy is nothing short of a genius. —Ellen Johnson
6. Charles Bradley
Charles Bradley went by many names: Black Velvet and The Screaming Eagle of Soul, just to name a couple. But none of them could fully embody who Charles Bradley truly was. He was an artist, a soul singer, a musician, sure, but he became a superhero the second he stepped foot onto a stage each show. Always donning fantastic costumes, he seemed like a kid in a candy shop on a nightly basis—few have ever seemed as happy to perform as Bradley did on tour. His smile was infectious, his screams life-affirming, his banter heartwarming. But that voice… nothing could quite compare, save for maybe his hero, James Brown. Bradley went through hell and back, but you'd never know it when seeing him live. He'd laugh and smile and tell us all that he loved us. And you could tell he did. Rest in peace Charles, nobody but you. —Steven Edelstone
5. Janelle Monáe
Janelle Monáe's Dirty Computer tour served as a dynamic and carefully-crafted complement to the album. Jam-packed with visuals from her 2018 "emotion picture"—"Pynk" pussy pants included—Monáe took a five-piece backing band and a troupe of mega-talented dancers to seamlessly translate the album's colliding rap, funk, and pop influences to the stage. She celebrated her then-recent outness and her influences, channelling James Brown in an extended funky dance break and donning a raspberry beret in homage to Prince. After beginning the show perched on a golden throne at center stage, Monáe redirected its focus from celebrating her individualism as a queer black woman into a more collective call for equality and pride, concluding the show with her liberation anthem "Americans." Monáe's joy was palpable onstage—in other hands, a tour that easily could have read as trite became the vivacious antidote to every brutal news cycle that 2018 lobbed in its direction. —Katie Cameron
4. Beyoncé
The live Beyoncé experience has taken many forms over the past decade, from globetrotting solo tours to short residencies, and from co-headlining runs with her husband to time-stopping festival performances. (Her livestreamed set at Coachella 2018 was lavish, layered with meaning and rightfully legendary.) But no matter the format, Queen Bey brings the goods: eye-popping costumes, dazzling dance numbers, muscular (but tight) music, high-quality audio, her seemingly unshakeable singing voice and killer setlists fed from one of the great recorded catalogs of the 21st century. All of those things make a Beyoncé concert something everyone should enjoy at least once. But what truly sets the woman apart is her ability to bring a massive production to the biggest venue in your town and make it feel like you were treated to an intimate performance by the planet's top entertainer. Now that's a nifty trick. —Ben Salmon
3. Lizzo
Lizzo turns every venue she plays into the Church of Healthy Self-Esteem—and she's a fiery preacher. She's on a body-positive, life-affirming mission to make sure every person in the crowd learns to love themselves like she has, always acknowledging that her self-confidence has been hard won. But it's also just a rowdy party, riling up some of the loudest crowds I've ever heard. It seems like she just appeared out of nowhere, but she's been honing her show over most of this decade, exuding the same energy in her 2016 performance at Daytrotter as she did in her most tour. With a growing arsenal of feel-good singles, the singer/rapper has everything you need to be a superstar: the vocal chops to cover Aretha Franklin, arresting originality (she's a badass on the flute!) and the charisma to make you feel like you're witnessing something truly special in music history. —Josh Jackson
2. Solange
Solange's live show is a testament to her vision. The younger Knowles sister shares Beyoncé's adoration for spectacle, but her execution in a live setting feels even more—dare I say—intentional (excluding Homecoming, of course). For her tour following 2016's A Seat at the Table, she went for an all-red look. Everyone on stage, including her all-black brass band, wore the same color. She went for a similar idea for her 2019 tour behind When I Get Home, but this time everyone was decked out in all black, save for a troupe of dancing cowgirls in white. From the powerful testament to black faith that is "Almeda" to the groovy "Stay Flo, the set I saw at this year's Bonnaroo festival was cohesive, beautiful and impactful. It's not dramatic to say Solange's live show is one of the best around. —Ellen Johnson
1. St. Vincent
"It was a lonely, lonely winter," Annie Clark sings as the first half of St. Vincent highlight "Huey Newton" draws to a close. In the midst of 2014's especially bleak winter, the then-silver-haired Clark kicked off her Digital Witness tour at New York's Terminal 5, where she eventually played that song. After she sang that winter lyric, she pulled her hands away from her guitar and moved her arms and hands in cyborg-like, minuscule patterns. She then busted out the larger-than-life low-E-string riff that dominates the song's searing back half. It was as calculated as it was visceral.
Clark's newfound, gripping embrace of rigid, art-house choreography defined her Digital Witness tour. For her Fear the Future tour in support of St. Vincent follow-up MASSEDUCTION, she dropped that act in favor of a latex-red, lip-syncing pop persona that exaggerated the album's sugary bombast. Even without her backing band visible, her playful getup maintained the audience's undivided attention.
Neither of these albums is where her decade started. That honor belongs to her career-best Strange Mercy, which she toured without playing any characters. She never needed the disguises: Even then, she was formidable enough to perform at New York's Metropolitan Museum of Art, a literal fine art museum. Throughout the decade, Clark's shows would continue to rope in showgoers so strongly that her live sets became a shared phenomenon among complete strangers, no longer lonely, no matter the season. —Max Freedman