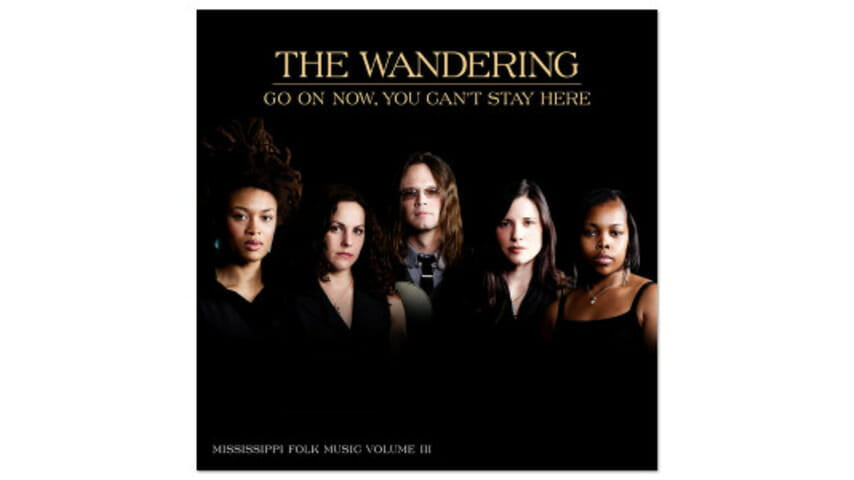 A defining characteristic of folk music is the malleable durability of the repertoire—songs passed down from generation to generation, re-tooled, rewritten and revised, the tales retold to reflect the teller. So it's fitting that Go On Now, You Can't Stay Here, the debut album from The Wandering, carries with it a subtitle: Mississippi Folk Music Vol. 3. The 12 tracks collected here are traditional tunes both new and old—some timeless, some timely.
The Wandering is a collective of musicians from Memphis and nearby North Mississippi that was conceived by Luther Dickinson (North Mississippi Allstars, Black Crowes). They gathered together in the Zebra Ranch studios where Dickinson's late father Jim captured so many sounds that reflected and revered the region's distinctive aural pulse. Each member of The Wandering is a shining star in his or her own right, but it was Luther's bolt of insight that brought them together.
In addition to Dickinson, who plays guitar, mandolin and banjolin on the record, the players are guitarist Shannon McNally, bassist Amy LaVere, banjoist Valerie June and drum and fife player Sharde Thomas, who is the granddaughter of Dickinson mentor Otha Turner.
Here they were, all of these accomplished artists within a hundred-mile radius. Not only did they each possess a singular voice unto their own, but they all played different instruments. The Wandering was a ready-made band just waiting to be made.
When they finally did get together, the common starting point was old-time traditional tunes that would be comfortable to play together and build camaraderie. It didn't take long. After all, who among them did not already know "Sittin' On Top of The World" or "You Are My Sunshine"?
While those songs served as the launch pad, each member suggested other songs, and over the course of three days they ended up with a modern interpretation of Mississippi folk music—songs borrowed, updated and recast to suit the singers.
For LaVere, her contributions were modern indeed, at least in folk music terms. Her languid take on the familiar idiom of "The Blues Jumped A Rabbit" is modeled in part after a version by'60s folk singer Karen Dalton that LaVere found on YouTube. Elsewhere, she croons and coos her way through "Sentimental Blues" in mesmerizing fashion and provides a fun and upbeat take on the Byrds' "Mr. Spaceman" that gets the jugband juices flowing by including a kazoo solo and fun harmonizing by June and McNally.
McNally also tackles more modern, but perhaps someday "traditional," tunes in her re-reading of Kris Kristofferson's "Loving Her Was Easier (Than Anything I'll Ever Do") by swapping the gender perspective, and changing the title too. Her inclusion of "Love, Life and Money" was suggested by her sometimes collaborator Dr. John who told her to pick a "great song nobody does anymore." And she honors Jim Dickinson's compatriot Sid Selvidge with her haunting and evocative yodel on his tune "Outlaw."
Sharde Thomas took over her grandfather's Rising Star Fife & Drum Band when he died in 2003, and she has kept his legacy and repertoire alive ever since. Her readings of "Glory, Glory" and the album-opening "Sittin on Top of The World" were staples for Otha Turner and continue to be for Sharde today.
The collection's oldest, most "traditional" tunes are helmed by Valerie June, whose country drawl lends standards like "Old Joe Clark" and "In The Pines" an authentic flavor. She enthusiastically employs a convincing growl in her voice on "If I Had Possession Over Judgment Day" that dramatizes the direness of the matter.
But despite the different approaches to modern folk music, and the different lead singers, the beauty in The Wandering is often found in the collaborations. Thomas' reed fife opens the album alone like an ancient incantation, spilling out the instantly recognizable melody but is then joined by Dickinson's mandolin and, finally, LaVere's confident bass pocket to form an unlikely but lovely trio of sounds. Valerie June's supple banjo lines accentuate McNally's sultry intonation on "Loving Him." And the simple, primitive groove supplied by LaVere's upright bass and Thomas's snare drum shine throughout.
Steeped in the history of the area, and served with a reverence for a musical tradition that dates back eons, The Wandering gives us a joyful lesson in the spirit of collaboration, the jubilant love of song and the appreciation for keeping traditions alive into the future. Louis Armstrong said folk music is just "music played by folks." If that's the case, the folks in The Wandering have made a fine contribution to the canon.