Ty Segall Is a Slave to the "Radio" on Hypnotic New First Taste Single
Photo by Denée Segall
Music
News
Ty Segall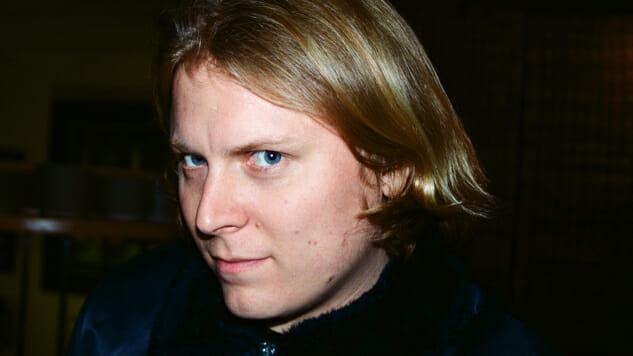 Mad sound scientist Ty Segall has shared another new song from his forthcoming First Taste ahead of the album's Aug. 2 release on Drag City. "Radio" foregrounds the koto, the national instrument of Japan, with blaring saxophone and thunderous percussion all cohering into a real romper-stomper of an out-of-body experience.
"'Radio' is a science non-fiction song," says Segall of his new single. "We live in a Cronenberg film. It has Videodrome saxoheadphones. I am a slave to the new radio and so are you."
Segall himself plays koto on "Radio," accompanied by his Freedom Band compatriots: Mikal Cronin contributes sax and piano, with Emmett Kelly on bass, and Segall and Charles Moothart on percussion and drums. Los Angeles-based singer-songwriter Shannon Lay adds back-up vocals.
The song's muscular, symphonic instrumentation adds a sinister edge to Segall's peaceful assimilation into a new identity: He's content "watching people die all night long on the radio," singing, "My anger has gone away / Replaced by my new name / I'm no longer empty / I need no family / The light is the truth." Whose, we wonder?
The follow-up to 2018's Freedom's Goblin finds Segall and his collaborators experimenting with a far-flung array of instruments, from the koto and bouzouki to the recorder and dual drum kits ("Segall on the left, Moothart on the right," a press release specifies). If "Radio" is any indication, the melding of all that divergent instrumentation is an alchemy bordering on magic.
Segall & The Freedom Band will perform First Taste in full during their upcoming residencies at the Teragram Ballroom in Los Angeles (Fridays from July 26-Sept. 27) and Warsaw in Brooklyn (Oct. 1-5), alongside other select records from Segall's copious catalog. Support on these dates comes from a variety of artists, including King Tuff (solo), DMBQ, Lamps, Ruth Garber and White Fence.
Listen to "Radio" below and Segall's 2010 Daytrotter Session further down. You can revisit the details of First Taste here and find Segall & The Freedom Band's upcoming tour slate further down.
Ty Segall & The Freedom Band Tour Dates:
July
26 – Los Angeles, Calif. @ Teragram Ballroom (First Taste + Melted) w/ Warm Drag
August
02 – Los Angeles, Calif. @ Teragram Ballroom (First Taste + Melted) w/ Richard Rose
09 – Los Angeles, Calif. @ Teragram Ballroom (First Taste + Melted) w/ Vice Cooler
16 – Los Angeles, Calif. @ Teragram Ballroom (First Taste + Goodbye Bread) w/ The Intelligence
23 – Los Angeles, Calif. @ Teragram Ballroom (First Taste + Goodbye Bread) w/ Oog Bogo
30 – Los Angeles, Calif. @ Teragram Ballroom (First Taste + Emotional Mugger) w/ Lamps
September
06 – Los Angeles, Calif. @ Teragram Ballroom (First Taste + Emotional Mugger) w/ King Tuff (solo)
13 – Los Angeles, Calif. @ Teragram Ballroom (First Taste + Manipulator) w/ Ruth Garber
20 – Los Angeles, Calif. @ Teragram Ballroom (First Taste + Manipulator) w/ DMBQ
27 – Los Angeles, Calif. @ Teragram Ballroom (First Taste + Manipulator) w/ DMBQ
October
01 – Brooklyn, N.Y. @ Warsaw (First Taste + Melted) w/ Lamps
02 – Brooklyn, N.Y. @ Warsaw (First Taste + Melted) w/ White Fence
03 – Brooklyn, N.Y. @ Warsaw (First Taste + Goodbye Bread) w/ DMBQ
04 – Brooklyn, N.Y. @ Warsaw (First Taste + Emotional Mugger) w/ DMBQ
05 – Brooklyn, N.Y. @ Warsaw (First Taste + Manipulator) w/ DMBQ
09 – Paris, France @ La Cigale (First Taste + Melted)
10 – Paris, France @ La Cigale (First Taste + Manipulator)
11 – London, U.K. @ Oval Space (First Taste + Melted)
12 – London, U.K. @ Oval Space (First Taste + Goodbye Bread)
13 – London, U.K. @ Oval Space (First Taste + Manipulator)
15 – Berlin, Germany @ Festaal Kreuzberg (First Taste + Melted)
17 – Haarlem, Netherlands @ Patronaat (First Taste + Melted)
18 – Haarlem, Netherlands @ Patronaat (First Taste + Manipulator)