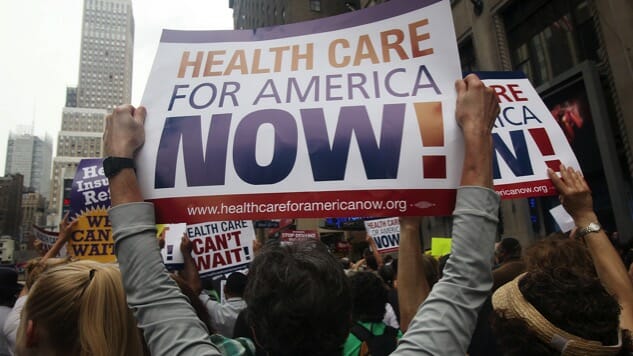 Under Obamacare, there is an option for states to authorize a Medicaid expansion for citizens who don't qualify for "normal" Medicaid due to higher income levels, but also don't make enough to get financial assistance from the ACA. The Obama administration made to Republicans during the negotiation process (concessions that yielded exactly zero votes, for the record), but it was actually the Supreme Court who effectively decided that state governors could control whether or not their citizens would be eligible for this expansion. Of course, most states with Republican governors and legislatures said no, because anything to do with Obama is automatically bad.
Now, the citizens in some of the 17 states who opted out are finding a way around elected representatives who would rather play political games than protect their health. By collecting enough signatures, it's possible for a state to push the Medicaid expansion to a popular vote on a ballot initiative. That's what happened in Maine, where the signatures were gathered, the referendum was held, and 60 percent of voters opted for the expansion. Similar ballot measures are pending in Utah and Idaho.
Now, Nebraska has followed suit. It took months, but a coalition called "Insure the Good Life" managed to gather 133,000 signatures, far more than the 85,000 required to meet the bare minimum. Once the signatures are certified, the measure will go to a vote.
As in Maine, where lunatic governor Paul LePage denied a Medicaid expansion and continues to drag his feet despite losing court case after court case, Nebraska's Republican governor Pete Ricketts has opposed the expansion. If voters in the state eventually pass the measure, it would provide coverage for about 90,000 residents.