The U.S. Military Is Discharging Immigrant Service Members Who Were Promised a Path to Citizenship
Photo by Scott Olson/Getty
Politics
News
Immigration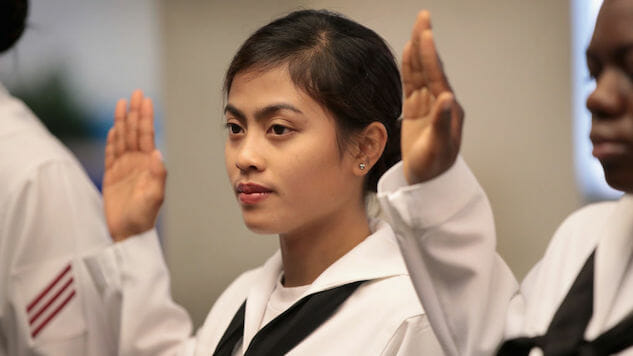 Immigrants who are enlisted in the U.S. Army with the promise of a path to citizenship are being discharged. Immigration attorneys tell the AP that more than 40 men and women have been kicked out of the Army, which could jeopardize their citizenship status.
These army reservists and recruits are a part of a special recruitment program called the Military Accessions Vital to the National Interest program (MAVNI). The program allows the military to recruit non-citizens who have a legal status, such as a student visa. Once enlisted, the service members receive an honorable service designation normally just a few days after boot camp begins. However, the service members who were recently discharged have had their basic training delayed, meaning their naturalization hasn't happened yet, and may not happen at all. 10,000 immigrants are estimated to be serving in the Army or other military branches. According to the Defense Department, "Since Sept. 11, 2001, nearly 110,000 members of the Armed Forces have gained citizenship by serving in the U.S. military." In 2016 alone, 5,000 immigrants were recruited.
However, now these military members are being discharged and most of them aren't being given a reason. Others are told they are a "security risk" due to their relatives abroad or an incomplete background check. The Pentagon and the Army aren't giving an explanation to the public, either. The AP reports that spokespeople, citing pending litigation, declined to "explain the discharges or respond to questions about whether there have been policy changes in any of the military branches."
Immigration attorney and retired Army Reserve lieutenant colonel Margaret Stock was one of the creators of the immigrant recruitment program. Stock said all of the military members who are being discharged have signed an enlistment contract and taken an Army oath. Many of them have been attending drills, receiving pay and undergoing training, although others have been in a "delayed entry" program. Stock said, "Immigrants have been serving in the Army since 1775. We wouldn't have won the revolution without immigrants. And we're not going to win the global war on terrorism today without immigrants."
The Department of Defense released a statement that reads, "All service members (i.e. contracted recruits, active duty, Guard and Reserve) and those with an honorable discharge are protected from deportation." However, immigration attorneys have revealed that many of the immigrants discharged have been labeled "uncharacterized discharge," which means they are neither honorably nor dishonorably discharged. Thus, they are not protected from deportation.
Brazilian immigrant Lucas Calixto was a reservist in the U.S. military and filed a lawsuit against the Army last week. He said, "It was my dream to serve in the military. Since this country has been so good to me, I thought it was the least I could do to give back to my adopted country and serve in the United States military."
An Iranian immigrant who traveled to the U.S. to pursue a graduate degree in engineering enlisted in the program to receive medical training. He said he felt proud because he was "pursuing everything legally and living an honorable life." However, he was recently discharged. He said, "It's terrible because I put my life in the line for this country, but I feel like I'm being treated like trash. If I am not eligible to become a U.S. citizen, I am really scared to return to my country."
These new reports come in the midst of extreme nationwide backlash against Trump's zero-tolerance policy. Following the uproar about the separation of families at the border, it seems the Trump administration is trying keep this new immigration reform quiet.