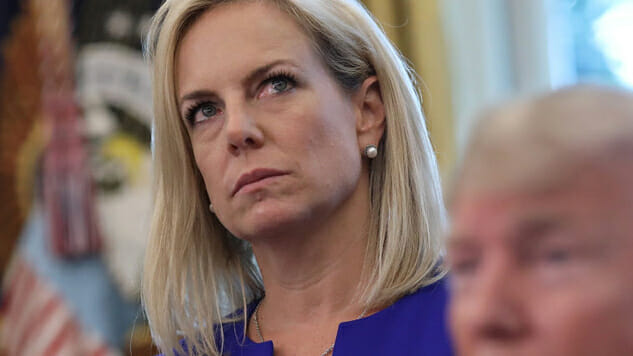 Friday morning, some two dozen protesters gathered outside the Alexandria, Va. home of Homeland Security Secretary Kirstjen Nielsen. A group led by Bend the Arc, a political advocacy organization that "harnesses the collective power of progressive American Jews to change policy and build a more just and equal nation," called for Nielsen's resignation until she fled her home. Protesters showed up at her house at dawn wielding megaphones and banners. Their signs, emblazoned with red images of Nielsen's face, called the secretary a "child snatcher" and urged her to step down. "No justice, no sleep," Bend the Arc tweeted at 7:52 a.m. ET.
We are now playing the pro publica audio on loudspeakers outside Nielsen's home. She can wake up to the sounds of children screaming for their parents this morning. And later today, she can resign. #FamiliesBelongTogether#moralemergency#FreeOurFuturepic.twitter.com/jqeRfsxqV7

— JewishAction (@jewishaction) June 22, 2018
The backlash against Nielsen comes after her involvement in Trump's barbaric policy regarding child immigrants, which has led to the familial separation and imprisonment of some 2,000 kids. Nielsen drew considerable outrage when on June 17, she tweeted, "We do not have a policy of separating families at the border. Period." This statement is, of course, categorically false, leading pundits and citizens alike to take aim at, as Samantha Bee calls her, "Kirstjjjen Nielsjjen."
Trump signed an executive order changing the administration's policy on child immigrants Wednesday. The new policy dictates that families will be imprisoned together, rather than separately, leading critics of Trump's original policy to call for further changes. As Bowdoin politics professor Andrew Rudalevige pointed out on Twitter, since "the admin claims the law does not allow them to maintain family unity, did anything actually just change?"
Since the new Trump EO says its "maintain family unity" policy only applies "to the extent permitted by law," and the admin claims the law does not allow them to maintain family unity, did anything actually just change?https://t.co/s0IWvXIj9y

— Andrew Rudalevige (@rudalev) June 20, 2018
It stands to reason that protesters would still be after Nielsen, given this unsatisfying pseudo-resolution, and this isn't Nielsen's first time at the protest rodeo. On Monday, she was confronted while out to dinner at a Mexican restaurant (yes, you read that right), which of course led conservatives to cast themselves as the victims of liberal incivility. Like it or not, the American people have a right to protest, and these shows of resistance against Nielsen and the Trump administration show that citizens will not forget immigrant families, despite Trump's executive order. Until something real is done, it looks like Kirstjjjen will just have to get used to waking up early.