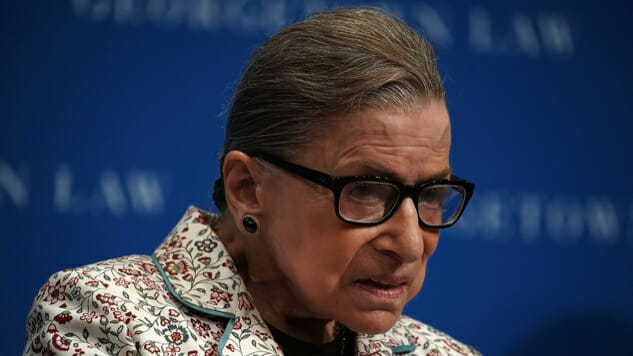 Thursday morning, liberal bulwark and Supreme Court Justice Ruth Bader Ginsburg was hospitalized for observation after taking a fall in her office the night before. She had gone home after falling, shaking off the injury, but decided to take further action this morning after discomfort continued.
After being admitted to George Washington University, Ginsburg found that the slight discomfort was the result of three fractured ribs, per the AP. The severity of the injury is unclear for the time being, and could be anywhere from a minor incident to pneumonia-inducing. It all depends on if her lungs are affected by the fracture.
Ginsburg, who's 85, is the most left-leaning of her fellow SCOTUS justices, and looked at as the only barrier between a total conservative lock-out in the Supreme Court and the purgatory state we're in now. Should something happen to Ginsburg, Trump would then have the opportunity to appoint yet another wildly conservative justice.
Due to her injuries, Ginsburg was absent as Supreme Court Justice Brett Kavanaugh formally took his seat Thursday. The internet is sending her prayers, energy and spare ribs in hopes of bringing her back to the bench as soon as possible.
Sending my life force to RBG, c'mon we can make it through 2020. pic.twitter.com/1PHGkaWXkT

— Samuel Morales (@SpaceCadetSammy) November 8, 2018
Wishing a swift recovery to RBG, who has had cancer twice and a heart stent put in, and until today, never missed a day on the bench. pic.twitter.com/f4xYWdNph9

— Irin Carmon (@irin) November 8, 2018