Scott Pruitt May Have Violated Federal Law by "Scrubbing" Controversial Meetings from His Public Schedule
Photo by Aaron P. Bernstein/Getty
Politics
News
Scott Pruitt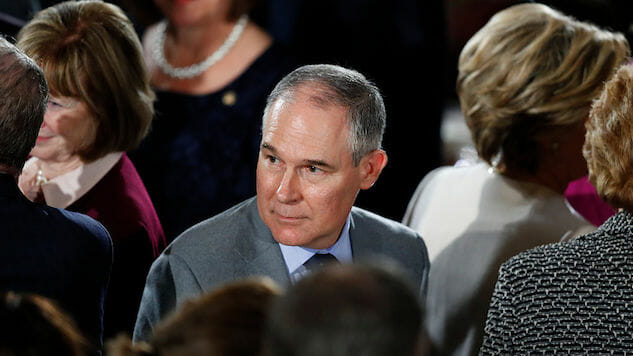 Environmental Protection Agency Administrator Scott Pruitt has reportedly been keeping "secret" schedules and removing controversial meetings from his publicly released calendars. Pruitt's former deputy chief of staff for operations Kevin Chmielewski spoke out about the violations and is expected to testify before Congress.
Chmielewski said staffers would routinely meet in Pruitt's office with his printed schedule to decide which meetings would be kept on the public schedule and which would be placed on the secret schedule. In some cases, the verbiage of the meeting would be altered on the public schedule to leave information out that could only be found on the secret schedule. Normally, when controversial meetings were removed from the public schedule, Chmielewski said they would be replaced with "meeting with staff." This routine "scrubbing" of the schedule was done so that controversial calls and meetings wouldn't "look bad." Chmielewski explained:
We would have meetings what we were going to take off on the official schedule. We had at one point three different schedules. One of them was one that no one else saw except three or four of us. It was a secret … and they would decide what to nix from the public calendar.
The secret calendars were released after the Sierra Club and Environmental Integrity Project filed lawsuits and public records requests. CNN reviewed the calendars, comparing the public schedules to the secret ones and finding "more than two dozen meetings, events or calls were omitted from his public calendar." So, what exactly was Pruitt hiding from the public? The most common events removed or altered were meetings with energy industry officials, lawyers and Washington insiders, all of whom stood to benefit from lax EPA regulations.
One example took place on April 26, 2017, when Pruitt's public schedule showed his day ended with a meeting with Australia's environmental minister. However, the secret schedule reveals that after that meeting, Pruitt made his way to the Trump International Hotel and dined at an event at the BLT Prime restaurant hosted by Joseph Craft, the CEO of coal producer Alliance Resource Partners.
Craft is an advocate fighting against Obama's coal-industry regulations, and is now apparently using Pruitt and the Trump administration to do so. He donated $1 million to Trump's inauguration, as well as millions to Republican candidates and committees. It's clear why Pruitt as the head of the EPA wouldn't want this dinner on the public schedule.
In September of 2017, Pruitt's meeting with the former Senator Trent Lott was altered on the public schedule to remove that the CEO of Tote shipping company Anthony Chiarello was also present at this meeting. The secret schedule reveals that Chiarello was not only present, but also that Pruitt discussed Tote's fuel sources for their ships with him.
Pruitt's controversial trip to Italy last year was reported on his public calendar, despite backlash. The public knew the trip cost taxpayers $120,000 after the Environmental Integrity Project filed a lawsuit to obtain the cost breakdown. However, what wasn't revealed to the public was Pruitt's multiple meetings with Vatican official Cardinal Pell. The meetings included a tour of the Vatican, dinner and two additional meetings with Pell. Chmielewski said, "All of our time at the Vatican was spent with Cardinal Pell. Cardinal Pell was basically our host. I mean, that was who we were going to meet with." Once Pruitt arrived back in the U.S., Pell was charged with sexual assault and the EPA removed all interactions with him from the official calendar.
Pruitt's secret schedule merits consequences. According to legal experts who spoke to CNN, altering or removing meetings from Pruitt's schedule is a violation of federal law. This violation would fall under "falsifying records" or hiding public records. Former general counsel at the Federal Election Commission Larry Noble said, "If somebody changed, deleted, scrubbed a federal record with the intent of deceiving the public or intent of deceiving anybody, it could very well be a violation of federal law." This new violation only adds to ongoing investigations into Pruitt's spending, management and ethics as the head of the EPA. He currently is involved in at least 14 federal investigations led by the U.S. Office of Special Counsel.