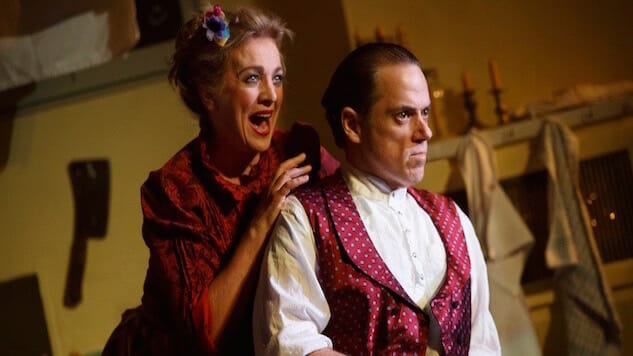 It would be easy to read too much into Tooting Arts Club's idea to stage Sweeney Todd: The Demon Barber of Fleet Street in a working pie and mash shop. The musical horror story hinges on the victims of a homicidal barber being grinded into meat pies; by supping greedily at our banquettes, are we, the dining audience, somehow complicit in Todd's heinous acts? Are we being encouraged to reflect on our own participation in the man-devouring-man machinations of society?
In truth, for the most part, it's just a lark. Stephen Sondheim's Sweeney Todd is a show easily bogged down in a mire of self-seriousness; here's a wild romp of a treatment that brings the story closer to its tatty origins as a penny dreadful and (as Sondheim first encountered it) a laugh-aplenty pub comedy. As with the wholesome pre-show pies on offer (there is also a vegetarian option), this Sweeney Todd washes down relatively easy.
Still, it's hardly the stuff of dinner theatre. In the story, a former barber (Jeremy Secomb) slinks into 19th-century London after a long undeserved imprisonment, hell-bent on revenge and calling himself 'Sweeney Todd'. Partnering with his former landlady, the slatternly Mrs. Nellie Lovett (a twistedly effervescent Siobhán McCarthy), he is reunited with his barber's razors—which appear to him to be gleaming with impatience—and soon goes about his dastardly, deadly business.
Barrow Street Theater's loving recreation of Harrington's, the South London pie and mash shop where the original site-specific production was staged in 2014, is miraculous. It's a charmingly derelict joint, all grimy, spackling-pasted yellow walls, smeared mirrors, scuffed surfaces and hand-written signs ("No Eels"). Among the show's most charming moments are when the shop bleeds into the performance, as when actors percussively scrape and clack silverware, a tablecloth becomes a barber's cutting cape, and an unspeakable act occurs behind the shop's service counter.
Sondheim has described Sweeney Todd, somewhat mysteriously, as "a movie for the stage." It's a thrill, then, to witness such a richly imaginative and intrinsically theatrical take on the show. The enforced intimacy of the space brings plenty to a show that already allows for plenty of fourth-wall breaking: audience members are jostled and yelled at, a small but formidable cast stomping along each of Harrington's catwalk-like tables, and, in the lead-up to the entrance of the dubious hair tonic salesman Pirelli (Betsy Morgan), there's a lot of good-humored taunting of follicularly challenged members of the audience. The lyric "Nothing can hide you / Isn't that Sweeney there beside you?" has seldom felt more appropriate.
Especially in such close quarters, Secomb cuts an intimidating figure. More bluntly bullish than Johnny Depp's snarling feline interpretation of Todd in Tim Burton's 2007 film adaptation, Secomb's most effective weapon is his unblinking, saucer-like gaze, which would have been intimidating enough in a much larger theater, utilized here for menace as well as mischief. His sinister smile when Judge Turpin (Duncan Smith), dishonorable throat exposed, suggests a shave, is priceless.
Instead of Sondheim's full orchestral score, evoking the churning frenzies of Bernard Herrmann, we get a skeletally stripped-down arrangement for piano, violin and clarinet. It's hard not to miss the sheer visceral force of the orchestra—especially the almighty thwomp of funeral organ at the top of the show—but it does permit some impassioned vocal performances to shine through unimpeded. Todd and Mrs. Lovett's ode to cannibalistic delights, "A Little Priest," is an irresistibly giddy whirligig as ever; Matt Doyle and Alex Finke, as the swooning young lovers Anthony and Johanna, are irrepressibly sunny and sweet as birdsong; while Joseph Taylor's Tobias cooing "Not While I'm Around," sung to Mrs. Lovett, is perhaps the most tragically tender moment in the show.
For a production that is ruthlessly in-your-face in many ways, what we don't get are the gushing arterial fireworks and spontaneous fountains of stage blood typically associated with Sweeney Todd. With a bare-bones cast and exceptionally quirky space, Todd ends up dispatching fewer casualties, and much of the barbarism occurs offstage anyway—tending to diminish the gory horror of mass murder somewhat. In the same way, tricky sightlines slightly get in the way of some scenes of chilling stillness and intensity.
But, like Mrs. Lovett's unwittingly cannibalistic customers, few will leave dissatisfied by this generously heaped helping of outstanding entertainment. This Sweeney Todd tickles the ribs more often than it goes for the jugular, but is still a dangerous delight.
Starring: Jeremy Secomb, Siobhán McCarthy, Matt Doyle, Alex Finke, Brad Oscar, Duncan Smith, Joseph Taylor, Betsy Morgan
Music and lyrics by: Stephen Sondheim
Book by: Hugh Wheeler from an adaptation by Christopher Bond
Directed by: Bill Buckhurst
Through: December 31, a Tooting Arts Club production presented by Barrow Street Theater.