"Rogers: The Musical" Becomes a Real One-Act Musical at Disneyland This Summer
Concept art courtesy of Disney
Travel
News
Disneyland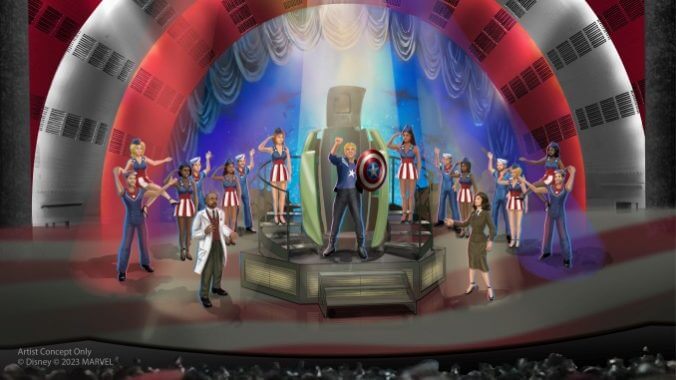 How often does a joke from a TV show inspire a real-life musical? That will happen this summer when "Rogers: The Musical" begins its run at Disney California Adventure. The kitschy parody of Broadway musicals from the Hawkeye series on Disney+ will come to life at Disneyland Resort's second theme park starting on June 30 as part of Disney's ongoing celebration of the company's 100th anniversary, as announced by the Disney Parks Blog today. The 30 minute musical will feature seven songs, including five brand new ones written for the live show, and will run for a limited time with performances at the Hyperion Theater from Tuesday through Saturday most weeks this summer.
This whole thing is an interesting choice because the one number we see from "Rogers: The Musical" in Hawkeye is, uh, pretty terrible. It's intentionally and endearingly so, of course, but it's still something we're supposed to laugh at more than with. The little bit we see in the TV show is full of the kind of insincere excess and saccharine artificiality that musical theater fans appreciate and that everybody else finds annoying; it seems like expanding that out to a full half-hour won't make it any less annoying for people who don't like musicals, but could easily run the joke into the ground for those who are into the idea. From what I remember of Hawkeye, the point of "Rogers: The Musical" was three-fold: it showed how indifferent the general public felt about Hawkeye as a superhero; it depressed and angered Clint Barton (the original Hawkeye) by trivializing the loss of some of his closest friends; and, perhaps most importantly, it mocked the hell out of infamous Broadway bomb Spider-Man: Turn Off the Dark, an embarrassing laughingstock that's routinely called one of the worst musicals of all time. A stand-alone performance at a theme park obviously won't fill any kind of narrative purpose like the TV show bit did, and as I've already said, making fun of bad superhero musicals is probably better suited for a five minute clip than a full act.
But hey, maybe "Rogers: The Musical" will prove me wrong. Maybe it'll be funny and entertaining for a full half-hour. Maybe it'll even hit some legitimately emotional notes and find some depth beyond mere parody. I mean, it's a one-act written for a theme park, so that seems unlikely, but weirder things have happened. And, really, it doesn't matter how good the show is; theme park guests will just be happy to get out of the sun and rest their feet for a spell. Also it fits the park from a theming perspective in more ways than one; the Hyperion Theater is in the park's Hollywood Land area, which is set in the same '30s / '40s era as Captain America's origins, and is also the last building you'll find in that land before walking into Avengers Campus. Fans will be able to see "Rogers: The Musical" in person when it opens at Disney California Adventure at Disneyland Resort on June 30.