A jetset lifestyle doesn't have to be all private planes and decadent digs. In Paste Travel's Jet-Set Bohemian series, we blend the best of high and low for just the right balance … enticing everyone from backpackers to luxury boutique hotel lovers to come along for the ride.

As soon as we step onto the cobblestoned alleyways of Plaka, the capital of the island of Milos more than 700 feet above sea level, we're swept into a wedding reception. The parade encompasses us as we join the marching band and wind up with the bride and groom in front of the reception site, which just so happens to be one of the top pastry shops on the Greek Cycladic island. Ducking past the band and into the taverna, the brothers behind the family run Kivotos ton Gefseon greet me in front of the multiple assortments of baklava, the phyllo dough-encrusted traditional pastry stuffed with honey, pistachio and walnuts. There's a reason this spot has become a not-so-secret favorite among locals. Mom uses her own farm-produced honey in the pastries and weaves elements of the island's volcanic nature into her seaside tavern Restaurant Sirocco, roasting seafood and meat underground with heat stemming from volcanic vents.
One half of island hopping in Greece is basking on the beaches and seeking out hidden rocky coves, but the other is cruising through these isles sampling what they've done best for thousands of years. Map out your route by ferry or hop on a Greek-based liner like Celestyal and make the rounds to the more untouched parts of the islands indulging in tradition, eating and drinking like—and with—the locals. As with any good adventure, it all begins with a toast, and Greece is one of the oldest wine-producing regions on the globe.
In addition to being known as the birthplace of Greek legends like father of mathematics Pythagoras and historian Herodotus, the island of Samos is famous for producing sweet dessert Muscat wine. Once the home of the Vatican's personal winery, Samos still produces communion wine for the Catholic church today and its vino is in high demand by the French market.
If you're visiting the island during the summer season, Samos plays host to a wine festival in Vathy the first 10 days of August where you can fill up a cup for as many rounds of sweet wine as you can stomach. For those who are good at stopping after just a sip, learn the history and sample a few of the more iconic varieties at the Samos Wine Museum, which holds large wooden wine barrels dating back to the early 20th century.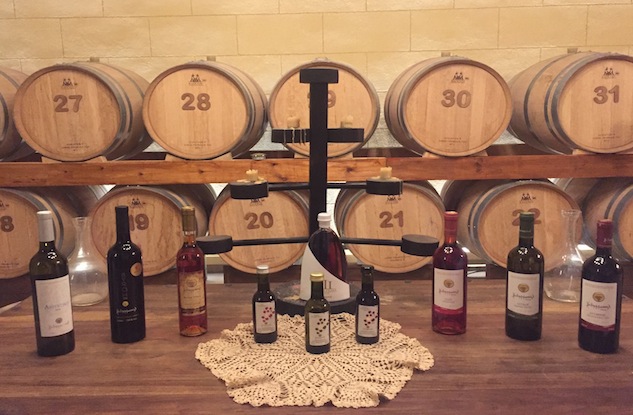 Photo by Lane Nieset
While the 25-mile-long island of Kos is closer to Turkey than it is to Greece, the cuisine here sticks entirely to Greek tradition. The spot believed to be the birthplace of physician Hippocrates, Kos features a 14th century fortress at the mouth of the harbor, built by the Knights of Saint John of Rhodes, and still relies mainly on farming crops like grapes, tomatoes, figs and olives. Growing wine since the time of Hippocrates himself, Kos is known for its salty Coan wine, but family run wineries like Hatziemmanouil have made a name for themselves playing with both indigenous and international varieties cultivating grapes on almost 150 acres of vineyards in Afousa.
After sampling the spot's six vinos, which include the signature Assyrtiko from Santorini, head to the southwestern-most village of Kos, Kefalos, where you'll come across another family run business. Third-generation beekeepers behind Melissa, Greek for honey bee, work with over 650 hives to produce the island's traditional thyme honey, used for centuries here as a form of medicine. The family moves its hives throughout the nearby islands to get just the right blend of herbs for its honey that's used in everything from raki liqueur to mini fried donuts called loukoumades.
Of course a trip to Greece isn't complete without sampling a spread of mezze, or tapas-style shared small plates that act as an appetizer. Don't expect to eat light while you're here. Part of Greek hospitality is breaking bread with your hosts, preferably at a beachside taverna with a cool glass of local vino. Head from flat-topped Plaka on Milos to the seaside fishing village of Pollonia on the northeastern corner of the island whose coastline is surrounded by white-washed homes.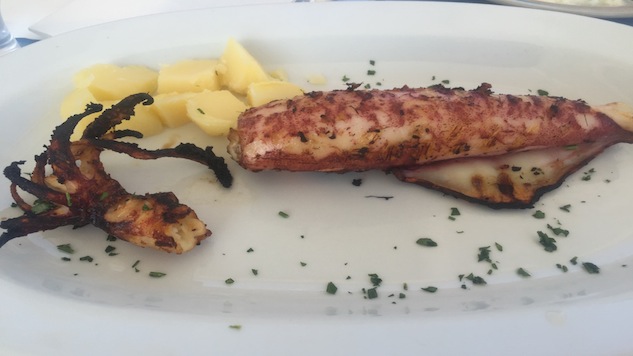 Photo by Lane Nieset
Take a seat that's about as close to the sea as you can get without being on the sand at family run Enalion, whose name translates roughly to "living in the water." Start with a glass of local Cycladic Assyrtiko white wine from the restaurant's cellar and prepare for a feast crafted from produce grown on Enalion's own 7-acre farm, sitting less than a mile away. The traditional spread blends hot and cold plates from eggplant salad and Tzatziki, or Greek-strained yogurt with Milos-grown garlic and cucumber, to grilled squid, tomato fritters and pitarakia, small fried onion and cheese pies. Dishes slowly make their way to the table over the course of a lengthy lunch allowing more than enough time to work through each course and bottle, culminating with a dip in the sea just steps away.
Lane Nieset is Paste's Jet-Set Bohemian columnist and a freelance writer covering all things travel from her home base in Nice, France.