Amazon Axes I Love Dick, One Mississippi and Jean-Claude Van Johnson
Images via Patrick Wymore/Amazon Prime Video, Amazon Prime Video
TV
News
Amazon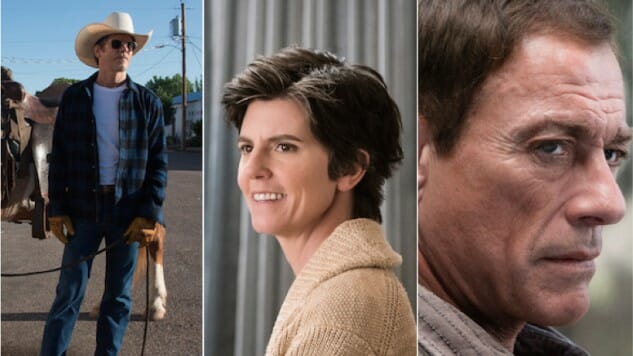 Amazon has officially announced the cancellation of three of its original comedy series, I Love Dick, One Mississippi and Jean-Claude Van Johnson. This news follows shortly after Amazon renewed its comedy series The Tick for a second season. Amazon currently finds itself in the midst of scandal after replacing former head of programming Roy Price amid sexual harassment allegations and his number two Joe Lewis amid conflict of interest allegations. Since then, Albert Cheng, Amazon Studios chief operating officer, has replaced Price and Sharon Yguado, former head of programming for Fox 2000, has replaced Lewis.
I Love Dick starred Kevin Bacon and was created by Jill Soloway, who remains in business with Amazon, although the future of her Emmy- and Golden Globe award-winning show Transparent could be in jeopardy after sexual harassment allegations were made against the show's star Jeffrey Tambor.
One Mississippi was created by and starred comedian Tig Notaro, and executive produced by Louis C.K. and FX Productions. Unfortunately for Notaro, who's been very outspoken about her accused executive producer C.K., Amazon has nixed her show while FX Productions also dropped it after at two-year run. No doubt, Amazon and FX Productions want to distance themselves from C.K. after he too was accused of sexual misconduct by five women and later admitted to the accusations.
Action and martial arts superstar Jean-Claude Van Damme won't be returning to television with his show Jean-Claude Van Johnson, which had Van Damme playing an altered version of himself coming out of retirement. Van Damme executive produced the show, which was produced by Ridley Scott's Scott Free Television and David W. Zucker. The series only recently premiered on Dec. 15 but was met harshly by critics. You can read Paste's review of the failed series here.
Amazon, luckily, is coming off the success of its recent award-winning The Marvelous Mrs. Maisel, which earned Golden Globes for Best Comedy Series and Best Actress in a Comedy Series for star Rachel Brosnahan. The streamer's current comedy half-hour lineup consists of The Tick, Catastrophe, Transparent and Fleabag.
Amazon is looking to do more straight-to-series orders following the success of Netflix and HBO. This means that Amazon will be making commitments to buying and airing a full ten to thirteen episode season, rather than just making a pilot and testing the waters. According to THR, Amazon's pilot process involved allowing viewers to help determine the future of the new series—however, many insiders said that the "democratic process was largely for show and meant little in the streamer's ultimate series pickup/pass decisions."