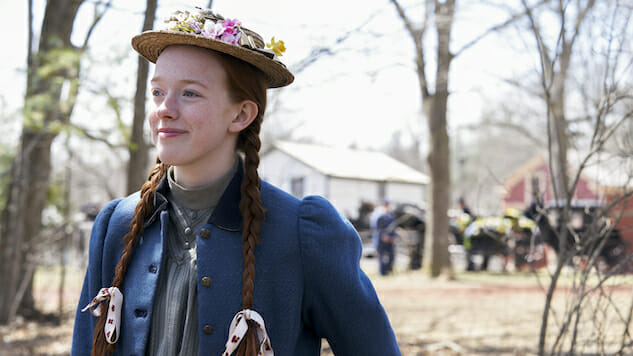 Keri Lumm reviews the final episode of Anne with an E for Paste, which you can watch in the video above or read the transcript of below.
I don't really like the taste of sherbert, but I have a total thirst for Shirbert.
Netflix's Anne with an E had a rocky first season, but this third season they finally found their stride.
Just in time to be canceled.
When a show based on a book ends, there are certain loose ends you want to be tied up. For an orphan, often the feeling of not knowing your history can be a loose end. Marilla (Geraldine James) and Matthew (R.H. Thomson) take their adopted daughter's need for closure as their own. They call on people, they send inquiries. They would do anything for her. (Also, I think Matthew and Marilla are perfectly cast. I said that in the beginning and my feelings have not changed. They are both perfection.)
In the finale, Anne (Amybeth McNulty) has moved on to the boarding house in Charlottesville to attend Queen's college and she looks all grown up with her hair up and dress with mildly puffed sleeves.
Marilla and Matthew have made the trip there to share a letter they received from Scotland about her now deceased parents.The letter has no answers, but they do not give up. Their love really does hope all things!
Meanwhile, Anne is also dealing with Gilbert (Lucas Jade Zumann). There have been a variety of misunderstandings, but the last episode opens with Gilbert dumping the Winifred (Ashleigh Stewart) for Anne. He writes Anne a letter which she doesn't even read, just tears up (he never got her letter beforehand). Then she pieces it together all wrong. It's all a mess until Winifred approaches her and tells her the truth about Gilbert's love for Anne. (Which is nice. She didn't have to obviously.)
And of course Diana (Dalila Bela) lets Gilbert know on the train that this was all a misunderstanding.
So Shirbert is a thing!
Anne and Gilbert kiss. They love each other!
They are still going to go their own ways for college, but they are destined for each other. And in the end, Marilla and Matthew are able to get a book that belonged to Anne's mother and Anne sees a hand drawn picture of her—and they look very similar. You can tell she is starting adulthood complete.
I loved how this ended. I wish they would restart and do their take on Anne of Avonlea!
---
Keri is a professional chatterbox who loves watching TV & movies, reading about pop culture, and gawking at any craziness on the internet. You can follow Keri on Twitter.
For all the latest TV news, reviews, lists and features, follow @Paste_TV.