7 Things You Need to Know About Hulu's George Clooney-Produced Adaptation of Catch-22
Photo: Philipe Antonello/Hulu
TV
Lists
Catch 22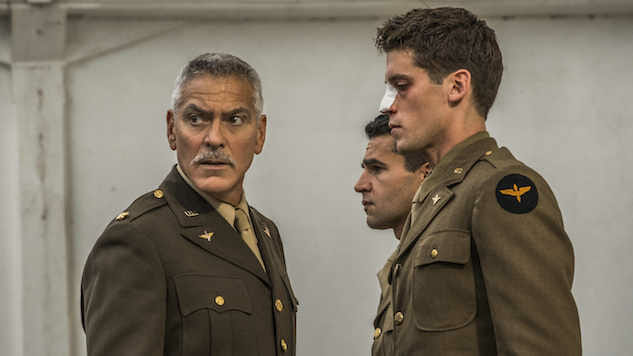 Catch-22, author Joseph Heller's sardonic novel about the absurdity of battles and casualties, is a cult hit that's long been a key text of anti-war activists and required reading in many AP English literature classes. Now, Hulu is bringing a splashy limited series adaptation from George Clooney, Grant Heslov and others. Premiering May 17 on the streaming platform, the project aims to battle it out for awards consideration—and might even let the ER vet cross off the "E" in his EGOT.
Clooney, Heslov and more involved with the miniseries appeared as part of Hulu's day at the Television Critics Association's biannual press tour in Pasadena, Calif. to share some details about their take on Catch-22.
How do you tell such a complicated story as a TV show?
While Heller's novel jumps around among different points of view, the miniseries traces a linear path, concentrating on Air Force bombardier John Yossarian (Girls' Christopher Abbott).
Luke Davies, who shares writing credits with David Michôd, says that, for the character, "the world is in chaos around him" and that "there's barely a single scene in the entire six hours in which Chris isn't in it."
How relevant is this story now?
Very relevant, the panel argues. Davies says that Heller's book—which is set during World War II—is "a beautiful and hilarious novel about the relationship between war and insanity and capitalism and bureaucracy."
He adds, "we all wake up every morning these days in a shared global anxiety condition. This is like the origin story of that."
Grant Heslov cast himself in one challenging part.
Heslov, Clooney's long-time producing partner, plays Doc Daneeka—the character tasked with explaining exactly what a Catch-22 is: "Orr was crazy and could be grounded," as Heller writes. "All he had to do was ask; and as soon as he did, he would no longer be crazy and would have to fly more missions. Orr would be crazy to fly more missions and sane if he didn't, but if he was sane he had to fly them. If he flew them he was crazy and didn't have to; but if he didn't want to he was sane and had to." Heslov says that monologue was hard to get out, and that "as we got shooting, it became apparent to me that that's an iconic scene."
Are they concerned about competing with Mike Nichols' 1970 film?
Clooney says that he and Nichols were friends. He calls the late director "an artist" and (perhaps?) jokes that "we stole a couple of things from him." He says a TV show means that you get to spend more time with the characters.
Davies says that, while he loves the film, it "just recreates the chaotic, kaleidoscopic madness of the novel." He wanted to "unfold the chronology so that our characters could have actual emotional journeys."
Are they concerned about any negative reaction from veterans?
"Army people are the first people who like these stories, because they're also making fun of the higher-ups," Clooney says. "It's also more for making fun of the bureaucratization of military and war."
Abbott says he likes to find the fine line there: "I think things are funny when things are [done] very truthfully."
About those fighter planes…
Heslov says they used North American B-25 Mitchell planes, which can last for about five hours in the air. He says they were actually in great shape. But Clooney notes that this doesn't compare to the Nichols movie, which had 45 of them.
Abbott didn't actually fly one—that would be "extremely dangerous," he points out—but says that just "being in that nose cone was a very vulnerable place."
This isn't the first time Clooney has donned a uniform for a role.
The actor, who is the son of a vet, appears in the film as the ridiculous buffoon of a training officer, Scheisskopf. His long resume has also included playing an Army major in Three Kings and other notable parts.
"You feel that incredible sense of responsibility to generations," he says of wearing military garb, adding that, "as an actor in general — with the exception of the Batsuit — any time [in] a costume, you get into character."