TV Rewind: Pivoting Back to FOX's Essential Pandemic-Era Comedy
Photo Courtesy of Fox
TV
Features
Pivoting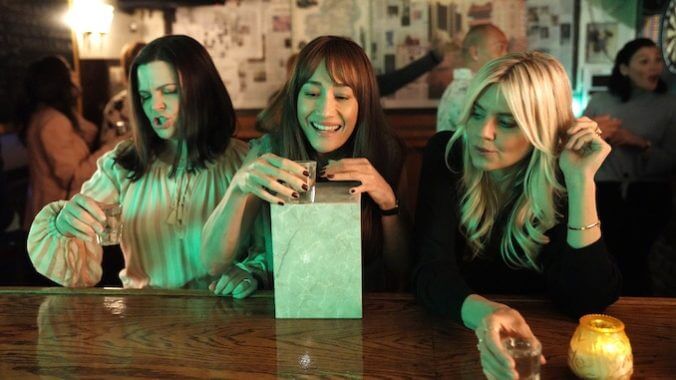 Editor's Note: Welcome to our TV Rewind column! The Paste writers are diving into the streaming catalogue to discuss some of our favorite classic series as well as great shows we're watching for the first time. Come relive your TV past with us, or discover what should be your next binge watch below:

Like all great sitcoms on basic cable, Pivoting begins with a premature death. 
Three middle aged women have lost their friend Colleen. As they grapple with what this means for their friend group as well as their families, lives, and careers, each of the women make varying degrees of highly questionable, life-altering decisions. 
Sounds hilarious, right? 
It often was. And even when it wasn't, the short-lived show had the kind of heart, acting, and character development that deserved much more than a single brief season. 
Pivoting premiered on FOX in January 2022 and was canceled just four months later. Its 10 episodes, available for purchase on Prime Video and Apple TV (though sadly are not streaming otherwise), are both a strong comedy showcase and one of basic cable's greatest outputs during the dog days of the COVID-19 pandemic. 
In other words, despite its cliched title, Pivoting was gone way too soon. 
In fairness to the title, Pivoting was in development before COVID-19 hit U.S. shores and the term "pivoting" became a ubiquitous business term that, in plainspeak, roughly means "figuring out what the heck to do about this virus." Blessedly, said virus doesn't seem to exist in the world created by creator Liz Astrof. In this case, the title refers to the personal, romantic, and existential crises our three principal characters—Jodie (Ginnifer Goodwin), Amy (Eliza Coupe) and Sarah (Maggie Q)— navigate in the wake of their friend's sudden death. (All of the women shine, though, as is to be expected, Coupe steals the whole dang thing.) 
From the jump, Astrof and her fellow writers display a knack for mapping the nuances of loss. Colleen meant something different to each of her friends. She was, it would seem, the perfect parent, wife, and friend, and—compared to our core trio—she was the only one who had it all together. That, too, is part of Pivoting's distinctive appeal: It nudges and hints at the inherent hagiography we engage in after the loss of someone dear to us. One can only wonder where Astrof and her writers could have taken this theme in subsequent seasons. But that's another central theme at the big heart of Pivoting—let's not dwell too much on what could have or should have been.
In spite of their show's short run, Goodwin, Coupe and Q pack multiple seasons of charm into 10 short episodes. Between Big Love and Once Upon a Time, Goodwin had already carved out a niche as one of the most reliably engaging TV performers of the last 15 years. Q, too, does an exemplary job as a burned-out doctor who decides to make a radical career change. The way she plays Sarah is subtle and sleek; at times, the viewer wonders whether Q's character is on the verge of a nervous breakdown, and maybe she is. Yet just when you think Sarah is about to go left, she goes right. Her sublime storyline illustrates the strange pathways down which grief can take us, and it also provides a surprising window into the life of Colleen and her widower Brian (Colton Dunn, in a perhaps surprisingly fun performance).
But as mentioned before, the clear star is Eliza Coupe—and it's not even close. 
At this point, it's just not fair that other performers must match wits with the masterful Coupe. They can certainly try, but the Scrubs and Future Man alum has somehow managed to steal pretty much every scene she has ever been in. 
Fans will likely recognize Coupe from another show that was also, unfortunately, Gone Too Soon™: Happy Endings. The ultra-perfectionist she portrayed in that series is a far cry from her character Amy in Pivoting, but Coupe imbues both shows with her sardonic wit and keen ability to make even the most wry, cynical characters immediately likable. 
Between the premature cancellations of both Happy Endings and Pivoting, there's a case to be made that the universe and/or the powers that be (aka foolish studio execs) have something against Eliza Coupe. At the very least, they fail to see the sheer, evergreen magnitude of Coupe's sterling talent, and the way she can lift even the most rote B or C storylines into thoroughly entertaining television. (For good measure, the stellar comedy Reboot, on which Coupe was a guest star, was also axed before its time.)
In Pivoting, Coupe's skills were put to good use. Amy and her husband Henry (Tommy Dewey) have the kind of chemistry that could sustain its own show, and Amy's attempts to balance work, grief, and multiple levels of guilt make for some of the series' most resonant moments. Coupe's character is also used as a vessel for interrogating our preconceived notions of what women should desire in the modern workplace, and it's a credit to the writers that these story threads never feel forced or preachy. 
In short, it's the characters and their performers that ultimately made a short-lived show about grief worthy of grieving. But alas, TV is all about timing. Take Ted Lasso, for example. The now-iconic comedy premiered at the height of the pandemic, and it ended shortly after the crisis supposedly (but not really) ended. From the days of curve-flattening through a hate-filled election and every coup in between, Ted Lasso (the show and the character) was there for us; it was the perfect foil for These Unprecedented Times. 
Pivoting, meanwhile, was something of a Trojan horse. It may not have reached the highs of Lasso, but it succeeded as both an entertaining sitcom and an avenue through which we could ask tough questions about love, loss, friendship, family and the actual value—if any—of a long-running career. 
Maybe we just weren't ready for it. Maybe it had bad SEO. Or maybe the world (aka foolish execs) will never give Eliza Coupe the long-running sitcom she obviously deserves. 
In any case—and in true Pivoting fashion—I choose to simultaneously move forward while mourning. That critical, universal lesson was another thing this show reminded us is possible. 
---
Tyler Hicks is a writer and journalist based in Dallas, Texas. His work has also appeared in The New York Times, Al Jazeera, The Daily Beast and many other publications.
For all the latest TV news, reviews, lists and features, follow @Paste_TV.