Watch the Unsettling First Teaser for Netflix's Maniac with Jonah Hill and Emma Stone
Photos by Michele K. Short/Netflix
TV
News
Maniac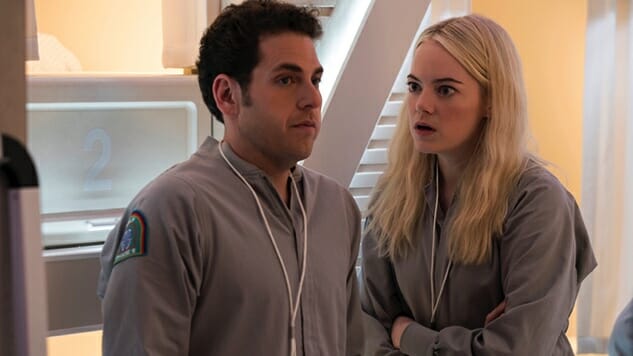 Jonah Hill and Emma Stone have a staring contest in the first-look teaser for Maniac, a Netflix original limited series.
"There's no reason to believe that anything about us can't be changed. The mind can be solved," says a calm but eerie voiceover before green, red and blue shots flicker on the screen.
Cary Fukunaga directs all 10 episodes of the series, which is set to premiere on the streaming platform on Sept. 21. Sunday at the Television Critics Association summer press tour, Cindy Holland, Vice President of Original Content at Netflix, described Maniac as a "thought-provoking fever dream of a show."
In addition to the minute-long teaser, Netflix has also shared a detailed synopsis for the series, an adaptation of a Norwegian show of the same name. Stone plays Annie Landsberg, a character that is "disaffected and aimless, fixated on broken relationships with her mother and her sister." Hill plays Owen Milgrim, "the fifth son of wealthy New York industrialists, [who] has struggled his whole life with a disputed diagnosis of schizophrenia."
The show centers around the late stages of a pharmaceutical trial that promises to, "with no complications or side effects whatsoever, solve all of their problems, permanently." As one would expect with a promise that bold, things don't go as planned. Watch the teaser for Maniac below.