Sundance Now's Riviera Is a Smartly Paced, Mysterious and Lavish Thriller
Photo: Sundance Now
TV
Reviews
Riviera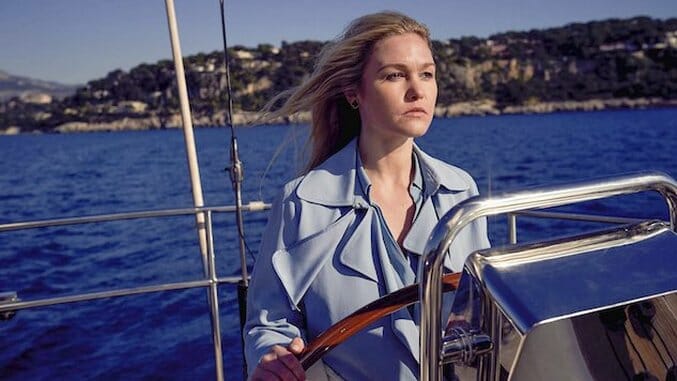 I have a huge bone to pick with this show, which is that the title sequence is hideous.
Seriously, it is, and seriously, that's pretty much my main objection to Riviera. Julia Stiles plays Georgina Clios, recently married to billionaire Constantine Clios (Anthony LaPaglia). Clios dies in a mysterious yacht explosion off the coast of Monaco, leaving Georgina to contend with her three adult stepchildren, Clios's first wife (Lena Olin) and a rapidly unspooling series of revelations that her late husband's fortune was… um, not exactly earned through honest dealings, and that maintaining their opulent digs and high-flying lifestyle will entail a very fast-paced education in criminality.
Riviera is utterly binge-worthy. Created by Neil Jordan (after a story idea by U2 manager Paul McGuinness), the show is a smartly paced, mysterious and lavish thriller with a fabulous cast and stunning visuals. Julia Stiles is just a ton of fun to watch—for someone who had no idea her husband was a crook, a gambler, and possibly a murderer, she's suspiciously adroit with a pistol. She's out of her depth, but she's such a good swimmer you know there's probably some juicy backstory there. Olin is fantastic, and all three dysfunctional children (Iwan Rheon, Roxane Duran and Dmitri Leonidas) knock it out of the park. Everyone has secrets. There's a freaky casino owner who's doing a brisk trade in sex workers, painters making fraudulent replicas or priceless canvases, sketchy financiers; obsessed cops, neurotic scions, secret apartments. There are twists, there are turns. There is a sleek visual sensibility and a pretty dang resplendent setting.
You do have to get past a very twee title sequence to find this out. There's that. Really. It's ugly and ponderous and will give you the mistaken impression that the show's crap. Crap it is not. Actually, it's one of the most enjoyable series I've seen in a while. Good concept, well-directed, with a great cast and opulent visuals. Riviera is a tense, compelling, stylish thriller.
With a crap title sequence. Really. But I'll get over it, and so will you.
Riviera premieres today on Sundance Now.
---
Amy Glynn is a poet, essayist and fiction writer who really likes that you can multi-task by reviewing television and glasses of Cabernet simultaneously. She lives in the San Francisco Bay Area.