Black Rose: Motherhood, Defiance and Other Dark Matter in Underground, "Things Unsaid"
(Episode 2.02)
WGN America
TV
Features
Underground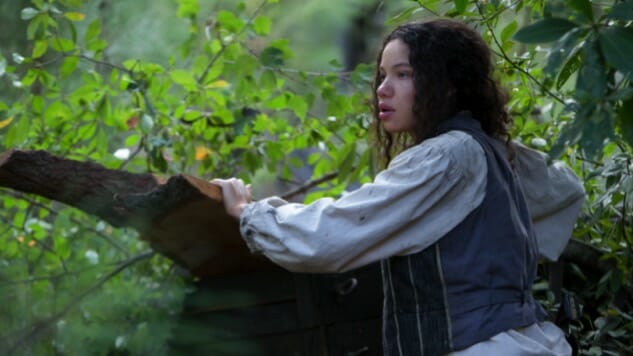 "I keep thinking about children." —Elizabeth
Somewhere between my first and second child, I realized that motherhood was probably the creepiest, darkest and most fascinating experience one might ever find oneself in. It's no wonder men have, since practically the beginning of time, sought to control the circumstances under which women create life. It's a power and privilege unlike anything else, and I've always felt that, while motherhood may be perfectly natural, it's not for the faint of heart.
I think the creators and writers of Underground have always understood the advantages of storylines centered on mothers and mothering. In the pilot episode, "The Macon 7," we first met Rosalee and Ernestine as they were helping Seraphina give birth—a birth that resulted in an "ugly death." Seraphina's decision to kill her own newborn child felt drastic at the time, but we would go on to hear echoes of such a sacrifice throughout the season. In many ways, Underground keeps posing the question Toni Morrison posed when she wrote Beloved years ago: How far should a mother living under slavery go to ensure her child's freedom? Do you run away, as Beloved's Sethe tried? Do you stay behind, like Pearly Mae? Do you try to give them the best "life" you can, from the Big House, like Ernestine? When things get complicated, do you kill for them—even when it's someone close to you—à la Ernestine and Pearly Mae? Or do you rebel against the entire system and refuse to allow them to experience slavery at all, like Seraphina?
These are some of the questions I imagine might have crossed Clara's (DeWanda Wise) mind when she considered keeping, or not keeping, her baby. The scene where she goes to Ernestine for the medicine that will induce a miscarriage is awkward, and telling. On the one hand, we're witnessing an interaction between—I'm sorry, I gotta say it—the side chick and the main chick. If you've never been in a situation where you've had to enlist abortion services from the girlfriend of the guy you're sleeping with, then your life probably doesn't have as much drama as you think it does. But, all Love & Hip Hop vibes aside, this scene also presented what may arguably be one of the most common, private conversations among women—the "should I keep this baby" conversation. And because of the setting, that dialogue is all the more difficult. Clara is clearly inclined to keep her baby, but Ernestine's lover/her babydaddy is not interested. She wants someone, perhaps, to give her a different perspective.
"You got chillun?"
"Yes."
"And?"
"And they were the best thing in my life."
(To borrow from Toni Morrison, no—you your best thing, Ernestine.)
Listening to Clara and Stine, one can't help but wonder: Is there any benefit to having children under slavery? You've no control over their lives, their upbringing and their happiness. When the ghost of Sam's father (French) contradicts Ernestine later and says, "your children were the worst thing that ever happened to you," (adding that Stine had herself fixed so as not to bear children again, after little James) I believe he's pointing to Ernestine's current state of heartbreak and despair. One child hanged, two others in unknown locations. She may never see them again. Was it worth it?
And that's what Clara wants to know. Will it be worth it in the end? And, of course, in the end it doesn't matter anyway, because a man chooses for her.
But Clara's very desire—the very idea of wanting a baby to love, of wanting to have chilluns, of bringing a baby into the world of slavery, is powerful. Like choosing to love (or, l-o-v-e, as Daniel shows us) under a system that treats your loved ones like meat, motherhood itself in the world of Underground feels like an act of defiance.
"Families aren't like they are down in the South. They seem whole. And your children, you can raise 'em without having to worry about ever having to run."
And I'm so thrilled that Rosalee, AKA the Black Rose, is joining in on this particular rebellion. At least… I think I'm thrilled. For one, it's such a relief to know that the writers decided to go ahead and write Jurnee Smollett-Bell's real life pregnancy into the show. I understand it's not possible on every show, but there are few things more absurd than watching a series attempt to hide an actor's pregnancy. Incorporating Smollett-Bell's personal experience makes perfect sense for the show, and Rosalee's pregnancy also serves as a helpful reminder that it only takes one time, people!
But, as is always the case with motherhood, there's a dark side to all this. Assuming Rosalee survives that gunshot courtesy of Patty Cannon, she is now running while pregnant. And should the baby be born (free? Imagine that…) how will it change Rosalee? How much more will she long for her mother, and her brother James? Will she be less likely to move cargo alongside Harriett? And the most terrifying question, the one I'm afraid to even write here—will she able to keep this baby? Will the child survive everything Rosalee will surely have to endure, before she's even born? And once she's made it into this world, will she be out of harm's way?
This is Underground. We already know the devastating answer to that.
And yet still, like Clara did, I can't help but get excited about the possibilities. Ernestine's grandchild? Imagine what's running through those veins. And the other truth is that Rosalee now has one more reason to fight for Noah. Like she told Harriett: He is family. And her pregnancy gives her this wonderful connection to him, even though they're apart.
It's a connection I'm sure Elizabeth will feel some jealousy over. When she tells Georgia that she keeps thinking about children, she's wondering if her pain might be lessened, if she had some physical representation of John—and their bond—in her presence. Of course, as she acknowledges, that's not really how wounds work. There is no salve for those first blows of grief. And she is going to have to find another way to work through the pain. Crashing with Georgia is probably a good first step, and I'm still looking forward to more target practice from the sewing circle.
"To be the most notorious slave catcher, one would think you'd have caught the most notorious runaway. Why shouldn't I be writing the book about her?"
I confess that this quote has no particular bearing on my piece, I just wanted to be sure that it lives on forever. When I heard the biographer say it to Patty, I felt that it applied to an American legacy consisting of endless celebrations of white mediocrity, even in the midst of black excellence. One could argue that, in highlighting acts of empowerment and rebellion big and small, such a legacy is precisely what this show is attempting to dismantle. So far, so good.
---
Shannon M. Houston is a Staff Writer on Hulu's upcoming series
The Looming Tower
. She is the former TV Editor of
Paste Magazine
, and her work has appeared in
Salon
, Indiewire's
Shadow and Act
, and
Heart&Soul
. She currently has more babies than you. You can follow her on Twitter.