Woods: Sun and Shade
[Woodist]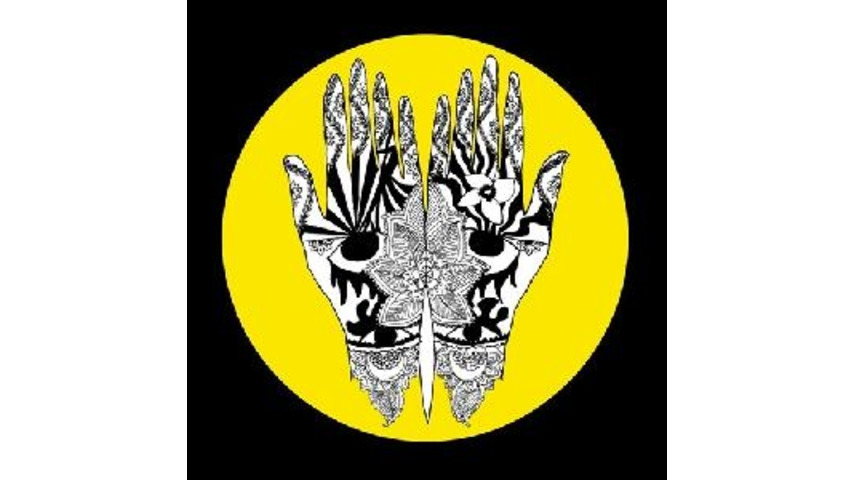 Brooklyn quartet Woods really have a thing for the '60s. They're all over the stylistic map on Sun and Shade, their sixth full-length album in six years—bouncing from strummy pop to psych-folk to home-brewed Kraut-rock—but every single second is bathed in charming nostalgia for a bygone era.
Commencing with four barely-there drum stick clicks, opener "Pushing Onlys" eases into a catchy, melancholy electric guitar barn wrangle, a perfect frame for vocalist/guitarist Jeremy Earl's screeching falsetto. While the album's fidelity gets progressively cleaner as the tracks progress, "Pushing" is, like much of the band's back catalog, lo-fi and filled with static and stereo bleed. As an album opener, it's slightly standoffish, Earl's yelping twang landing him somewhere in between Neil Young and an Appalchian grandma, but there's a magnetic, almost spiritual quality present in the ramshackle rhythms and clipped acoustic strums. This is a track meant to be heard through a warped, decaying record player in your uncle's attic next to a stack of dusty LPs.
"Be All Be Easy" puts Earl's falsetto to better use, evoking Flaming Lips singer Wayne Coyne over a lovely garden of blossoming psych-folk. The track itself is '60s by way of '90s, recalling ballad-mode Flaming Lips circa 1995's Transmissions from a Satellite Heart, outfitted with headphone-spanning tremolo guitars, vocal effects and wheezing organ. It's a good look for Woods—for all the track's busy bells and whistles, it works mainly because the melody's strong, and it's quite easy to imagine stripped of its fussiness in the form of a sweet little folk tune.
Pop nuggets like "Any Other Day" and "Hand it Out," an excellent slice of Byrds-ish 12-string wonder, rub elbows nicely with the psychedelic churn of "To Have in the Home" and the stark, fingerpicked ballad "Wouldn't Waste." But Woods get themselves into trouble when they venture away from melody and rely on atmosphere and repetition. "Out of the Eye" is mind-numbing Kraut-rock that promises a rousing slow build but ultimately arrives nowhere. "Sol Y Sombra" makes for intoxicating atmosphere, utilizing guitar noise, bass thud, tom-tom rustle and a shimmering cymbal. But it's mostly stillborn pussyfooting, refusing to expand, teasing a worldly prog explosion that never arrives in its 10 (or is it 20?) minutes.
There's much to be said for any band that can cover so much sonic territory in 12 tracks and 45 minutes. But next time, Woods should aim for enough sound to fill one dusty, neglected '60s LP—not an entire cratefull.
Others Tagged With