This month TV media's attention has been focused on Jimmy Fallon and Seth Meyers shuffling into their new chairs at NBC, but Comedy Central's sleeper hit @midnight has quietly continued to be the funniest and most innovative show in late night. The interactive Chris Hardwick-led half-hour has blown up the traditional talk show format, bringing in a rotating cast of the most respected comedians in the game and incorporating the Internet in a way that doesn't feel contrived to create a show that isn't trying to be anything other than what all late night comedy shows should be: fun.
Here are 10 reasons why @midnight has earned our Likes, our Favorites and our +1's.
1. It's Not a Talk Show
In his Time magazine cover story last month, Seth Meyers said he has no plans to reinvent the late night talk show format. Well, maybe we're all ready for a little reinvention. In the glut of guys in suits interviewing guests with pre-determined talking points, @midnight offers something truly newsworthy: a new format. It's ostensibly a game show, but much like the Internet itself, @midnight is a blend of types of content that can't easily be categorized under a single banner.
I've heard it described as part Web Soup and part NPR's Wait, Wait, Don't Tell Me! with a dash of You Don't Know Jack! For us, it also harkens back to MTV's Remote Control, swapping in social media for TV trivia as a vehicle for making comedy.
2. It Actually "Gets" the Internet
Sure, other hosts like Fallon or Conan have incorporated digital-driven segments into their shows, but often as superficial structures for standard topical jokes or host schtick. On @midnight, social media is the DNA, woven into the show as organically as it is into our daily lives. It doesn't feel like a network executive said, "Hey, young people like the Internet, so let's talk about the Internet more." @midnight talks about the Internet because it's 2014 and the Internet is awesome.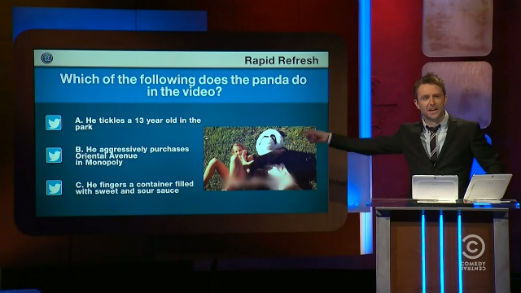 It's also comprehensive about finding content from all corners of online culture—from Yelp reviews and Tumblr blogs to Emoji and Etsy shops—in a way that could only be done by people who genuinely love the digital world. And while the geekier side of the web provides fertile ground for mockery, @midnight succeeds by finding humor beyond simple gawking at freaks or weirdoes. The contestants are still on the hook to craft clever jokes, and nothing embodies spirit of the Internet more than a bunch of smart asses trying to top each other's punchlines. Which brings us to…
3. It's Wish Fulfillment for Comedy Nerds
Comedy nerds love to imagine two things: being best friends with their favorite comedians and becoming famous comedians themselves. On-air and online, @midnight gives fans the chance to feel like fans are in the inner circle. The laid-back, improvisational nature of the show gives the impression that everyone's just hanging out, riffing together the way funny people do when they're offstage. As a result, it's impossible not to play along, shouting out your own punchlines at the screen (probably the only time it's okay to talk during a comedy show).
The show's signature segment, "Hashtag Wars," capitalizes on the impromptu word games that spring up on Twitter, challenging contestants with categories like #CandyBands ("Pixie Styx") or #RomanticActionMovies ("Can't Die Hardly Wait"). Each night, fans can submit their own jokes via Twitter in hopes of getting a coveted @midnight retweet or even seeing their answer on-air in the following episode. Established comics and celebrities will often take part, too, adding to the sense that you're just one clever tweet away from being discovered by a future comedy BFF.
4. It's Made "POINTS!" an Instant Catchphrase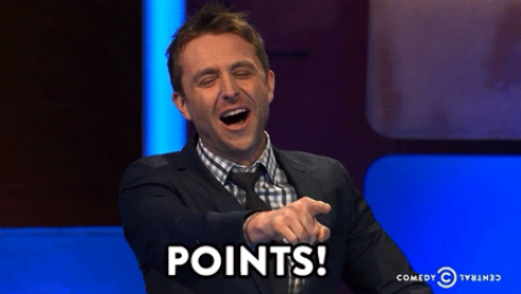 To call @midnight a game show is to apply that term very loosely. There are no rules, and the points are handed out arbitrarily by Hardwick through his cry of "Points!" It's not even clear what the point values are from round to round, just that someone has earned "Points!"
Now, at least in our household, "Points!" has become the out-loud version of giving something a Like. Clever retort about whose turn it is to empty the dishwasher? POINTS! Funny joke about a bad local commercial? POINTS! Witty comeback about…well, you get the point.
5. It Reunited The State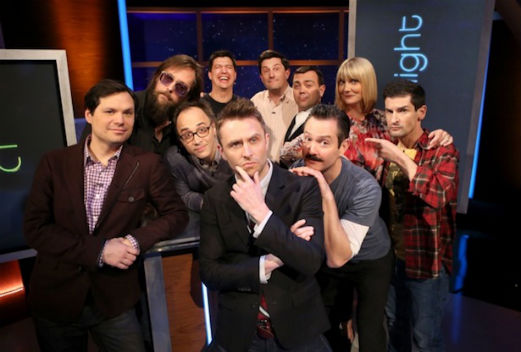 @midnight is executive produced by State veterans Thomas Lennon and Robert Ben Garant, so it makes sense this would be the venue to bring together an almost complete reunion of the acclaimed '90s sketch troupe. (Only Kevin Allison and Todd Holoubek were missing.) While it's easy to spot individual cast members like Michael Ian Black, Ken Marino and Joe Lo Truglio all over TV and movies, it's rare to see so many of them in one place. This short taste on @midnight proved a full-length State reunion would be welcome at any hour.
6. It's Made The Iron Sheik a Must-Follow on Twitter
One of the most consistently LOL @midnight games is "The Iron Sheik: Real or Jabroni?" The former WWE champion has taken to Twitter with some very strong feelings about pop culture, bluntly declaring something good ("the Real") or bad ("the Jabroni").
Contestants are given a name or brand and have to guess where The Iron Sheik's whims have taken him that day. His profane, broken-English writing style is as entertaining as his opinions are unpredictable. In the Real column: Matchbox 20 ("Justin Bieber I don't give a fuck about you are not like the Frank Sinatra or the Matchbox 20"). Under the Jabroni: Lilo & Stitch ("Fuck the Lilo & Stitch forever").
The best part is that The Iron Sheik is in on the joke, tweeting about @midnight (the Real) and live-snarking events like the Super Bowl ("FUCK THE SAFETY"). As Hardwick himself said, if you're not following The Iron Sheik on Twitter, then you hate awesome things.
7. It Lets Chris Hardwick Do What He Does Best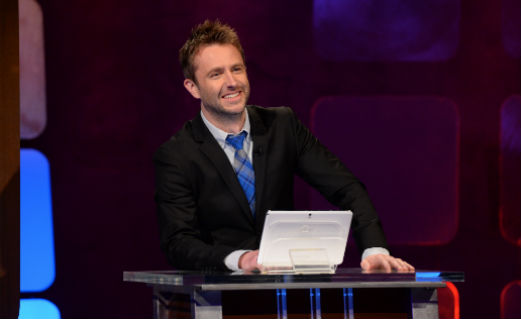 Some would argue that what Chris Hardwick does best is find ways to be on television all the damn time. But the fact is, the guy's a pro, and @midnight puts him in top form: smart, relaxed and charmingly generous in helping the contestants look good. His quick wit keeps the show's pace equally snappy; if a comedian gets lost in a tangent, Hardwick deftly brings the show back on track with a well-placed joke. As gamekeeper, he's always on the mark in his subjective scoring of the Live Challenges, when all three contestants compete for a tiered offering of points. Compared to his more toned-down persona on the "Talking" shows on AMC, Hardwick seems entirely in his element hosting @midnight. The only downside is he'd probably make a great @midnight contestant, too.
8. It Gets Some Great Contestants
For comedy nerds, @midnight's guest roster reads like a favorite podcast playlist: Kumail Nanjiani, Paul F. Tompkins, Doug Benson, Paul Scheer, Scott Aukerman. Add in names like Patton Oswalt, Judd Apatow, Neko Case and "Weird Al" Yankovic and you've got an eclectic collection of pop culture voices that has made @midnight an immediately relevant platform. The show obviously benefits from Hardwick's connections through his Nerdist Industries empire, along with the extended comedy network around Lennon and Garant, but at the same time comedians are competitive by nature, so @midnight's game show format is an attractive way to prove you still have the chops, no matter how famous you've become.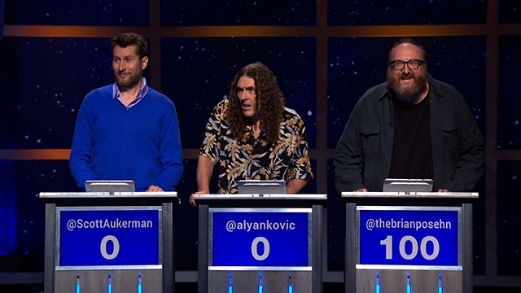 9. It's a Handy Way to Discover New Comedians
Obviously, not every contestant can be from the comedy A-list, but the brilliance of @midnight is that it doesn't matter. Through its improvisation and competition elements, the show levels the playing field. No matter their level of stardom, everyone has to bring the goods, and the biggest names are not necessarily the best players. Funny trumps fame. As a result, lesser-known comedians get an outlet for more air time and fans get another place to check out new comics.
10. It's Got a Brilliant Name
The original pilot was apparently called "Twitterdome" before Hardwick suggested expanding the scope to all of the Internet. @midnight is better on every level. The @ is a stylish nod to the social media-ness of the show, with the added benefit of automatically promoting the tune-in time. There's also something to connecting the midnight hour with the Internet, since so many of us have self-induced insomnia from scanning just a few more Reddit threads, a few more Tumblr blogs, a few more Instagram photos late into the night.