Bodies in Balance: TV Shows To Watch During Indoor Cardio
Photo by Helen Sloan/HBO
Health
Lists
Fitness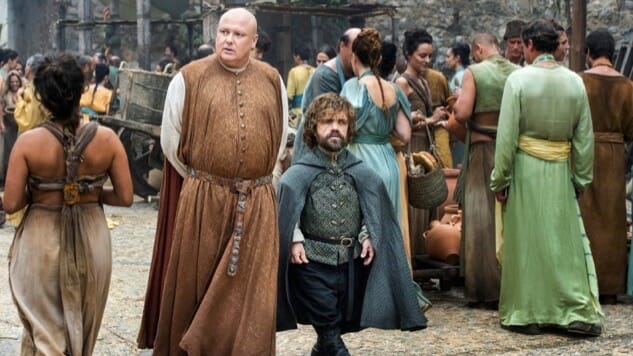 The cold and miserable weather of winter sends hordes of fitness enthusiasts indoors for their cardio training while waiting for the warmer days of spring. And while the high-tech cardio equipment in gyms and health clubs is great for getting our heart rate up and burning calories, it's definitely not the same as heading outdoors for a long run or hitting the trails with your mountain bike. Until those snow drifts start melting and the temperature gauge begins creeping past 20 degrees, however, many of us will be stuck paying homage to the treadmill or spin bike in order to get a workout in.
So in an attempt to make the miles go by a bit faster, many people turn to watching their favorite TV series—like Game of Thrones (above)—while grinding it out on one of the various cardio machines. The addictive power of these shows can sometimes give that extra push to stay motivated when all you want to do is hide under the covers and wait for winter to pass.
Whether you are looking for a humorous, mindless show or something so intense you can't think about anything else going on around you, the following list has plenty of options to keep your mind occupied and your body coming back for more.
TV series for a 20-30 minute workout
1. Friends
Follows the personal and professional lives of six 20 to 30-something-year-old friends living in Manhattan.
2. The Office
A mockumentary on a group of typical office workers, where the workday consists of ego clashes, inappropriate behavior and tedium.
3. Veep
Former Senator Selina Meyer finds that being Vice President of the United States is nothing like she hoped and everything that everyone ever warned her about.
In the high-tech gold rush of modern Silicon Valley, the people most qualified to succeed are the least capable of handling success.
5. Atlanta
Two cousins, with different views on art versus commerce, on their way up through the Atlanta rap scene; "Earnest 'Earn' Marks," an ambitious college drop-out and his estranged cousin, who suddenly becomes a star.
A woman who moves into an apartment across the hall from two brilliant but socially awkward physicists shows them how little they know about life outside of the laboratory.
Three different, but related families face trials and tribulations in their own uniquely comedic ways.
A woman is rescued from a doomsday cult and starts life over again in New York City.
TV series for a 40-60 minute workout
The story of Piper Chapman, a woman in her thirties who is sentenced to fifteen months in prison after being convicted of a decade-old crime of transporting money to her drug-dealing girlfriend.
2. Breaking Bad
A high school chemistry teacher diagnosed with inoperable lung cancer turns to manufacturing and selling methamphetamine in order to secure his family's future.
A Congressman works with his equally conniving wife to exact revenge on the people who betrayed him.
A man in his early 30s struggles to find a balance in his life between being a new dad and his involvement in a motorcycle club.
5. Dexter
Dexter Morgan is a Forensics Expert, a loyal brother, boyfriend, and friend. That's what he seems to be, but that's not what he really is. Dexter Morgan is a Serial Killer that hunts the bad.
Alicia has been a good wife to her husband, a former state's attorney. After a very humiliating sex and corruption scandal, he is behind bars. She must now provide for her family and returns to work as a litigator in a law firm.
7. This is Us
Follows a unique ensemble, as their paths cross and their life stories intertwine, from sharing the same birthday, to so much more than anyone would expect.
Two Soviet intelligence agents pose as a married couple to spy on the American government.
9. Homeland
A bipolar CIA operative becomes convinced a prisoner of war has been turned by al-Qaeda and is planning to carry out a terrorist attack on American soil.
10. Billions
U.S. Attorney Chuck Rhoades goes after hedge fund king, Bobby "Axe" Axelrod in a battle between two powerful New York figures.
11. Game of Thrones
Nine noble families fight for control over the mythical lands of Westeros. Meanwhile, a forgotten race hell-bent on destruction returns after being dormant for thousands of years.
12. Suits
On the run from a drug deal gone bad, Mike Ross, a brilliant college-dropout, finds himself a job working with Harvey Specter, one of New York City's best lawyers.
13. The Walking Dead
Sheriff Deputy Rick Grimes leads a group of survivors in a world overrun by the walking dead. Fighting the dead, fearing the living.
14. Stranger Things
When a young boy disappears, his mother, a police chief, and his friends must confront terrifying forces in order to get him back.
Sara Lindberg is a freelance writer specializing in health, fitness, and wellness.