Eddie Murphy to Host Saturday Night Live for the First Time Since 1984
Phoebe Waller-Bridge, David Harbour, Kristen Stewart Also Set to Host
Photo courtesy of Getty Images
Comedy
News
Saturday Night Live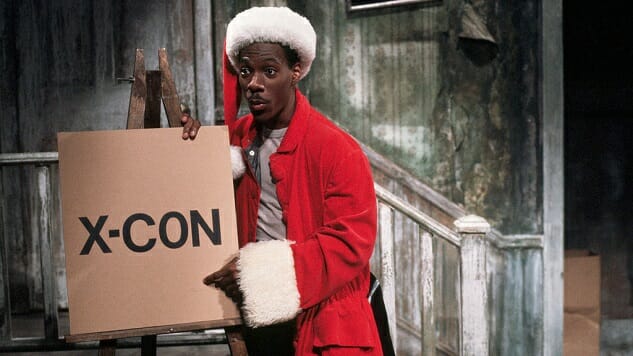 Here's a weird trivia note: when Eddie Murphy hosted Saturday Night Live for the first time in 1982, he was still a cast member. That's how huge he was in the '80s, and how absolutely not huge the rest of that era's cast was. (Okay, Joe Piscopo was pretty popular at the time, and Mary Gross was great.) He hosted again in December 1984, a few months after leaving the cast, and just a week or two after Beverly Hills Cop opened in theaters. And that was it—the biggest Hollywood star to ever be a cast member on SNL pretty much had nothing to do with the show for the next 30 years, not popping again until a short appearance at the 40th anniversary special in 2015. Supposedly it was because he was hurt by a joke David Spade made at his expense, but that was in the '90s, and it's weird he never hosted throughout the late '80s, when he was the biggest star in Hollywood. He wasn't a Lorne Michaels guy, so that probably explains it, but you'd think Lorne Michaels would love to have the biggest box office draw host his show, especially at a time when it was close to cancellation.
Time heals all wounds, though. SNL tweeted out five hosts of the upcoming season today, and Eddie Murphy is one of them. He'll be hosting the show on December 21, the Christmas episode, and the third time he's hosted in December. Even people who have given up on the ancient sketch show will probably find themselves wanting to check that episode out.
The tweet also revealed the hosts of four other episodes, and the musical guests for three of them. Here's a quick rundown:
Sept. 28: Woody Harrelson / Billie Eilish
Oct. 5: Phoebe Waller-Bridge / Taylor Swift
Oct. 12: David Harbour / Camilla Cabello
Nov. 2: Kristen Stewart
Dec. 21: Eddie Murphy
Quick thoughts:Yeah, okay, those are some people. Yep. Not surprised that Taylor Swift is on an early episode, but I'm kinda surprised she didn't get double-duty as the host and musical guest, especially with her acting career starting up with Cats. Just this weekend my wife predicted Billie Eilish would be the first episode's musical guest. I would be shocked if Lizzo doesn't wind up on the show sometime early on this season, too, since she's currently both popular and kind of hip. Yep. Real people have real thoughts about this show still. Sorry.
Here's the tweet. I hope you enjoy looking at it. I wouldn't call it a good tweet but it is a concise one. There's no fat to it. It gets right to the meat of the matter. Cuts to the chase. Plays it to the bone. That's in keeping with the original Twitter ethos, so I commend it. Good job, tweet—and good job, tweeter responsible for it.
THE BRIDGE https://t.co/jgiMFRL7zT

— Nineties misfit Benjamin Birdie (@BenjaminBirdie) August 26, 2019