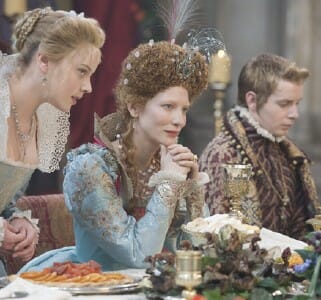 Long-awaited sequel recreates best (and worst) of the original
Director: Shekhar Kapur
Writers: William Nicholson, Michael Hirst
Cinematographer: Remi Adefarasin
Starring: Cate Blanchett, Geoffrey Rush, Clive Owen
Studio/Run Time: Universal Pictures, 114 mins.
Like its 1998 predecessor, Elizabeth: The Golden Age is baroque to its bones. Returning to the director's chair, Shekhar Kapur retains the ornate style that made the original Elizabeth such a visual feast. The Golden Age delights in extreme contrasts, balancing images of light and darkness, piety and brutality, and intimate torch-lit scenes mixed with epic moments of regal splendor. Depending on your aesthetic sensibilities, it either makes for a breathtaking spectacle or artistic overkill.
Whether the ?lm succeeds stylistically, however, is almost a moot point. In the end, all the period showmanship and glorious set pieces crumble without a compelling human force to bind them together. Enter Cate Blanchett. Her portrayal of Elizabeth must oscillate between extremes, from supreme power and grace to abject vulnerability. As Elizabeth navigates the treacherous waters of international diplomacy and her budding relationship with Sir Walter Raleigh (Clive Owen), Blanchett keeps the ship in order. Her return engagement as the Virgin Queen may not land her another Oscar nomination, but it's certainly compelling.