James Comey's Alleged Twitter Account Just Tweeted for the Second Time Ever, and It Might Portend Something Huge
Photo by Chip Somodevilla/Getty
Politics
Features
James Comey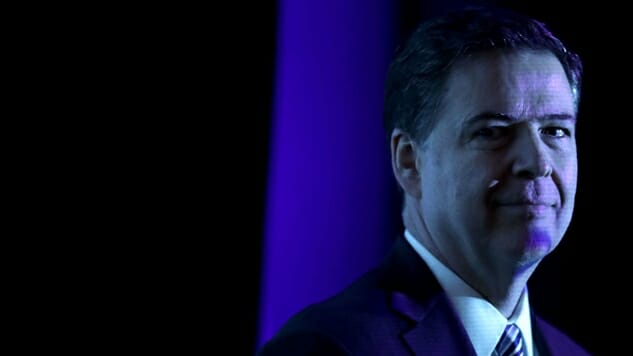 Back in March, Ashley Feinberg published an incredible piece in Gizmodo titled "This Is Almost Certainly James Comey's Twitter Account." It all began with an inadvertent hint dropped by the former FBI Director.
Fun fact: #FBI director James #Comey is on twitter & apparently on Instagram with nine followers. pic.twitter.com/lDIFirzVeh

— Kevin Rincon (@KevRincon) March 30, 2017
This set America's premier internet sleuth out on his trail. Feinberg dug through Instagram to find an account named after Reinhold Niebur. Niebur died in 1971, and he was a protestant theologian who received the Presidential Medal of Freedom in 1964 for his work speaking about the intersection between religion, politics and public policy. James Comey wrote his undergraduate thesis on Reinhold Niebur, and thanks to that fact—plus a litany of digital connections to members of Comey's family—Feinberg concluded that this must be his Instagram account. She then turned her focus to Twitter, eventually landing on the account @projectexile7. Per Feinberg back in March:
There is only one person currently following the account: Benjamin Wittes of Lawfare. Wittes is no Twitter neophyte. He is an active user with more than 25,000 followers, and he only follows 1,178 accounts—meaning he is not a subscriber to the "followback" philosophy. If he is following a random egg—and is the only account following it—there is probably a reason.
That reason could be the fact that, as Wittes wrote here, he is a personal friend of James Comey. (We've reached out to Wittes for comment but have yet to hear back.)
Project Exile happens to be a federal program that James Comey helped develop when he was a U.S. attorney living in Richmond.
Feinberg's article was published on March 30th, at 3:30 pm. Almost four hours later, the account in question posted its first tweet.
https://t.co/L5ehuMFGatpic.twitter.com/x53gCG7Nvc

— Reinhold Niebuhr (@FormerBu) March 30, 2017
The account name has since been changed to @FormerBu, and that brings us to yesterday's tweet.
Beautiful fall day at West Point. Lone kayaker on the Hudson. pic.twitter.com/gcJ730VD7p

— Reinhold Niebuhr (@FormerBu) October 18, 2017
There is a plausible explanation for why James Comey would be in West Point, instead of at his home two and a half hours away in McLean, Virginia: George W. Bush will receive the Sylvanus Thayer Award at West Point this evening. The award is presented by the West Point Association of Graduates every year to someone who embodies the West Point motto: Duty. Honor. Country. Last year's winner was Former FBI Director Robert Mueller, who is leading the independent probe into Russian interference in last year's election. Most winners of this award were high-ranking members of the executive branch, like James Comey used to be.
But what makes this whole ordeal truly bizarre is the aforementioned Wittes—who has been reporting on national security matters and the Justice Department for over two decades—which is likely how he struck up a friendship with the former FBI Director. Seven months ago, Wittes told Feinberg that he had been ignoring the speculation surrounding Comey's potential Twitter account, but now he is far more willing to wade into the weeds.
Look who's tweeted again… https://t.co/7l7JkyHAx1

— Benjamin Wittes (@benjaminwittes) October 18, 2017
I've never confirmed the identity of the holder of this account and I'm not going to start now. I will say that won't regret following it. https://t.co/5seGECnLbQ

— Benjamin Wittes (@benjaminwittes) October 18, 2017
And while I am of course not confirming that @FormerBu is James Comey, I have just convinced whoever holds the account to unlock it. https://t.co/Yik80hddi1

— Benjamin Wittes (@benjaminwittes) October 19, 2017
If this isn't James Comey's Twitter, it's sure made to look like it. @FormerBu follows 29 people—most of them being government accounts like the FBI and CIA, or news outlets like The New York Times and Reuters, or national security reporters like the Times' Adam Goldman or The Washington Post's Ellen Nakashima. However, there are two accounts that @FormerBu follows who stand out: William & Mary News and the University of Richmond. Other than those two, ESPN and The Onion, every single account that @FormerBu follows has to do with national security or general news. So why these two universities?
Well, James Comey wrote his undergraduate thesis on Reinhold Niebuhr at William & Mary, and his daughter is the editor-in-chief of the University of Richmond's student newspaper. All of this looks far too deliberate to be true, but with Wittes winking at this and Feinberg's research, it has far more credibility than at first glance. It could very well be a prank that some people in the FBI are playing on us, but Feinberg's big break in finding Comey's alleged Instagram account was a connection made through Comey's son's account—so if this is a prank, they're really committing to it.
Plus, Wittes has proven connections to Comey beyond reports of their friendship. After Trump fired the former FBI Director, Wittes essentially gave an interview to the New York Times on behalf of Comey. Wittes previewed that story with a cryptic tweet.
tick tick tick tick tick tick

— Benjamin Wittes (@benjaminwittes) May 16, 2017
When the story dropped, he tweeted it out with a "boom!" and a video of a miniature cannon firing. He has since invested in a new "baby cannon," and tweets out a video of it shooting through something every single time a new piece of evidence drops in this Trump-Russia saga.
Boom!https://t.co/bxUePng7MKpic.twitter.com/itNauLFKrS

— Benjamin Wittes (@benjaminwittes) September 18, 2017
Boom!
With a Picked Lock and a Threatened Indictment, Mueller's Inquiry Sets a Tonehttps://t.co/ueGIFVGBOxpic.twitter.com/gZs7I8yOY9

— Benjamin Wittes (@benjaminwittes) September 18, 2017
BOOM! https://t.co/dmPLPfLH2bpic.twitter.com/SZmwXCgems

— Benjamin Wittes (@benjaminwittes) August 31, 2017
From the moment Wittes became a part of this Trump-Russia ordeal, he has been dropping mysterious tweets that seem to hint at something larger that he is aware of. Why invest in a new baby cannon if you're not expecting more stories to come down the pike?
Part of what fuels the conspiracy theories surrounding this mess is legitimate people in the know like Wittes dropping the occasional cryptic message. Every time something like this arises, I can't help but wonder if Comey's famous "oh lordy, I hope there are tapes" line about Trump is true, and they have our president nailed dead to rights on obstruction of justice, and are just working to firm up the case around him. This entire ordeal is so weird and inexplicable and will undoubtedly take more twists and turns, so be sure to keep you guard up, and give a follow to @FormerBu while you're at it.
UPDATE: The account tweeted again! Wittes retweeted it too. However, this post is from a different location. I tried finding anything significant happening in Gettysburg today that may draw Comey out to Pennsylvania, but the only thing I could find is a National Wildfire Coordinating Group meeting at Gettysburg for a leadership conference. If this is James Comey, I think he's clearly fucking with us now.
Little Round Top, Gettysburg. Good place to think about leadership and values. pic.twitter.com/o1cKBXrLCl

— Reinhold Niebuhr (@FormerBu) October 19, 2017
Jacob Weindling is a staff writer for Paste politics. Follow him on Twitter at @Jakeweindling.