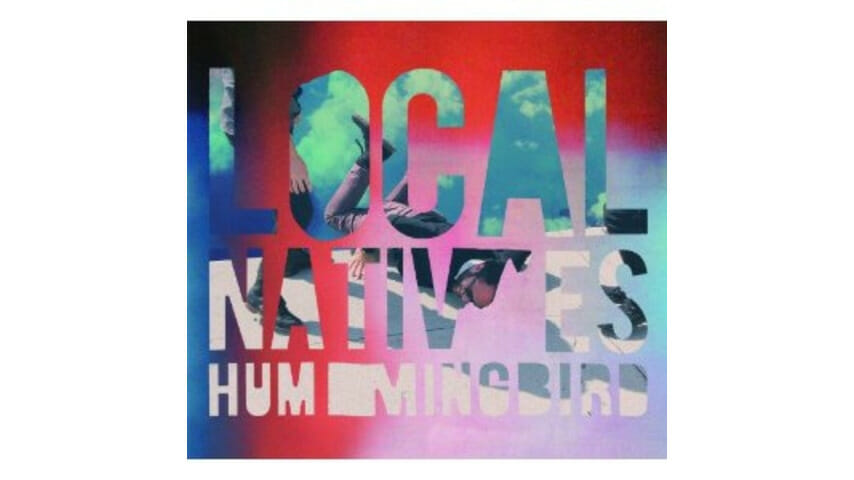 On "You & I," the opening song of Local Natives' sophomore LP Hummingbird, Kelcey Ayer's initial vocals flap and flutter on delivery, stretching out the song's title like a clumsy inaugural flight. The moment deviates from the band's previous offering, the critical and commercial mini-hit Gorilla Manor, exchanging trademark harmonies for Ayer's lonely cry, a lunge for the apex of his vocal range that lands gripping the ledge by his fingertips, every quiver and imperfection magnified by its naked presentation. When the chorus arrives, his aching falsetto is comforted by his bandmates, but not before a nest is built to cradle Ayer's sorrow, and not until the roles that his band and their music play in his healing begin to be defined. From the first sung note of Hummingbird, Local Natives are frank in their presentation of a serious album, challenging listeners to heal along with them; cognizant that investment is proportional to remuneration.
"You & I" leads Ayer's keyboard-driven contributions that become the skeleton of Hummingbird, each song supporting the collection's climactic emotional payoff on the penultimate track, "Colombia." Written directly about the passing of Ayer's mother during the album's creation, the track recalls "Who Knows, Who Cares," with semi-manipulative orchestral swells and soaring harmonies, ultimately irrelevant against the long shadow of Ayer's raw emotion and honest words. Though death is front-and-center, the audience is witness to the reaction that his mother's life inspires, with Ayer singing, "Every night I ask myself, am I giving enough, am I loving enough?" Near the end, he evokes the name Patricia, and somehow, through specificity, the moment becomes both his own, and shared with those surrounding him. It's a landmark moment for the band and one of the finest songs in recent memory.
Ayer's importance to the collection does not discount the work of Taylor Rice on Hummingbird. In fact, Rice's voice sounds perfectly at ease when taking lead, hitting difficult notes effortlessly, gracing his linear songwriting with a warmth that could risk seeming cheap in lesser hands. Ayer and Rice serve as complimentary figures, completing the trip from interchangeable presences on Gorilla Manor to vibrant and compelling individuals on Hummingbird.
Rice's sleek glide through "Mt. Washington" underlines expert construction from the band, notably the between-verse guitar leads of Ryan Hahn to the gradual tempo and volume throttle of Matt Frazier, resulting in a song that is primed to become unavoidable, it's amiability working as a soundtrack for crowded cafes and trendy boutiques, then eventually Panera Breads and Kohl's stores. Rice connects on all his songwriting contributions, particularly on "Ceilings," playing jumprope with his serene falsetto that reminds of Peter Silberman. Both "Breakers" and "Black Balloon" stand like aced exams, proving the band worthy successors of former tourmates Arcade Fire, whose inspiration is undeniable on these larger sonic walls, with the songs tailored to fill outdoor venues and festival lawns.
Ayer, though, hits the arena level on "Wooly Mammoth," led by Frazier's charge of chaotic snare snaps and furious cymbal crashes, setting the table for flexing full-band harmonies for the group's most expansive sound to date. Strangely, the song also brushes closer to Gorilla Manor's characteristics than anywhere else on Hummingbird. But, besides single "Heavy Feet," Ayer is left with four heartbreaking, captivating leads that either sink or define the collection, depending on the listener's investment. This is a trademark of producer Aaron Dessner, seen both in his band, The National, and last year's Sharon Van Etten album, Tramp. Typically these are called "growers," but really, it's more than just music needing time to grow on the listener. The listener also grows into the songs, allowing them to become familiar while getting in the frame of mind to engage and examine its intricacies. These albums require commitment from the audience, with the belief that it will be worth the trouble.
Considering that each song faced fierce collaborative scrutiny just to be heard, effort shouldn't be too much to ask, and many will discover the catharsis that Ayer finds in Hummingbird also can be their own. Still, despite their explicit desire to push boundaries, even resulting in a literal "boundary pushing" that brought them from L.A. to Brooklyn to record, Hummingbird's biggest issue is a lack of a connection to 2013, often sounding more comfortable alongside the music of 2003, combining instant pop melodies with intricate arrangements much like The Shins and seeming removed from where other "boundary pushing" artists are currently headed. Late in the album flourishes on "Columbia," which opens with a rubbery beat that could easily be Jamie xx's work on Coexist, and "Bowery," sitting on a oscillating hum akin to James Blake's implied beats, help regain a sense that this music belongs in this time, and this place. On "Bowery," serving as the album's coda, Local Natives are at their loosest, not confined by previous arrangements or tone, able to distance themselves from their emotional and musical past, with the song presenting a conclusion both satisfying and a tease, hinting that something even better could be coming next.