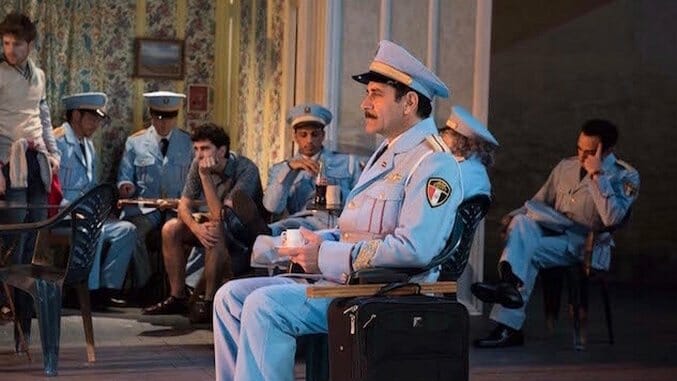 "Once, not long ago, a group of musicians came to Israel from Egypt. You probably didn't hear about it. It wasn't very important." This matter-of-fact statement is projected on the stage of the Linda Gross Theater at the Atlantic Theater Company just before The Band's Visit begins performances, and the gently self-deprecating comedic tone is just right for the offbeat musical that charms the audience with its melancholy humor.
Based on Eran Kolirin's fim of the same name, The Band's Visit narrates one night in the life of an Egyptian police band who, while traveling to perform at the Arab Culture Center in Peta Tikva, find themselves instead in the town of Bet Hatikvah, isolated and in the middle of the desert. Forced to spend the night with the locals, they find themselves out of place both logistically and emotionally.
These stories of one day, one night or one person that doesn't really change much, but somehow manages to change everything, often find their way to the stage, but they don't always possess the charm and style necessary to inspire the audience's investment and attention. Happily, The Band's Visit, with a script by Itmar Moses and music by David Yazbek, does possess just that. It also has David Cromer, king of natural staging, as its director who guides a cast of charmingly comfortable actors and musicians through the production.
The band of the title is led by Tewfiq (Tony Shalhoub, giving a moving performance of restrained dignity), who finds an unlikely foil in Katrina Lenk's earthily sensual Dina, a café owner intrigued by and attracted to the reticent conductor. Alongside with locals Itzik (John Cariani) and Papi (Daniel David Stewart), Dina establishes the languid sensibility of listless small-town life in the song "Waiting," and later introduce the band to the town with "Welcome to Nowhere." Stranded until the next day's bus, with no nearby hotels, Tewfiq and his trumpet player Haled (Ari'el Stachel) find themselves staying with Dina, while Camal (George Abud) stays with Itzik and his overworked wife, Iris (Kristen Sieh, remarkably expressive despite her few lines).
As the hours pass, Dina and Tewfiq talk about their respective pasts of longing for the romance of movies starring Umm Kulthum and Omar Sharif and personal loss and tragedy. Haled puts his unapologetic lothario techniques to use by helping Papi romance a young girl at a roller-skating rink. Simon witnesses the domestic disputes of Itzik and Iris. And, perhaps most achingly, Erik Liberman waits patiently—or perhaps desperately—at a local payphone for his girlfriend to call.
Described in plain English, The Band's Visit sounds an unlikely subject for an American musical adaptation. It is, but it works—and the ways in which it works are difficult to describe. Yazbeck, who has composed music for the entertainingly offbeat musicals The Full Monty, Dirty Rotten Scoundrels and Women on the Verge of a Nervous Breakdown, captures the atmosphere of Bet Hatikvah and its residents in an impressive variety of melodies, as does Scott Pask's fluid set which also the musicians, dressed in Sarah Laux's blue uniforms, sitting to the side.
Despite the highly charged setting, politics are never mentioned in The Band's Visit. The only political danger here is potential loss of funding, dependent on their successful performance in Peta Tivka. The absence of political bickering, as well as the musical's quiet confidence in its story, are a refreshing change from real life—and exactly what theatregoers need right now.
Director: David Cromer
Writer: Itamar Moses, based on the screenplay by Eran Kolirin
Music and lyrics : David Yazbek
Starring: George Abud, Bill Army, Tony Shalhoub, Katrina Lenk, John Cariani, Daniel David Stewart, Ari'el Stachel, Kristen Sieh and Erik Liberman
Runs: Through January 8, 2017