The 10 Best Grammys Performances of All Time
Photos by Larry Busacca/Getty, Frank Micelotta/Getty
Music
Lists
Grammys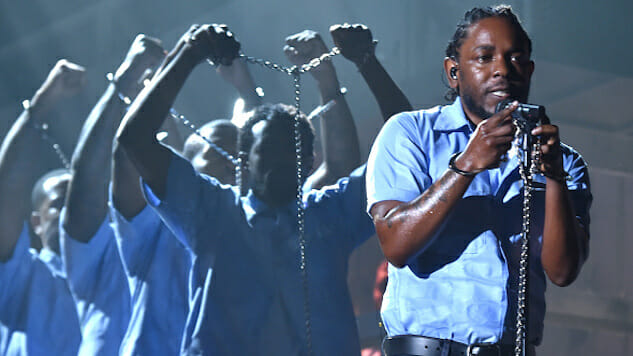 The annual Grammys broadcast has resulted in some of the most memorable moments in American pop music. From tributes and in memoriums to duets and one-night-only supergroups to whatever Lady Gaga is wearing, the Grammys are a platform for spectacle—and medleys. This year's show, the 62nd, is happening this Sunday, Jan. 26, at 8 p.m. ET / 5 p.m. PST on CBS. Alicia Keys is hosting, though it's still unclear whether or not she'll actually perform. Keys or no Keys, this year's planned performances are sure to be attention-grabbers.
But before we get into this year's hoopla, let's take a look back at some of the best, most memorable performances in Grammys history. Unfortunately, Apple Music has the monopoly on most official Recording Academy footage, but thanks to the internet, there's still a bank of shiny Grammys moments available for the scoping. We've gathered the best of those and ranked them here. And don't forget to follow along with Paste (on the site and on Twitter) this Sunday night as we cover everything Grammys.
10. Adele (2017)
In the fall of 2015, Adele made her triumphant return with "Hello," which peaked at number one on the Billboard charts a few short weeks later. By the time the tune was eligible for a Grammy, it was 2017, but "Hello" hadn't lost a bit of its gusto. We all know Adele is a supremely talented vocalist and commanding performer, but she seemed especially passionate that night—she looks straight at the camera and belts "Hello, can you hear me?" as if her ex-love is actually watching. The goosebumps are inevitable.
9. Eminem and Elton John (2001)
Elton John is the duet king, so anytime he decides to bless us with one (especially at an awards show), it's guaranteed to sparkle. In an unlikely matchup circa 2001 he joined Eminem on stage for a glassy rendition of the rapper's song "Stan," a rap-letter dedicated to (or rather, aimed at ) his most rabid fans. The song originally featured Dido and was the third single from his 2000 album, The Marshall Mathers LP. During this display, Eminem raps while sitting on a bed while Elton, clad in one of his colorful suits, plays the keys and sings. It's a rather long performance for TV at six minutes, but Eminem doesn't waste a single second tossing digs at his "biggest fan."
8. Madonna (2015)
When it comes to awards shows, Madonna pulls out all the stops. While none rivals that rendition of "Vogue" at the 1990 MTV VMAs, the pop queen's Grammys performances (of which there are many) are consistently choreographed, prop-heavy extravaganzas. During this decadent take on "Living For Love" (from 2015's Rebel Heart), Madonna masquerades as some kind of sex witch presiding over a tribe of antlered subjects. She may technically be the pop star of yesteryear, but I'd like to see Taylor Swift try and pull off one of these moves. Performances like this prove Madonna has never exited her heyday.
7. Bruno Mars and Cardi B (2018)
You can't go wrong with nostalgia. Well, you definitely can, but for superstars Bruno Mars and Cardi B, a little mid-90s reminiscence matched to Backstreet Boys moves and throwback hip-hop beats is nothing but beneficial. Here the duo supplies an uproarious remix of "Finesse," a track from Mars' 24K Magic, which, despite going up against Kendrick Lamar's DAMN. and Childish Gambino's "Awaken, My Love!", took home titles for Record and Album of the year. A year later, that's still a disappointing sting, but there's no denying Bruno Mars' charisma with a crowd, and this giddy number is even more fun thanks to Cardi's personable rapping.
6. Lady Gaga (2011)
If you look up the word "flashy" in the dictionary, there's a picture of 2011 Lady Gaga. Then, she was at her most flamboyant—one minute she's singing on the surface of the moon; the next, she's dragging as her male alter-ego "Joe Calderone." It was also the year she arrived on the Grammys red carpet in an iridescent egg and proceeded to travel in-shell right onto the stage, where she performed a spectacularly choreographed "Born This Way" surrounded by a troupe of barefoot dancers. Probably second only to Madonna, Lady Gaga is one of the most eye-catching performers in pop. We imagine Jackson Maine would want to take another look, indeed.
5. Jennifer Hudson (2012)
When Whitney Houston tragically and unexpectedly passed away on Feb. 11, 2012, the world was in shock. There was hardly enough time for anyone in the music industry or beyond to process her death before the Grammys happened the next day, but one brave Jennifer Hudson still stepped up to the plate. She was assigned the terrifying and important task of honoring the late legend, who had already "passed the torch" to Hudson. It's a deeply moving tribute. Hudson remains composed until the very end of "I Will Always Love You," which sounds more poignant than ever, and signs off with a heartfelt "Whitney, we love you."
4. Amy Winehouse (2008)
In 2008, Amy Winehouse delivered one of the best performances in Grammys history, and she wasn't even there. Winehouse won five of the six Grammys for which she was nominated that night, but she wasn't actually at the ceremony because her visa was denied. But geography was a nonissue—she accepted awards and sang via satellite from London, and the resulting performance of "You Know I'm No Good" and "Rehab" remains some of the most sensational footage we have of the late soul singer. It's easy to see why she snagged hardware for Best Record, New Artist, Song, Pop Album (for Back to Black) and Female Pop Performance all in the same night.
3. Kendrick Lamar (2016)
In 2016, just two years before he'd take the Grammys stage again in support of DAMN.,. Kendrick Lamar delivered one of the most powerful rap performances you'll ever see. It's rare for something so profound and politically charged to land a slot during a telecast like the Grammys, but the Recording Academy did something right (for once) in spotlighting Lamar's "The Blacker The Berry" and "Alright," two tracks from his masterful 2015 album To Pimp A Butterfly, which was nominated for Album of the Year and took home the trophy for Best Rap Album. He does "The Blacker The Berry" in chains and "Alright" in the light of a giant bonfire. It's an apt visual representation of the titanic To Pimp A Butterfly and as affecting a display you'll ever see on live TV.
You can watch the entire performance here.
2. Beyoncé and Prince (2004)
There's not much to be said about Beyoncé and Prince that hasn't already been said, but when these two shared the stage in 2004, it was nothing short of fabulous. Since his death, Prince footage has become all the more precious, and this video of him performing with Beyoncé is positively sacred. Everything about this Grammys number feels monumental: Two generations' biggest pop superstars come together to perform arguably one of the best pop songs ever, "Purple Rain," 20 years after its release, followed by snippets of her "Crazy in Love" and his "Baby I'm A Star" and "Let's Go Crazy." The Grammys tend to take their obsession with medleys too far, but this one hits the sweet spot.
1. Michael Jackson (1988)
The sly way that Michael Jackson so casually struts onto the stage at the beginning of his monster-sized Grammys medley in 1988 feels almost comical, like he already knows he's about to blow everyone away. He sashays to the slowed-down beat of "The Way You Make Me Feel" before the signature "Go on girl!" really kicks off the song, at which time a few backup dancers join him on stage. Jackson had already made his moonwalk debut on television back in 1982, but the move is still just as mystical six years later. Jackson doing "TWYMMF" is a joyful sight to behold, but the real magic of this performance happens during "Man In The Mirror" when a huge gospel choir supports him as he preaches those famous lines. It's an unmatched display of showmanship and will likely reign supreme over Grammys contenders for years to come.