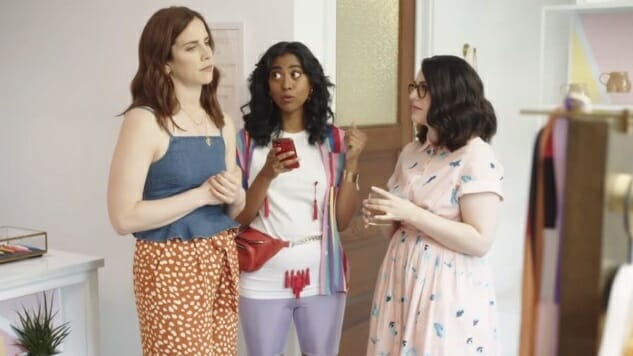 There's nothing we here at Paste love more than videos. If it's got multiple frames per second, we're a total fiend for it. Funny videos? Oh boy—just thinking about 'em makes us ache with anticipation. After all, comedy is better when it moves. That's why each month we scour the internet and bring you our favorite funny videos. August was a particularly fruitful month for them on the internet, so if you haven't checked these out yet, this is your shot. Don't blow it.
Yoni Lotan — "Sebastian Maniscalco Files A Police Report"
My "saucy" impression of @SebastianComedy#VMAs2019pic.twitter.com/NyTkWS3tde

— Yoni Lotan (@YoniTime) August 27, 2019
I'm mesmerized by this perfect impression of Sebastian Maniscalco from Yoni Lotan, which nails both the comedian and recent VMA host's demeanor as well as his relentless contempt for millennials who like to do wimpy nonsense like drink coffee and ride bikes.
---
Will Feinstein — "Will Feinstein's Fine Steins"
Will Feinstein's Fine Steins launches today!
DM me if you want a stein or a shirt!https://t.co/FAGHFY9uZfpic.twitter.com/n4wV1F0RvX

— Will (@IllestFeinstein) August 19, 2019
Will Feinstein delivers a masterclass in -ein rhyming in this launch video for his new collection of steins, but that's just the tip of the iceberg. I'd call this a great commercial parody, but I can't, since you—yes you—can actually go buy the steins online as well as lots of great stein-adjacent merch.
---
Presley — "How to Save A Life"
Written by Katie Talay and directed by Susan Casey, this inventive live sketch from the Upright Citizens Brigade's house team Presley seriously benefits from repeat viewings. Each time I watch it I notice new details in the story of a woman's doomed experience with a perfect ice cream cone that make me love it even more.
---
Cam Spence — "How to Create A One Woman Show"
HOW TO CREATE A ONE WOMAN SHOW (A Masterclass With Janet Waitrose) pic.twitter.com/WZXIvzx7e6

— cam spence (@CamGurrrl) August 5, 2019
The 'Masterclass' series of, basically, internet tutorials from famous people is introducing takes on new disciplines all the time. And right on cue comes Janet Waitrose (the very funny character comedian Cam Spence), who is here to tell you how to create navel-gazing one woman shows with incredible, incredible titles, "and get Five Stars from the local gazette."
---
Lizzie Logan — "What It's Like to Be An Assistant"
What it's like to be an assistant pic.twitter.com/MzPC7RS64y

— Lizzie Logan (@lizzzzzielogan) August 8, 2019
Lizzie Logan manages to sum up the hectic, anxiety-inducing life of a personal assistant with 27 examples in 24 seconds (we counted!), a new record for the front-facing camera character video, I assume. Blink and you'll miss them, but don't because they're all very good!
---
Tim Platt — "Self Tape For An HBO Show"
very proud of this self tape for a super cool looking HBO show! Thanks for helping with sides @brian4showbiz ! pic.twitter.com/Bu6CKA9Hsr

— Tim Platt (@TimothyPlatt) August 13, 2019
Hopefully the producers of the HBO's Game of Thrones prequel gave due attention to this submission from Tim Platt (The Late Show with Stephen Colbert) who delivers a rousing monologue in what is, I believe, the most intense Scottish brogue ever put to film.
---
Chris Calogero — "Every Guy During The 'Crime is Fun As Hell' Portion of the Mafia Movie"
Every guy during the "Crime is Fun as Hell" portion of the mafia movie. pic.twitter.com/0×6KEbJzmA

— Chris Calogero (@RealChrisCal) August 15, 2019
Chris Calogero continues his series of characters based on hyper-specific movie tropes with this wonderfully dramatic-irony laden look at the section of any crime movie where obviously no one is going to blow it for the group and nothing is ever going to go wrong. A toast! "Here's to everyone always keeping their mouths shut forever!"
---
Shop Talk — "When Your Favorite Celebrity Becomes Your Worst Nightmare"
The (just for now, hopefully) series finale of this Comedy Central Original starring Samantha Reece and Becky Chicoine (previously featured on this list for their White Christmas parody "Turkeys") sees their boutique store La Femme Persist visited by a still-somewhat-popular former child star, putting a major strain on their relationship. If the world is fair and/or just, we'll be seeing more of these.
---
Night Crew – "The Government's False Memory Machine is Not a Toy"
In another series from Comedy Central Originals, the Night Crew crew haunts the clandestine halls of the Pentagon after dark—generally behaving irresponsibly with top-secret technology. This episode has a ton of fun with implanted memory, creating essentially a bunch of alternate realities for one guy, including one where his co-worker's middle finger is literally a bird.
---
Danny Lempert — "When You Finally Lose Your V-Card"
When you finally lose your v-card pic.twitter.com/7Ow9LsdId0

— Dan(ny) Lempert (@danlempert) August 20, 2019
Danny Lempert (who you can catch in the "How to Save A Life" sketch spinning into adulthood) captures the eagerness and anxiety of a teenager about to finally lose his virginity with his latest character: a Blue's Clues-looking dude cockblocked by the consequences of his family's participation on Extreme Makeover: Home Edition. "You don't wanna lose your virginity on a twin bed shaped like a sarcophagus?"
---
Graham Techler's writing has been featured by McSweeney's and The New Yorker, and he performs at the Upright Citizens Brigade Theatre in New York. You'd be doing him a real solid by following him on Twitter @gr8h8m_t3chl3r.