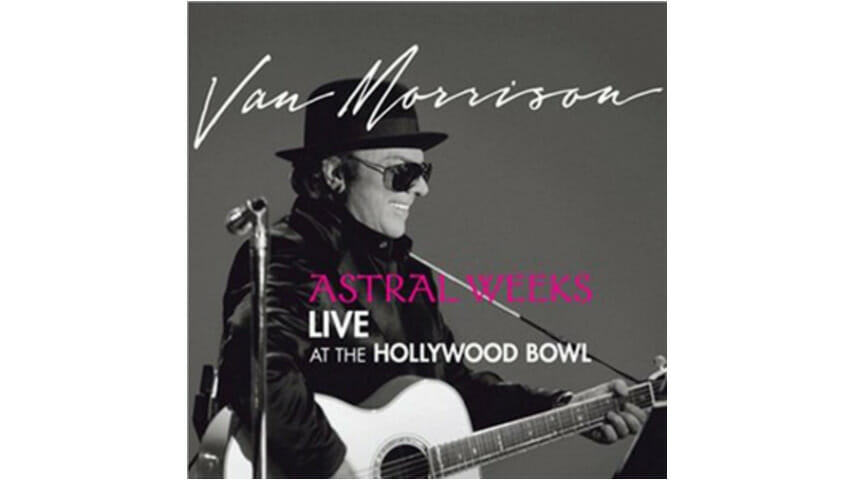 The once and future classic
Van Morrison is a notoriously spotty live performer—irascible, easily bored, hard-headed and occasionally brilliant. It's Too Late to Stop Now is an early-career (1974) live masterpiece, but Van's last concert recording—1994's One Night in San Francisco—found him curiously uninvolved, turning over many of the vocal duties to his back-up singers. Fortunately, Astral Weeks: Live at the Hollywood Bowl reveals a newly energized Van at the top of his game, fully engaged in the proceedings, and ready and able to sail into the mystic.
Updating and reconceptualizing one of the most beloved albums of all time was surely a daunting task. Van had never performed Astral Weeks, his breakthrough 1968 singer/songwriter album, in its entirety. And so he used the 40th anniversary of his impressionistic song cycle to dust off these venerable tunes before an appreciative L.A. audience. Recorded over two nights in November 2008, this reworked and re-ordered Astral Weeks is, by turns, comfortingly familiar and bracingly fresh and new. Recruiting original guitarist Jay Berliner and a bevy of string and horn session players, Morrison attempted to recapture the loose, improvisational nature of the original recordings. He practiced with the band precisely twice, and then hit the stage.
It could have been a disaster, but it's not. Following Morrison's every lead, the band exhibits all the hallmarks of the finest jazz ensembles. More miraculously, the loose song structures provide ample opportunity for Morrison to stretch out vocally, and on improvisational workouts such as the title track, "Cyprus Avenue," and "Madame George," Morrison moans, scats, cajoles and finally soars off in electrifying directions. When he's on (and he's on here most of the time), he's one of the most gifted, idiosyncratic soul singers ever, and it's a treat to hear him, at this late stage, recapture his former glory. As an added bonus, Morrison tacks on parts of "Listen to the Lion" and "Summertime in England," two early songs not originally part of Astral Weeks, but very much of a piece with the fluid chamber music of the original album. This is Morrison the mystic poet, pushing and prodding his band to greatness. "Magnificently we will flow," he sang once, almost 40 years ago. And so they do.