New York, London and Paris's Fashion Weeks have come and gone, and, as usual, we've all had a good laugh. I'll be the first to say that the fashion industry can be a bit ridiculous. Between the self-importance of the people who cover fashion, and the melodrama of the shows themselves, it's not hard to just mock. But as a long time lover of fashion and street style, I'm here to take a different tack: Nothing from the various fashion weeks were as ridiculous as what men who design videogames think women wear.
Now, there are a lot of easy targets here. I mean, a whole lot. If I wanted to, this article could just be pictures of Ivy from Soul Caliber and the word "why," over and over and over. But let's not just shoot fish in a barrel—let's go after something that offends me on a more personal level: Yuna, from Final Fantasy X and X-2. Why, you ask, hypothetical reader? Because I do not understand why you'd decide to go on a pilgrimage, and put on that.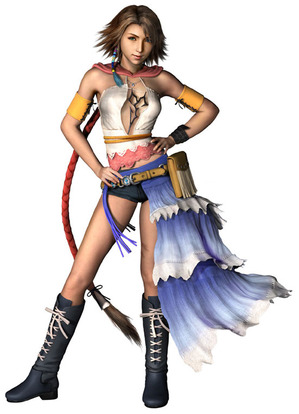 Now, it's true she's at least wearing practical shoes, resembling a 14-eyelet Dr. Marten. I've had my vegan Docs since 2011 and I wear shoes until they fall apart. Aside from some scuffs and paint, my Docs are basically immaculate. I'll give her the benefit of the doubt and assume she's properly broken them in, 'cause straight out the box those things hurt like a motherfucker.
And yes, it's clear that this outfit is supposed to evoke a sense of ceremony and religiosity. She's wearing what is essentially a modified furisode, which is most significantly worn by women on their 20th birthdays, the year they come of age. Yuna is a Summoner, and is undertaking a deeply personal and important mission for the fate of humanity, which ends up being a journey of self-discovery. You know, Final Fantasy stuff. It's not like I don't even own a plethora of maxi skirts, or that I don't understand the cultural impact of putting her in that garment. It's just that I have trouble walking up stairs in a maxi skirt without tripping over my feet, let alone traversing an entire continent.
Honestly, most offensive are the sleeves. How do those stay up? In my Hot Topic wearing days I owned a lot of arm warmers, and let me tell you, they just do not want to stay on your arms. I asked my friend Hilary for her perspective—she's my go-to for fashion advice, though an absolute stranger to videogames. Her first comment: "Wouldn't that fabric be put to better use as a hood or a shawl?" Wouldn't it just?
Of course this pales in comparison to her gunner outfit for Final Fantasy X-2. In the infinitely wise words of Hilary, "but future-pirate-bodice-ripping-Pocahontas is the trend for ss15!"
Final Fantasy X-2 makes ample use of fashion in its mechanics, turning outfits into a Job System that is incredibly enjoyable to play. The Dress Spheres essentially replace the summons from FFX, and their prominence further emphasizes the differences between the stories. X-2 is woman centric, and about a woman's journey, with Yuna rightfully taking her place as the central character. However, I really wonder if anyone at Square-Enix has ever asked a woman what she'd like to wear.
This is a strangely common criticism for female fashion designers, actually. Although Diane Von Furstenberg has made a fortune making the kinds of clothes she wants to wear, she's been accused of designing just for herself, as if that's a huge problem. Apparently designing with living, breathing women in mind is some kind of, ahem, sin. But really, have you ever met a woman who thinks half a skirt, denim hot pants and a peekaboo blouse were appropriate attire for anything other than a circus/cowboy themed breastaurant? How does that top stay put, exactly? Is Yuna traipsing around Spira with rolls of double sided tape in her inventory? Yuna, you beautiful, precious, courageous tropical fish, you deserve so much better.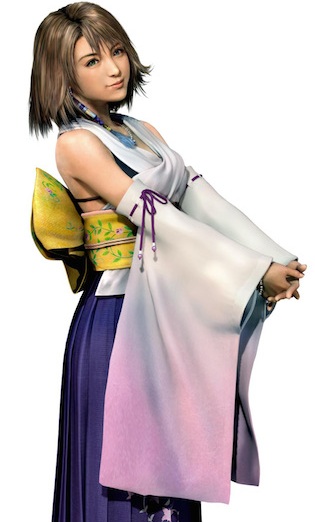 While I understand that Yuna's journey in FFX is all in her outfit—she's not a girl, but not yet a woman, she's coming of age, wearing a garment that one wears when coming of age—in X-2 she looks like a 12 year old who got lost in a costume shop. There's a way to express femininity without infantilizing a woman, but Yuna's look here reads as extremely Juniors. Maybe instead of reaching for that strange ruffled skirt thing and the teeny tiny shorts, she could grab some of these amazing Manish Arora bedazzled bike shorts from his Paris Fashion Week show? I'm not saying she needs to go full Bird of Paradise at a Space Rave, but they accomplish the same fun-but-flirty look without seeming like you've dug through the clearance rack at The Limited Too. For the non-millionaires among us, while the Navy and Taupe Geometric leggings from Etsy seller iheartnorwegianwood are in a different color palette, they have the same heading-from-gym-to-the-house-party aesthetic. Because Yuna is a videogame woman, and thusly modelesque by default, I think a great pairing for this is the Motion Top from Japanese brand Galaxxxy. It's slightly oversized and cropped, which gives her full range of motion while also looking without looking frumpy. Not everyone had the kind of body for this kind of outfit – I certainly don't. I think a good substitution would be an oversized tee, especially something with an all over print, like the Dangergirl tee from OMOCAT or the MECHA tee from MILKBBI. You still get the casual look of a cropped tee, but you won't need feel like you need a flat stomach to wear it. I mean, what is an oversized tee but a really short dress that's flattering on larger range of body types? Full disclosure: I'm wearing bike shorts and an oversized tee while writing this , and I've worn this outfit to art openings, the grocery store, dates with my boyfriend, the bar, the pharmacy, and I'll probably be wearing it to the grave.
Of course, it wouldn't be Yuna if she didn't over-accessorize everything, so she'd top this off with a denim vest, like this one from H&M and maybe a wire wrapped necklace, and, let's face it, probably also a set of bangles. But I'd hope she'd also ditch those hideous navy blue lace up knee high boots and go back to her black Docs. The result is still a mish mash of styles and an assault of colors, but hey, Yuna's a Square-Enix character. She's gotta work with what she's got.
I know Square-Enix is just going to continue putting too many belts on everything, and for some, that's part of the appeal. But I'd love it if more of the fashion in video games reflected the characters that are wearing those clothes, and the situations they'll be in. I still have hope, though. The K-Pop group that are the protagonists of Final Fantasy XV seem to be decked out in Rick Owens S/S 2014.
Gita Jackson has dedicated her entire adult life to wading through the marginalia of popular culture and finding gold. As much as she'd like to be called a "fashion expert," she is more likely a niche fashion enthusiast. She would probably love to talk to you on Twitter @xoxogossipgita.