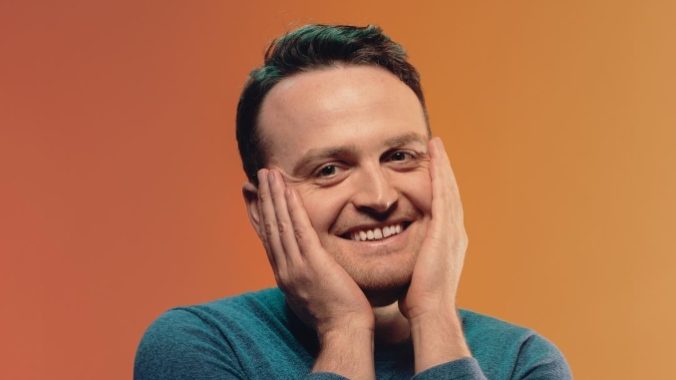 Irish comedian Peter McGann is most widely known for his videos where he tends to play recognizable archetypes augmented by his own creative twists and relentless commitment to the bit: a man struggling through a Teams call post-breakdown; a French DJ lamenting that he can't make a gig in Ireland; a meathead personal trainer shaming his client; and numerous others that pithy descriptions simply wouldn't do justice. 
Most recently, McGann went viral for a video in which he responds to a cheery marketing clip from former boy band member Keith Duffy (check out the '90s sensation Boyzone if you haven't) promoting Tyreland (guess what they sell?). 
"Like all of these things that do the best, it was done on my holidays, lying down beside a pool, and it took all of a minute from conception to uploading," McGann tells me over the phone. "Inevitably from something like that you get people who are just following you because they liked that video. And then you're testing them and you're like, 'Okay, let's, let's do a video about a man eating a dog and he's sad about it. See if they stick around.' "
That McGann doesn't try to temper his absurdity to appeal to the masses is a huge part of why his comedy is so damn funny. It's also something of a challenge when he plays festivals, where audiences aren't necessarily familiar with him. McGann is playing two sets at the Paddy Power Comedy Festival in Dublin—one is already sold out—which hosts international talent like Reggie Watts, Conner O'Malley, and Phoebe Robinson, as well as local heroes like Tommy Tiernan (Derry Girls fans will know him as Da Gerry) and Dara Ó Briain. 
When I ask him how, as someone whose comedy falls outside convention, he deals with a festival setting, McGann answers frankly: "That's a great question I'm grappling with as we speak." 
"The last time I did it, I was only doing stand-up as one single character," he continues. "So that was grand, whereas this year, I won't be doing character stuff, per se, but there's buy-ins that are required. It's not as simple as just, you know, I'm up telling jokes, or talking about my wife or whatever. So I'm working on that now. I'm just trying to find a good distilled version of that."
He's quick to add, "It makes it sound like I'm some deep intellectual. It's not that; it's very stupid stuff, but it takes a little bit more work to get on the way with those."
McGann last performed at the Paddy Power Comedy Festival in 2019, though the event was overshadowed by exciting personal news.
"This is my first year to do the full experience because last time I was going away with my now wife, I ended up proposing to her that weekend," he recalls. "I didn't end up—I planned to do it. So I didn't actually get to have the full festival experience as a performer, and I'm looking forward to it this year, getting to run around backstage and slip into all the other acts and stuff like that."
Around his own performances this year, McGann plans on seeing sets by Ó Briain and Tiernan, the latter of whom he says was "pretty foundational" for him, as well as his own comedy mates who are playing, like Tony Cantwell, Shane Daniel Byrne, and Michael Fry. The one time I've actually seen McGann live was with that last trio, as well as a whole host of other Irish comics, at the Eurovision parody gig known as the Bureau De Change Song Contest. McGann represented France, singing what could have passed for a Bond theme (producer coolgirl, aka Lizzie Fitzpatrick formerly of Bitch Falcon, knows what she's doing) while wearing a grotesque mask of sorts. 
"That was insane. That was Lizzie, who does all the music and produces the song," he says, later elaborating, "She did it once before for a Halloween mask. She rocked up and she had the bare minimum of what was needed, and she put the mask on me. It stuck on—I thought it was gonna be very flimsy and I would barely be able to move my mouth, but she was like, 'No, you're gonna be fine.' Literally I had to peel it off, it was fused on." 
It was just another step up for the character, who he'd played at the Christmas version of the competition with his face taped to mimic the taut, uncanny features wrought by heavy plastic surgery. In fact, that first time around McGann and coolgirl had won with "Pray For A Child This Christmas," which has the overtones of Band Aid's "Do They Know It's Christmas?" sullied by his character's own lecherous desires. 
Beyond the Paddy Power Festival and the Bureau de Change, McGann fans can see him during the upcoming tour of his show Great Lad around Ireland in September this year, including at Vicar Street, a venue that has hosted the likes of Marc Maron and James Acaster. Some elements of Great Lad will be incorporated into his Paddy Power set, and he's hoping to potentially record one of his shows from the September tour. While there's a beauty to the ephemeral nature of live performances, these days the need for a tangible time capsule—physical media in particular—is acute. 
"These things have a shelf life, and it's nice to have [a recording] when you've stopped doing them live. It's nice to have a document, especially of an hour-long show where there's a bit of a narrative," McGann explains, reminiscing about when he used to buy DVDs of Tiernan and other comedians' specials. 
For the sake of extant and potential McGann fans far and wide, let's hope it happens.
The Paddy Power Comedy Festival is taking place from July 27th-30th in Dublin. Tickets are on sale here.
Peter McGann is touring his show Great Lad across Ireland this September. Tickets are on sale here.
---
Clare Martin is a cemetery enthusiast and Paste's assistant comedy editor. Go harass her on Twitter @theclaremartin.