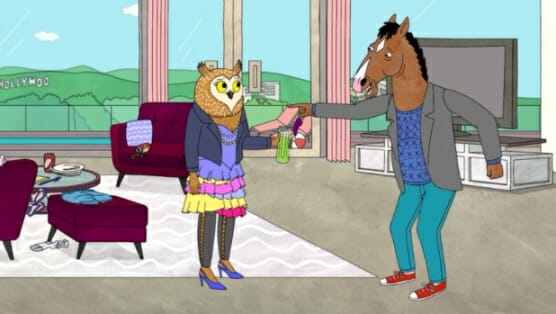 Despite featuring a variety of animals, what sets BoJack apart from most other cartoons is its humanity. It's easily as raunchy as say, Family Guy, and probably at least half as violent, but those qualities feel different when bolstered by an underlying sensitivity and consistent character development. "Higher Love" is the exception. Unaccompanied by a compassionate message and real character growth, it repeatedly makes a punchline of human suffering.
"After the Party" masterfully gets us emotionally invested in the trials of Mr. Peanutbutter and Diane's marriage. "Higher Love" initially seems poised to continue that arc, one of this season's most compelling so far, but the moments that focus on the strain are few and far between. There's new cause for tension now, as PB Livin' goes bankrupt. That's what happens when Mr. Peanutbutter and Todd are in charge and Vincent Adultman serves as business manager. One massive payout to kindergarteners for the rights to the game tag later, and it's clear Mr. Peanutbutter needs a real job.
Here's where things take a weird turn. Mr. Peanutbutter walks in on his agent to find him dead of erotic asphyxiation. This becomes the central theme of the episode once BoJack learns his Secretariat co-star Corduroy has a history of engaging in self-strangulation to heighten his orgasms. BoJack gets the brilliant idea to test Wanda's love for him by threatening to asphyxiate himself.
Yes, BoJack is self-absorbed and needy and irrational in his dating life (and, well, always), but there's something so real about his inability to get over himself and be the loving partner he needs to be. His tactics in this episode are terrible and manipulative, but the anxiety that drives them is clear. Wanda, on the other hand, comes across as terrible and manipulative for the fun of it, once you get past her sunny exterior. Not telling BoJack she loves him for three days just to prove a point is condescending and cold.
While BoJack is off casually threatening to kill himself for love, Mr. Peanutbutter scores a job at Lady Footlocker. He's crushing it, expertly juggling shoeboxes and chatting up customers. And it's not long before he stumbles on a path back to stardom. Princess Carolyn wants him to host J.D. Salinger's (he apparently faked his own death) new celebrity trivia show on Major Broadcasting Network: Hollywood Stars and Celebrities: What Do They Know? Do They Know Things? Let's Find Out.
The deal is thanks to Princess Carolyn's coworker and work husband of sorts, Rutabaga Rabbitowitz. Earlier in the season, we saw him sabotage a movie deal she had in the works after she trusted him with confidential information, so his genuine support for her during a hard time in her career comes as a bit of a surprise. But their budding friendship might not stop there. During one of their late-night office phone calls, Rutabaga tells a newly single Princess Carolyn he's divorcing his wife.
Mr. Peanutbutter's takeaway from the serendipitous TV opportunity Princess Carolyn presents is, "With the right attitude, every single one of your dreams will always come true." As usual, his happy-go-lucky nature sits in stark contrast to the plot unfolding around him. After smoothing things over with Wanda, BoJack enters Corduroy's trailer to find him dead of—you guessed it—autoerotic asphyxiation. In a way, BoJack is indirectly responsible for his co-star's funky Spider-Man (BoJack's euphemism, not mine). When Corduroy most needs support, BoJack ends up steering him back toward the very vice he is working to move past.
The deaths that bookend the episode feel frivolous, and nothing in between is particularly substantive, either. We see no one mourn either man, nor any lessons learned from the ordeal. Nothing that happens even really serves the plot, with the possible exception of Princess Carolyn's story, which will hopefully take on a bigger role going forward. This is a disappointing sidestep in the season's otherwise strong first half.
Julie Kliegman is the weekend editor for TheWeek.com and a freelance journalist based in New York. She's written publications including BuzzFeed, Vox, Mental Floss, PolitiFact and the Tampa Bay Times. Tweet her your favorite SpongeBob GIF.