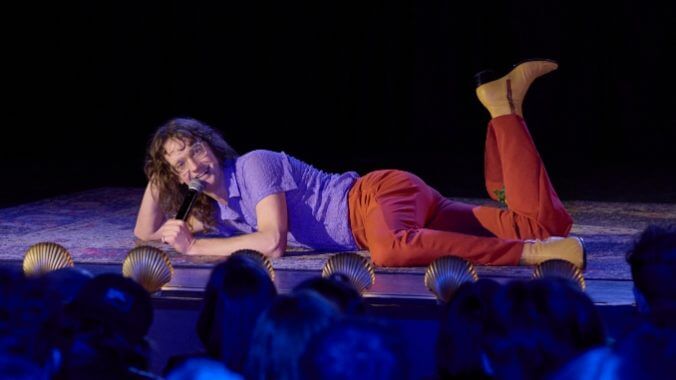 Musical comedy is having a moment; just look 2023 releases A Whole Lifetime with Jamie Demetriou and John Early's Now More Than Ever (though the latter definitely outshines the former), as well as projects from the last couple years like Bo Burnham's Inside and Rape Victims Are Horny Too. Comedian Chris Fleming (not to be confused with the television medium of the same name) is no newbie to the genre—you've probably seen one of his popular YouTube videos, like his biting synth-pop number "Polyamorous" or the ever-relatable "I'm Afraid to Talk To Men." Now, though, Fleming is expanding his repertoire beyond Internet fame with the release of his new Peacock comedy special Hell.
Hell comes out on Friday, August 18 and promises to be an hour for "theater people who don't get cast," as Fleming puts it in a new trailer (note: people with spouses are not invited), starring the "cheapest escort from Arizona." Combining surreal sketches, musical comedy, and stand-up, Hell's upcoming release means that conceptually outside-the-box specials (John Early's latest hour comes to mind) are finally getting their due. It's a refreshing change of pace, and we're ready to see what the Gayle star has in store for eager comedy viewers.
The trailer is a frenzied fever dream, which bodes well for the special itself. Fleming puts on a Cockney accent, whispers hoarsely about Delta Airlines, and prances in front of a projector—all while rocking an incredible red-orange power suit. Interspersed throughout Hell are absurdist vignettes about theater and life in Hollywood, and we get a hilarious and thoroughly unsettling taste of those sketches here, including a glimpse at some strange, creepy little ghouls (which, honestly, is par for the course for Fleming). All in all, the Dynasty Typewriter-filmed, Cat Solen-directed special looks like a wonderfully weird time.