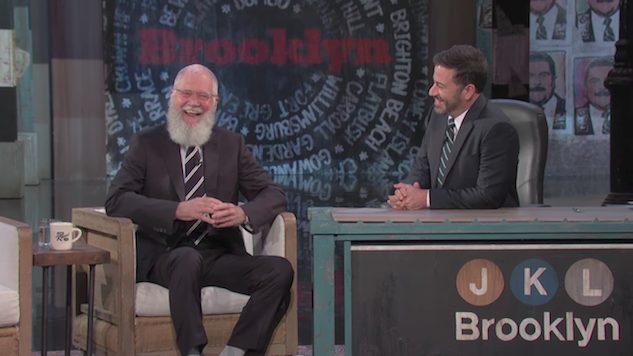 Viewers who tuned into Jimmy Kimmel Live! last night may have noticed an elderly, bearded curmudgeon who apparently wandered on set—well, that curmudgeon happened to be none other than legendary talk-show host David Letterman. Letterman (along with former bandleader Paul Shaffer) appeared as a guest on Kimmel's show during his week in Brooklyn, and showcases the same wit and self-deprecating humor as we've seen from him for decades.
Kimmel has made his admiration for Letterman no secret, and obviously having his retired idol stop by his show was an honor for him. The main topic of discussion was Letterman's penchant of giving absurd gifts to his fellow talk-show hosts, all of whom he respects ("even Jimmy Fallon"). Letterman once sent a pack of "fine meats" to Craig Ferguson, and Kimmel mentions in the interview that Letterman sent him a massive box of his own ties after his retirement—but perhaps the most absurd gift of all was Letterman's gift of a horse to Conan O'Brien, in thanks for a tribute piece that O'Brien wrote in EW.
Letterman still has that familiar sardonic brand of humor that has immortalized him in the comedy world, and setting him across another talk-show host leads to a fun dynamic, not unlike his old appearances on The Tonight Show Starring Johnny Carson. And with Shaffer at the wing cracking jokes in his usual lovable sidekick role, the entire interview really takes us back. Watch the interview in full above, and if you're curious about Conan's own side of what we're calling "Horsegate," check out O'Brien's appearance on The Late Show from last Friday below.