Emma Arnold's Storytelling Skills Shine in Her New Special Myself
Photo courtesy of Shark Party Media
Comedy
Reviews
Emma Arnold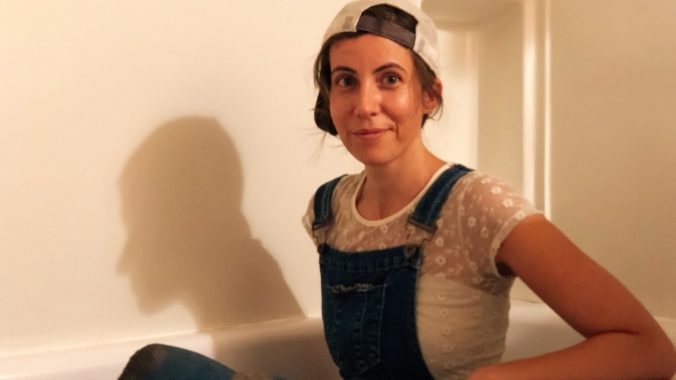 Sometimes you watch a comedy special and you just want to wrap it around yourself like a warm blanket, basking in its silly stories and charming moments. It's been a while since I've felt that way—watching stand-up for your job can take the magic out of it sometimes—but Emma Arnold's new hour Myself made me laugh and immediately conjured a cozy sense of comfort. 
For those of you unfamiliar with Arnold, she's an Idaho comedian who started her career in stand-up as a single mom going through a divorce. In a 2019 interview for Paste, she recounted plunging into the scene headfirst, quickly honing her craft. I spoke with her around the release of her third album Abortion. Abortion. Abortion., and it was clear that she's not just a hardworking comedian—playing in small casinos and unfriendly venues (especially as a self-described "blue speck in a red sea"), whatever it takes—but also a seriously funny one.
Last month, Arnold released her fifth comedy album, Myself, via Blonde Medicine and the special on YouTube. Arnold has been through some shit in her life, but by her own admission is in a better place than ever as she performs her latest hour at The Infinity Room in Salem, Oregon. She takes to the stage with the ease and joy of someone who loves what they do. Myself is thoroughly hilarious and disproves the tired thinking that artists must suffer to make something great—a notion that Arnold plays with as she jokes that she should quit comedy now that she's so happy.
That happiness shines through and becomes infectious as the special continues. Arnold finds pleasure in what some people might call the little things, but which are not so little after all and certainly not to be taken for granted (namely thinking of her mentioning dental insurance). She also manages to mine the humor in deep pandemic life with three teenage sons in a two bedroom apartment, her right-wing neighbor, and her kids' various rebellions against authority. Arnold has some truly wild tales to tell. There's no bells and whistles here, just an exceptional storyteller gracing us with her talent.
Myself is also effective because Arnold is as open as ever; after all, this is a woman who used to have a bit called "abortion or cancer." A failed foursome, a new kink, a semi-legal weed farm—all of it is fodder for her comedy. These stories are inherently funny, yes, but Arnold's willingness to share them endears her to viewers and her delivery makes us feel like unexpected confidants, akin to those intense drunk women who befriend you in a bathroom. That good rapport with the audience is apparent in her crowd work, which is friendly, but conducted with a self-assured authority so that no one tries any bullshit.
From start to finish, this is a satisfying installment in Arnold's already-impressive array of comedy records. Myself is brimming with side-splitting laughs and radiates much-needed joy.
Myself is streaming on YouTube for free and available via Blonde Medicine.
---
Clare Martin is a cemetery enthusiast and Paste's assistant comedy editor. Go harass her on Twitter @theclaremartin.