You Don't Have to Be a Drummer to Dig Fred Armisen's Standup For Drummers
But It Certainly Helps
Photo by David Moir, courtesy of Netflix
Comedy
Reviews
Fred Armisen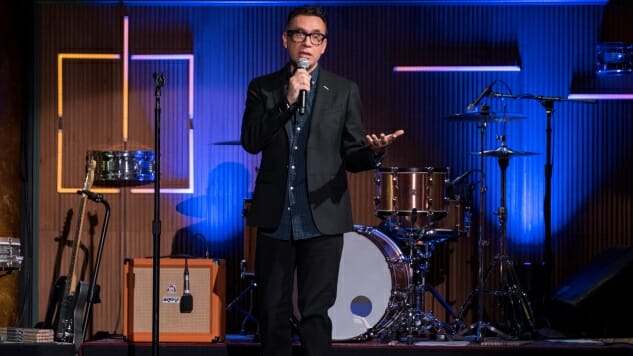 If somebody asked you to predict what a Fred Armisen stand-up special would be like, you probably could've guessed Standup For Drummers almost beat for beat. And that's even if you've never seen his stand-up before, and (like most people) know him primarily through Portlandia and Saturday Night Live. Armisen's interests and mannerisms are so well-defined, and so thoroughly present in his comedy, that they would clearly dominate in his first hour for Netflix, as unmistakable as a Keith Moon fill.
The title isn't just a gag. Armisen, who was a professional drummer for indie rock bands before segueing into comedy, devotes a solid chunk of this hour to jokes that will mostly be appreciated by drummers or anybody who's ever been in a band with one. He riffs on awkward soundcheck banter between drummers and sound men, about the common nuisances of touring with a drum kit, and about how bad non-drumming members of a band are at keeping time. This has to be the only stand-up special to start with a drum solo, include jokes about paradiddles, and feature cameos from Sheila E., Blondie's Clem Burk, Green Day's Tre Cool, Warpaint's Stella Mozgawa and legendary session drummers Thomas Lang and Vinnie Colaiuta. Early on Armisen talks about the pride of being a drummer, and how it means "you're just better than everybody." That pride suffuses the entire special, undercut only slightly with a touch of tongue-in-cheek self-mockery.
Even when he's not focusing on drums, Armisen spends a lot of time talking about music. He runs through various genres that he can't get into, from jazz to zydeco. He uses a sampling pedal to parody a pretentious style of semi-improv, free jazz-inspired experimental rock that is especially popular in Armisen's old home town of Chicago (imagine Joan of Arc, or U.S. Maple without the sense of humor). He pulls up a map of North America and uses his tours in bands like Trenchmouth as a pretext to do a lengthy bit on the various accents you'll find, going state by state and detouring into Canada and Mexico. Music is the context through which almost the entire hour is conceived.
He also digs into the performative aspect of drumming instead of just making jokes about the process and the culture that surrounds it. His impressions of such famous drummers as Moon, Ringo Starr, Meg White and more capture not just the sound and style of their playing, but their body language and facial expressions. Late in the hour he plays a variety of kits to demonstrate how drumming changed by decade from the 1920s through today. Much of it isn't even really comedy in a conventional sense—the drum tour is literally just him drumming for ten or so minutes and sharing factually correct information—but Armisen's earnest love of drumming is infectious, and watching his awkward physicality snap into precise, session-tight drumming is always entertaining.
When Armisen isn't talking about music, echoes of his work in Portlandia and SNL start to reverberate. Conversational observations about the weird ways people interact with one another mingle with absurd asides about feeling sorry for Burger King and 1700s doctors. An impression of a decomposing fox provides the rare bit of physical comedy that doesn't hinge on a drum kit. His delivery is quiet and straight-forward throughout, lacking any hint of anxiety or angst; he's like a friend who just wants to tell you about this weird thing he saw, and sometimes it might be mundane, everyday interactions that we don't even register as being unusual anymore, and other times it's something truly unexpected and bizarre. He relays both kinds of observations with the same steady approach, never telegraphing which direction he's headed in.
The meat of the hour, though, fixates squarely on drums. If you don't play music you might not really get into this special; if you don't even listen to music, well, first off, that's weird, and secondly, stay far away from this one. It's even more laser focused on a specific niche than Portlandia is. If you operate on that wavelength you'll laugh with recognition alongside Armisen and his musician-heavy audience (J. Mascis is in the crowd and doesn't even ever get on stage for some reason!!!) If you don't, you'll likely be as confused as you've always been by Armisen's idiosyncratic work.
---
Fred Armisen: Standup For Dummers is now available on Netflix.
Garrett Martin edits Paste's comedy and games sections. He's on Twitter @grmartin.