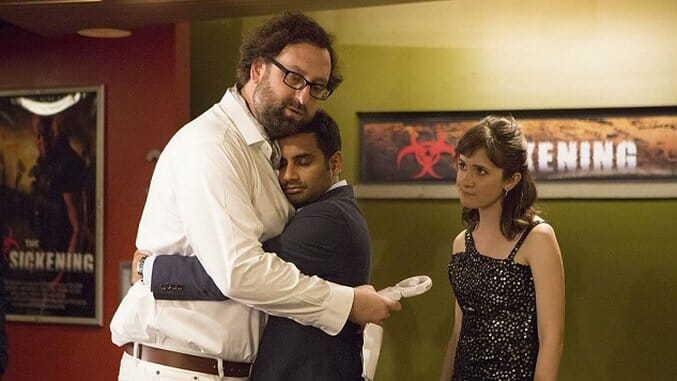 "Finale" is a grab bag. Nearly every supporting player—Arnold, Benjamin, Bryan, Denise and Dev's dad Ramesh—makes an appearance. The Sickening storyline comes to an end, as does the Dev-Rachel romance—or this chapter of it, at least. The episode contains a fairly even mix of playful sequences about modern life (Dev scouring the Internet for the perfect taco for a full 45 minutes), social commentary (reflections on the institution of marriage), and relationship drama (Rachel deciding to call it quits and move to Tokyo after Dev voices some doubts about their future).
Much like Dev, then, "Finale" doesn't commit. It wants to do everything that Master of None is good at in the space of half an hour. After an episode devoted solely to the Dev-Rachel relationship, the assorted quality of the finale is welcome, even if it feels, at times, awkwardly pasted together.
As is the custom in sitcoms, a friend's wedding serves as the catalyst for Dev to question his two-year relationship with Rachel. As the couple exchanges vows, Dev envisions himself and Rachel at the altar instead, delivering cynical takes on the genre like: "Are you the one person I'm supposed to be with? I don't fucking know. But what's the other option? We break up? That seems shitty, too!" To be honest, the show's take on marriage as a "possibly outdated institution" is a tad sophomoric. Divorce rates have been falling for 20 years, and couples who tie the knot, contrary to popular belief, do have a better than 50-50 chance of making it work. Marriage is doing just fine, which doesn't invalidate Dev's fears, but it makes the show's metatextual jab at it feel angsty.
Apart from that scene, Master of None's take on the commitment-phobic man is certainly thoughtful—a meditation on Sylvia Plath's The Bell Jar is one of the series' most poignant moments—but it's still another story about a guy who drags his feet because marriage is scary or something.
For a show that has been wildly inventive, and that has taken on fresh topics like the representation of Indians on television, immigration stories and gendered harassment, it's been disappointing to watch the more conventional romantic subplot dominate the back half. Sure, the show covers this traditional territory with skill, but after so many glimpses of what it can be at its best, it's hard to watch its orbit tighten around themes that have already been explored.
Fortunately, even in this episode, the many bright spots of Master of None shine through. Ansari's obsession with Internet culture turns Dev's disappointment with Rachel's "seventy percent" evaluation of their relationship's potential into the episode's funniest line: "So you're saying if our relationship is a movie you wouldn't go see it." And Dev has friends who talk sense into him in the form of two of the series' best guest stars: Ramesh (played by Ansari's real-life dad Shoukath) and Benjamin (H. Jon Benjamin).
"You have to learn to make decisions, man," Ramesh says, and his wearied frustration with Dev's indecisiveness provides a nice counterbalance to the episode's aforementioned angsty touches.
"Seventy is decent," counsels Benjamin, near the episode's end. "It's like … you passed."
But it's too late for Dev to hear this advice. Rachel leaves for Tokyo, and Dev takes off to attend pasta-making school in Italy—a decision he made "just like that," he tells his seatmate, in the episode's powerful final line.
There's no denying that Master of None has had a terrific first season. It was smartly written and artfully shot. As Dev, Ansari has been a delight to watch, even if it has taken him some time to get comfortable with weightier material. The show has also made excellent use of its supporting cast and guest roster. "Finale" is ultimately constrained by the show's decision to focus on Dev and Rachel, but it's still decidedly Master of None. And the fact that this comedy has already established such a strong internal identity in the span of ten episodes is a compliment that so few shows have earned.
May Saunders is a professional dog walker living in Minneapolis and an occasional freelance writer. In her spare time, she enjoys hanging out with her cat, who does not need to be walked. Follow her on Twitter.