Michelle Buteau on Her New Netflix Show and Why the Real Comedy Heroes Are Names You Don't Know Yet
Image courtesy of Gijs van der Most/Netflix
Comedy
Features
Michelle Buteau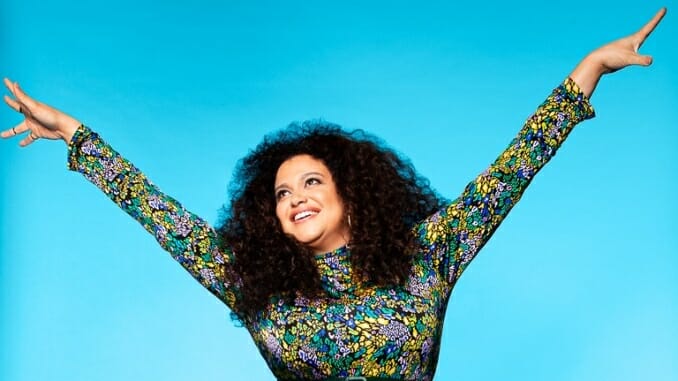 Michelle Buteau is one of the most relatable women comedians today—her one-liners are hilarious and she's famously known as the "queen of quips." You may have seen her award-winning Netflix stand-up special, Michelle Buteau: Welcome to Buteaupia, which earned a Critics Choice Television Award for Best Comedy Special, or alongside Jennifer Lopez in Marry Me, which is now in theaters. The New Jersey native is also the host of Netflix's reality show The Circle, has appeared in Russian Doll and Always Be My Maybe, and stars in the BET+ show First Wives Club, which was recently renewed for a third season. She has an upcoming role in the sci-fi movie Moonshot, out on March 31.
But all along, Buteau has been a stand-up comedian, and she details some of her hilarious tales in her recent memoir, a book of comedic essays called Survival of the Thickest.
Now, the book is being turned into a Netflix series loosely based on Buteau's life, with showrunner Danielle Sanchez-Witzel (New Girl, My Name Is Earl) working alongside the comedian. The show follows a woman named Mavis who, as per a press release, is a "Black, plus-size, and newly single" woman rebuilding her life after a breakup. Buteau talks to Paste about her new series, her 40s, and her comedy heroes.
Paste: How excited are you about your book being turned into a Netflix series?
Michelle Buteau: My vocabulary is limited. I need to find another word besides "excited." She happy. I'm more excited than I was for my wedding, sorry husband! We have a killer first episode; we're putting the pieces together. Netflix is dope about understanding our needs. It's going to be thoughtful, sincere, hilarious, and thought-provoking. The cast and crew have to be diverse. Everything I'm saying is long-winded, that's what happens when I'm in a hotel all day by myself—feelings and nowhere to put them.
Paste: It makes for a better interview, so thanks!
Buteau: Oh no!
Paste: That isolation you're in right now, is it similar to what you experienced while writing your book?
Buteau: I wish! It was a crazy feast or famine experience. My babies were just born and I thought I could write the book in a few months, because I had newborn twins. What the hell was I thinking? Then I started booking shows and the J.Lo movie came up, so my husband threw me into a room after the kids went to sleep for the evening and I wrote until I fell asleep, or in between movie takes. Once I figured out what I really wanted to say, it worked out. It was an emotional marathon.
Paste: How did you arrive at the title, Survival of the Thickest?
Buteau: It was really hard. I had a bunch of key phrases I always say, I have a lot of isms. I have a full heart but tight jeans. Sometimes I call myself a big titty, freckle face unicorn. I wrote down a bunch of stuff I say all the time. It's fun running stuff by people. When everyone says yes—from the publishing house to your mother—you go with it.
Paste: You play a sex positive, body positive woman in the upcoming show. How much of the character is you?
Buteau: It always is an extension of myself. Between the book and my stand-up, it was important to create a world outside of it. There's easter eggs. It's going to be its own thing. Besides the obvious of it being diverse, it really goes back to: You got to get the fuck up. Shit is always going to knock you down, but you got to get up. There's a lesson, even if you don't know it. Sometimes it isn't you that has to catch up to the world, it's the world that has to catch up to you.
Paste: What is sex positivity to you in 2022?
Buteau: No shame in your game. There's this patriarchal thing that happens where you are always meant to feel sorry for ownership of your body or something you like. That's dangerous. I want to take the shame out of it. It has to be a safe space to learn and grow, otherwise we'll just be living in hashtags and trying not to offend someone.
Paste: How do you feel about cancel culture in comedy? Should comedians be more conscious about what they say because of the times we're living in?
Buteau: It's not just comedians, it's everybody who should be taking more responsibility when it comes to how the world is changing. That's a good thing. If I watch TV from 30 years ago, I think, Why does that man hate his wife? It's different now? There's always going to be a space where you can say edgy shit without disparaging a whole community. It can be done; you have to do the work. Keep writing, figuring it out. But on the other side, take a whole ass minute before you start believing 140 characters or less.
Paste: You've said women easily get caught up putting others before ourselves and it's hard to take a chance on a new career. Were you like that or were you always stubborn and focused?
Buteau: Stubborn and focused. I love to help people, it's in my nature. I always need to take a minute to take care of myself. I've learned that over time, even with family members. If it's me doing everything, I have to slowly cut you off. Stand-up is always the reason I leave early at a party, or a trip, my reason was always stand-up. I've always been so passionate about it.
Paste: What was it like working with Jennifer Lopez in Marry Me?
Buteau: I can't say anything bad about her, she's dope. She's a multi-hyphenate businessperson, she's also a Puerto Rican from the Bronx who made her own fucking way. She was on set with her family, it was 2019, when that was allowed. She's still an artist who loves to play.
Paste: Who are your comedy heroes?
Buteau: My comedy heroes are anyone who followed their dream to do stand-up, whether they're making five dollars or five million dollars, against all odds. A lot of the comedians you've never heard of who play five shows a night, those are the real fucking heroes. They're putting together $200 paychecks all weekend to pay their rent and working on jokes.
Paste: I'm happy you say that, you know because you probably worked for free before you turned a profit. It's so easy to give up when you're in the thick of it.
Buteau: Yep. They give up, regret it, go back, have a tumultuous relationship with stand-up and the grind. Those who are still doing it because they love it and make it to the other side of the mountain where they don't have to worry about money, they are the essential workers of comedy.
Paste: What has happened since your special Michelle Buteau: Welcome to Buteaupia came out?
Buteau: The response has been great, but because the pandemic is still going on, I feel like I won a pageant, but I'm sitting in a dark room. Netflix is very body positive and I'm a size 18 or 20. Everyone is worthy of love. Let's put different bodies up on this platform. If it isn't my comedy special, it might be The Circle. I'm grateful for Netflix for believing in a bitch because I've been tap dancing for multiple networks for a good while and my knees are tired.
Paste: What is it like being in your 40s?
Buteau: OMG how much time do you have, sweetie? You take all the things you've learned, good and bad, and you have an arsenal of what to do. If you've lived a life where you've put yourself out there in your 20s and 30s, you know what's going to happen. I love telling people what I need without apologizing. It really is a superpower. It's a crossroads, you see how much time you have. Defining your own happiness, living every moment.
Paste: What advice do you have for women comedians who look up to you and aspire to do what you're doing?
Buteau: Oh, my goodness, don't look up to me. Don't do that! Honestly, I feel like anytime someone asks me if they can pick my brain, learn how to make money, you have the answer. You just have to dig deep and fucking listen. You are only in competition with yourself. It's you. What can you do to make it better? Don't look at me! Thank you but no.
---
Nadja Sayej is a New York-based culture journalist who has written five books. She's on Twitter @nadjasayej.