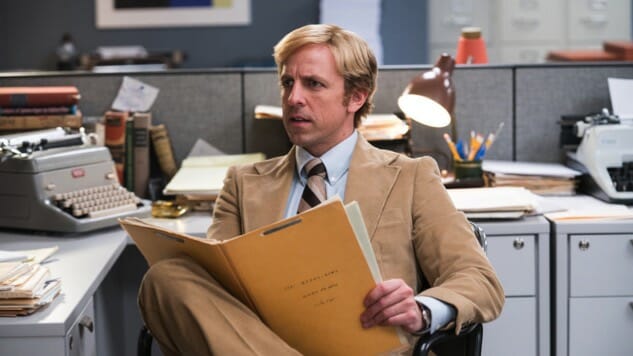 It's nearly time for the 90th Academy Awards, and as is tradition, Late Night host Seth Meyers is getting in on the action with a movie of his own. Much like last year's "Oscar Bait," "Newspaper Movie" is Meyers' attempt to land a statuette, only this time, he's aping Steven Spielberg's The Post instead of Manchester by the Sea, pandering to the fourth estate instead of your emotions.
Also taking aim at All the President's Men, Spotlight and the fifth season of The Wire, Meyers' "Newspaper Movie" preview nails everything that makes a prestige journalism drama: fluorescent lighting, clacking typewriters, ridiculous heads of hair, copious amounts of cigarette smoking and, of course, the phrase "I think this goes straight to the top." There's also a suspenseful park bench manila folder exchange made hilarious by Late Night writer Amber Ruffin, in the spirit of journalism, asking the important questions: "What the hell are you two cooking up? Is it in the folder? What's in that folder?" And as the overwrought voiceover announces, "You can bet your sweet ass there's a scene with a very long, pregnant pause while everyone waits for the editor to say, 'Run it.'" Very long is right, but stick around till the end of the sketch—there's quite a kicker at the end regarding who tends to get the credit in films of this ilk.
If you weren't already aware, you'll be shocked to hear that The Post is indeed nominated at this year's Oscars, with nods for Best Picture and Best Actress. Though we successfully predicted those noms when The Post was first announced, we also had it penciled in for Best Director and Best Actor. This can only mean one thing: The fix is in. We think this goes straight to the top.
Watch Meyers' "Newspaper Movie" sketch above and read Paste's review of The Post here.