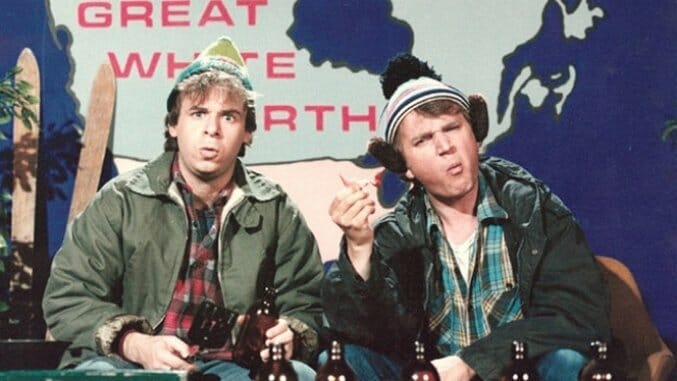 It's been 40 years since SCTV made the leap from the stage to the small screen. Since then, the Canadian sketch show has grown from a cult classic into one of the most influential sketch comedy shows of all time. Not only did it introduce viewers to the likes of John Candy, Eugene Levy, Catherine O'Hara, Dave Thomas, Joe Flaherty and Andrea Martin in its first season alone, but its approach to sketch comedy was unique at the time.
Growing out of the Toronto Second City stage cast, the fake network at the heart of SCTV gave the cast an opportunity to do pretty much anything. They could spoof soap operas, late-night talk shows, made for TV movies, or even go behind the scenes and explore the characters running the little station that could. The show dealt in timely cultural parody while also building its own self-contained universe full of unforgettable characters. As such, it seems nearly impossible to take SCTV and narrow down its many and varied characters into a "best of" list.
Although it ran between 1976 and 1984 (with a few gaps here and there), the show's most memorable characters arguably appeared over its first two seasons, when the biggest names in Canadian comedy were involved. Here are the 10 most memorable characters to appear on the show. Now, let the backlash begin.
10. Maurice "Moe" Green
SCTV's station manager Moe Green (Harold Ramis) appeared throughout the series in all kinds of sketches, whether serving as an instructor, hosting his own show or appearing in PSAs (of sorts), like that one time he shared symptoms you might have if you're recently dead. You know, in case you were confused. Green was the straight laced go-to whenever the station needed to fill any programing holes, especially during the late night hours. As a result, the types of shows he was involved in weren't always the biggest hits, which of course created big laughs.
9. High Q Contestants
Not technically one character, High Q packs in several memorable characters all in one sketch. Hosted by Alex Trebel (Eugene Levy), a thinly veiled poke at future Jeopardy host Alex Trebek long before Will Ferrell ever tackled that impression, the show spoofed high school academic quiz shows like Canada's Reach for the Top, which Trebek actually hosted for a period of time. Pitting three students from rival schools against one another, the show asks straightforward questions, but gets a variety of answers depending on each student's neuroses or dimwittedness. Margaret Meehan (Catherine O'Hara) became a particular stand out in the sketch; she always jumped the question and answered wrong as a result, much to her embarrassment.
8. Lola Heatherton
An entertainer through and through, Lola Heatherton (Catherine O'Hara) was known for her platinum blonde hair, a big laugh that punctuated her quick speech, and for being a parody of Joey Heatherton and Lola Falana. Appearing throughout the series in short sketches that showcased her singing, she also joined Sammy Maudlin on his talk show. There, she interacted with other personalities from the entertainment industry, trading industry secrets and compliments more than anything else, but of course her own personal tribulations often came to the surface through those conversations. It's no wonder Heatherton was more known in the SCTV universe for her personality than her talent.
7. Bobby Bittman
Another regular guest on "The Sammy Maudlin Show," comedian Bobby Bittman (Eugene Levy) was every bit the 1970s funny man, from his hair to his disco suits to his numerous gold chains. Exuding a smarmy air, Bittman's comedic style tended towards cheesy set-ups with one-liners that revealed more about his sad life than anything else. When not doing stand-up on Maudlin's show, Bittman could often be found sitting in one of the chairs gabbing with the other guests and acting just as corny as a narcissistic entertainer can be. Levy's Bittman, like Flaherty's Maudlin and O'Hara's Lola Heatherton, formed a hilarious picture of the entertainment industry at the time.
6. Perini Scleroso
While Andrea Martin's leopard-clad loudmouth Edith Prickley may be the go-to for a list like this, it's the SCTV station's Eastern European janitress Perini Scleroso who remains Martin's most outrageous character. Even though Scleroso found the English language barrier to be a significant communications issue, her genuine attempts to converse with those around her led to laugh out loud chaos, frustration and more. Appearing in numerous sketches, like briefly taking over programming while station owner and president Guy Caballero (Joe Flaherty) took a break, or learning English in "English for Beginners," Scleroso's innocent way of mimicking others' speech often revealed their own hang-ups more than her own.
5. Tex & Edna
Tex & Edna Boil (Dave Thomas and Andrea Martin) of Tex & Edna's Organ Emporium spoofed local car dealership TV commercials. As two married entrepreneurs who owned four and a half miles of organs, they tried every kind of gimmick they could think of to lure customers to their warehouse. From offering lots of parking to free sausages, they always had a way to grow their customer base. Tex typically sat in the back on an organ while Edna stood closer to the camera and pitched their wares while sharing rambling stories that often went down wacky rabbit trails. This awkward couple eventually branched out beyond the organ business as the show progressed, even somehow winding up in the budgie smuggling business.
4. Count Floyd
Before "Netflix and Chill" became everybody's de facto Saturday plans, Count Floyd hosted "Monster Chiller Horror Theatre," a program that showcased the worst of the worst in horror movies (or, depending on your take, the best of the best). SCTV often used promos as a way to spoof TV or films without investing in a fully developed narrative, and "Monster Chiller Horror Theatre" used that format to full effect. As vampire host, Count Floyd (Joe Flaherty), aka TV anchor Floyd Robertson, portrayed the popular children's program host. Emerging each time from his coffin while simultaneously howling like a wolf, Count Floyd introduced each week's "scary" film, promising chills, thrills and more, while mostly just offering up the expected SCTV incompetence.
3. Neat Guys
Another classic group sketch, 5 Neat Guys (John Candy, Joe Flaherty, Eugene Levy, Dave Thomas and Rick Moranis) offered up "the neatest sounds from the '50s." Conservatively dressed in slacks and mostly matching sweaters spelling out "5 Neat," the guys were the clean-cut vocalists parents loved, and a fun send-up of the neutered barbershop-inspired songs that reigned supreme during the mid-20th century. Singing such memorable numbers as "Let's Have a Party in My Rec Room," "Who Made the Egg Salad Sandwiches?" and "My Mom Framed My High School Diploma," the parties featuring 5 Neat Guys' music must've been raging.
2. Bob & Doug McKenzie
No list would be complete with Bob and Doug McKenzie (Rick Moranis and Dave Thomas), who would go on to spawn their own comedy album, film and more. Perhaps the most famous characters to emerge out of the program—at least the most instantly recognizable—Bob and Doug appeared on the show "Great White North," serving up Canadian stereotype after Canadian stereotype. The only characters on this list introduced after the show first two seasons, Bob and Doug debuted in Season 3. The characters' hard Canadian accents, their foreign vocabulary (toques anyone?) and their penchant for beers and jelly doughnuts all skewered Canadians and Canadian culture at the time, much to Canadians' amusement.
1. Johnny LaRue
John Candy did several notable impressions and original characters during his time on SCTV, but his major contribution had to be in the form of Johnny LaRue. LaRue was a jack of all trades (someone "Geraldo Rivera" described as a "publisher, producer and multimillionaire" in one particular segment), but he got his start as an actor. Appearing in movies airing on the SCTV network like Chinatown spoof "Polynesiantown," LaRue was a smooth talking man-about-town always looking for a way to keep his face in the limelight or make a buck, like that time he hosted a cooking show but tailored it to poor people once he discovered they existed in the world.
Amanda Wicks is a freelance journalist specializing in comedy and music. As a Canadian, she's happy to say she does know that guy from Toronto you met once. Follow her on Twitter @aawicks.