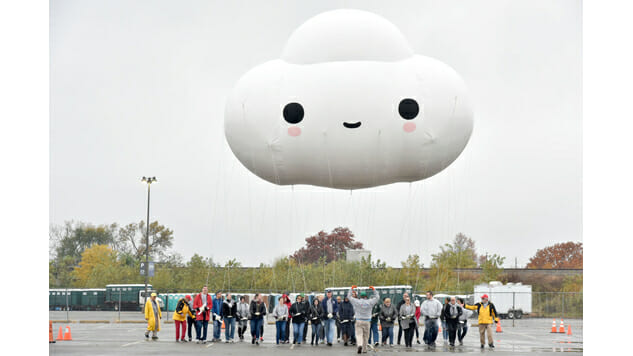 Happy early Thanksgiving, beautiful Paste readers!
Y'all, I think I'm going to do it. I think I'm going to take "a break" from Twitter and Instagram. It's one thing to be obsessed with death; it's going to happen to all of us. But lately, I've been espousing theories about demons and demonic entities on podcasts and on Twitter, and it's worrying my friends and family and strangers who've just met me.
Should I start reading like… books or some shit? Can you all recommend me some? Preferably it'll have lots of very short chapters, very short paragraphs, crazy big pictures, and no real narrative, so I can just jump in and out at will. Growing up, I had a real thing for encyclopedias and illustrated dictionaries, so maybe I'll just attempt recapturing that magic from a past life.
Finally some free time. Should I push the button on my phone that makes me feel bad about my career, the one that makes me feel bad about my body, or the one that makes me feel bad about the people I grew up with?

— Nate Usher (@thenatewolf) November 17, 2018
Toy Story but from the point of view of God who does not understand why this is happening for it is not part of his plan.

— Anthony Herrera (@guacho_mufungo) November 13, 2018
RIP Stan Lee the favorite author of guys like me who barely know how to read

— Sam Harter (@SlamHarter) November 14, 2018
All this "30 under 30" and "13 going on 30" shit, don't let it get in your head. Edgar Allen Poe didn't marry his 13 year old cousin until he was 27. Qin Shi Huang didn't unify China until he was 38 and he killed possibly millions of people in the process & burned sacred texts.

— ALEX DEGEN MAGIC SERPLE 2018 (@ADACTIVITY) November 14, 2018
thinking about how in the Dark Knight Rises batman gets his back broken and then somehow heals himself (??) and then defeats bane by just punching him harder. that's like me getting back together with my ex by telling her "this time babe, I'm going to cum even faster"

— zaksgiving dot net (@zakagan) November 14, 2018
while you were studying the blade i was studying the blade. we went to blade school together

— i know perl now (@vrunt) November 15, 2018
i used to do a bit on facebook where i'd subtly make weird claims in random arguments, & cite this magazine i had also made called "Scientific Facts." It worked every single time, & the page got a shitload of corroborating likes even though it was just a bunch of posts like this pic.twitter.com/u5V63ihff1

— diana thirst (@cocksailor) November 16, 2018
doctors say you shouldn't spank your kids, yet i was spanked as a child & now think about death every 36 minutes

— Official Enya VEVO (@nachdermas) November 17, 2018
No one gives a shit what your Lyft driver said, played, or did.

— Billy Wayne Davis (@BillyWayneDavis) November 17, 2018
I've lost count of how many people i've slept with but i think it's like 8

— Joe tullar (@joetullar123456) November 18, 2018
Why do so many of y'all post poems with your thirst traps? I'm just here for the butt ma'am

— Danielle Radford (@danielleradford) November 18, 2018
Today Lindsay Lohan came to the place I worked at and we started talking and I mentioned that my son needed a kidney transplant but I couldn't find a donor. She stood silent for a few minutes then went to her car and came back and gave me her own kidney. God bless! pic.twitter.com/FJrtJN4kBr

— Janette Simons (@JanetteS988) November 18, 2018
time can change a lot of things, about a man, pic.twitter.com/N3M3zJ9sVK

— Family Feudalism (@levarburzum) November 15, 2018
To the homeless man outside screaming and passionately rubbing his penis against the front window of this deli: I love you I see you you are seen

— please step out of the car (@aye_omari) November 19, 2018
me: pulls out my weiner to piss

my brain:

Don't do it
Don't do it
Don't do it
Don't do it
Don't do it
Don't do it
Don't do it
Don't do it
Don't do it
Don't do it

me: attempts to suck my own dick while peeing, gettin piss all over my face & i am coughing/choking on my urine

— Dan Licata (@danlicatasucks) November 18, 2018
coworker: I've been feeling under the weather lately

me, wheeling into the cubicle on my desk chair: we're all under the weather, that's how clouds work, Brenda, you fucking idiot

— gracie hoos (@cottoncandaddy) November 14, 2018
Spitballing off Detective Pikachu, I'm thrilled to share a sneak peak of these inspired untapped goldmines pic.twitter.com/Nn2n73amUy

— Bailey Norton (@baileyenorton) November 12, 2018
This actually looks promising. pic.twitter.com/Y2suMcwpt7

— James Urbaniak (@JamesUrbaniak) November 13, 2018
Lotta game left though. pic.twitter.com/N3bI1JANHO

— Gourmet Spud (@gourmetspud) November 18, 2018