Samantha Bee, John Oliver, Chris Gethard, 150+ Other Comedy Writers Support Onion Inc.'s Unionization
Photos by David McNew/Getty
Comedy
News
the onion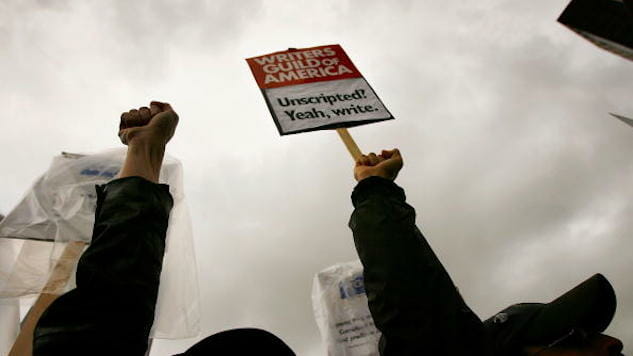 John Oliver, Samantha Bee, Chris Gethard, Jon Glasser, Robert Carlock and former The Onion editor Joe Randazzo are among the 150+ comedy writers who have come out to publicly support Onion Inc. in their recent decision to unionize.
Last week, the company that operates satirical and pop-cultural sites like The Onion, The A/V Club and Clickhole, Onion Inc., announced that over 90 percent of its staff had voted in favor of joining the Writers Guild of America, East (WGAE), a labor union that protects writers in movies, television, cable, digital media and broadcast news.
The WGAE represents media agencies across the entire spectrum of the entertainment industry, including companies like Vox Media, HuffPost, VICE and MTV News, among many others. Hundreds of writers representing programs from The Daily Show to SNL signed a statement of solidarity on Friday to symbolically stand with Onion Inc.
"Solidarity is a fundamental part of our union's strength," said WGAE Executive Director Lowell Patterson in a statement. "Our members collaborate in their work and in their union, and we are proud that the editorial and production employees at Onion, Inc. will become part of this community of creative professionals."
The solidarity letter welcomes Onion Inc. into the organization and congratulates the company on their ability to come together to form a union. It reads:
We are proud to welcome the creative staff of Onion, Inc. to the Writers Guild of America, East. Amid rapid media and political changes, media professionals continue to stand together to uphold and improve working conditions and freedom of creative expression. Our work is collaborative and standing together as union members is a logical expression of that collaboration. As comedy and entertainment writers, we applaud Onion Inc.'s inclusionary vision—with The Onion, ClickHole, The A.V. Club, Onion Labs, and the essential contributions of Onion Inc.'s video and art departments—coming together to build a union. We're thrilled to stand with our colleagues.
Over 1,000 digital staff members have joined the WGAE in the past two years. More and more writers are seemingly looking to unionize with the labor union in order to protect their creative and economic rights. In 2016, the Huffington Post became the largest unionized digital media outlet through the WGAE.
With the union's numbers quickly increasing, it's safe to say that Onion Inc. will be one of many digital media companies soon to unionize (and that's no joke).
Read the WGAE's full Onion Inc. solidarity statement right here.