Everything Else We Loved (and Hated) about Comics in 2017
Main Art by Katsuhiro Otomo
Comics
Features
Comics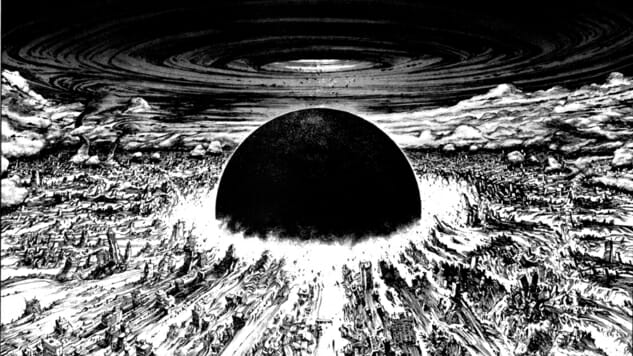 What a year. What a year. Without stealing too much thunder from the individual entries below, there's a firm consensus that 2017 was a "best of times, worst of times" deal for the sequential-art industry, where excellent books were often swept up in the tide of industry failures and controversies. While we brought you our picks for the Best Comics of 2017, the Best Kids Comics of 2017 and the Best Artists of 2017, we also wanted to steal a few column inches each to discuss our highs and lows for the year outside of ranked, balanced lists. This retrospective also serves as a bit of a farewell to longtime Paste editor and darling of a man Sean Edgar, who leaves us in January [Ed.: Someone's choppin' onions] to take over as brand manager for Image Comics. Assistant Editor Steve Foxe will shed the "assistant" part of his title to continue offering you the finest in comics journalism. Before that baton is officially passed, check out what the two of them, as well as founding Paste Comics member Hillary Brown, had to say about this dreadful, delightful year in comics.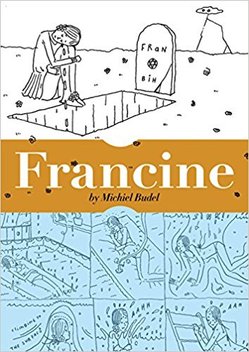 Hillary Brown, Freelance Darling, Cape-Comic Contrarian
Presumably, I need to do more than just write an eyeroll emoji and call it a day. The downside of a list culled from a whole bunch of people is that it tends to flatten out the selections, which means you get more things that everyone kind of likes and not a whole lot of weird things that individuals totally love. Paste's list is also annoying to me because it includes a lot of things I'm not that interested in reading, like most floppies (sorry, y'all, I do not have time to keep up with things that come out every once in a while; put it in a book or an RSS feed and I'll pay more attention) or anything involving capes.
It does include plenty of things I really liked, and some that made my very top few: Eleanor Davis' You & a Bike & a Road is the best book of the year, no question, a brave foot-stomp in the face of a big, scary universe. Gary Panter's Songy of Paradise is a beauty and a goof and an actual wrestling with Milton and our current era, all at the same time. And Sophie Goldstein's House of Women is complicated, lush and fiercely well thought out.
There are things I wrote about this year for Paste that I wish had made the list, like Simon Hanselmann's One More Year, in which the cartoonist continues to flay himself for our enjoyment, and Seth's unexpectedly touching Palookaville 23, but this is a place for highlighting things that didn't get the love they deserved.
First and foremost among them is Michiel Budel's Francine, published by Secret Acres, which violates every rule of good taste and composition and succeeds either because it doesn't care what you think or in spite of that. It's not that the book is offensive, but it is confusing and charming in equal parts, with broken panels and strange English, word balloons that seem completely at odds with the body language of the characters, underpants galore and people who seem like marionettes for the artist. It is a fireworks show of termite art. Lars Fiske's Grosz does something similar, almost without words, but manages to capture the angry howl and appetite for life that fueled the work of its subject, the artist George Grosz. Michel Fiffe's Zegas has so much going on in its corners that it constantly makes the reader ask "Why?" in the best way. And the first volume of Fantagraphics' new anthology, Now, had an amazing quality-to-page-count ratio and some incredibly strong individual pieces. You should go read all of those things and then enjoy rolling your eyes at me.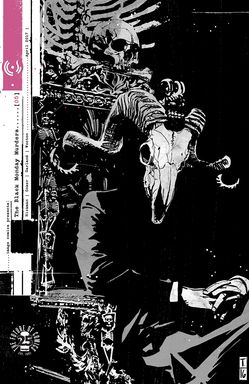 Sean Edgar, Outgoing Editor, Father John Misty Fanboy
It's not exactly a hot take that 2017 was a rough year for comics, as falling sales from traditional top sellers have imperiled the comic book store. This article is from December 2016, but it's still frighteningly appropriate. The question is whether we're one recession from the death—or at least hobbling—of the direct market, especially for stores built on an exclusive foundation of capes and longboxes. If there was ever any question whether Marvel's wildly successful cinematic efforts would benefit their source material without question, let 2017 serve as a definitive answer. The publisher cancelled All-New Guardians of the Galaxy the same year its second cinematic outing netted $863 million at the box office. This isn't a bad thing: comics are good for the sole sake of comics and should be evaluated as such.
And DC can certainly mirror that sentiment, albeit from a different perspective. The Burbank-based publisher of Batman, Superman and Wonder Woman served a yang to Marvel's yin, with its lackluster Justice League film counterbalancing a progressive editorial calendar that didn't stop surprising. Tom King and Mitch Gerad's Mister Miracle is a hugely personal, fearless comic about '70s space gods navigating the claustrophobia of this era. King also brought a healthy dose of complexity (and promised nuptials) to Batman after a shaky start, and Gerard Way's Young Animal imprint continues to usher the brainy post-modern cool of early '90s Vertigo back onto the stands. Scott Snyder and Greg Capullo's ambitiously bonkers event Metal has the Caped Crusader dominating the top 10, and injecting anything-goes action-figure fun back into the universe.
But, personally, this year was about looking beyond the corporate staples and, as noted above, realizing that a shifting marketplace may leave the comic landscape looking very different very soon. I won't rehash our end-of-the-year list, but there were a few books I adored that didn't make it due to spreadsheet democracy. Matt Fraction and Albert Montey's Solid State offered a sleek bit of synergy with Jonathan Coulton's album of the same name—both were disarming, clever and haunting without sacrificing their innate goofiness. Mimi Pond's thinly veiled memoir The Customer Is Always Wrong reads like the '70s were condensed between two covers. It's an honest, anxious read that feels like sitting down with a childhood friend for them to tell you the most touching and absurd bits of their life they couldn't announce in front of your parents. And don't get me started on Black Monday Murders. (Full disclosure—I'll be working for the company that publishers this book next month). Jonathan Hickman once more layers plot beats like a master architect, working in perfect harmony with the photocopy realism of Tomm Coker. This is a comic where a professor ventures to the bottom of the Fed to discover a demon god who controls all money, and it is utterly fantastic.
My number-one joy from the past 365 days, though, has been the tent-pole manga reissues. It's criminal how much American media—yours truly included—neglects international output, and Japan's legacy is intimidatingly rich. The Akira 35th Anniversary Box Set condenses one of the most important events in sequential art into a hefty package, and no hyperbole can encapsulate the sheer talent underlying Katsuhiro Otomo's cyberpunk epiphany. I'm still in the middle of the six-volume saga, and the sheer scope and fluidity that the art traverses—from nuclear devastation to kinetic motorcycle crashes—is mesmerizing. Some artists specialize in a specific area, like body language, landscapes or action, but Otomo bridges those gaps with intimidating finesse. Horror god Junji Ito also curated a handful of his favorite nightmares in his Shiver collection, and Battle Angel Alita Deluxe Edition finally offered Yukito Kushiro's junk-yard odyssey with full-color splashes and without the crude exposition bubbles that populated previous American versions. Releases like these reminded me that there are masterpieces one translation away from showing how vast the global comic ecosystem remains.
What am I excited for in 2018? Solving all of the problems described above…and the new Father John Misty album.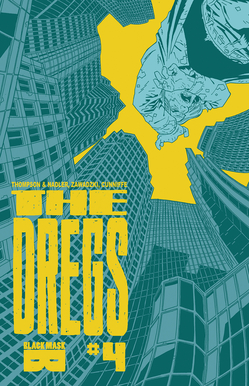 Steve Foxe, Incoming Editor, X-Men Apologist
As Hillary and Sean ably covered above, capital-C Comics is a wide umbrella, one that weathered many, many storms in 2017, and reducing that to even 25 standout examples of the form results in countless worthy omissions. The first that came to mind when scheduling our best-of post was a grotesque little Black Mask ditty known as The Dregs, co-written by incoming Cable scribes Zac Thompson and Lonnie Nadler and illustrated by exciting newcomer Eric Zawadzki. Melding Cronenbergian body horror with class-conscious social commentary, The Dregs rightfully positioned its creative team to spread their fleshy wings wide across the publishing scene. Fellow Black Mask titles Beautiful Canvas from Ryan K. Lindsay and Sami Kivela and Black from Kwanza Osajyefo, Tim Smith, Jamal Igle and crew further cemented the publisher as a home for sharp, unafraid storytelling.
For all the controversy of Doomsday Clock and Secret Empire (not to mention Eddie Berganza and "Akira Yoshida"), purely in terms of quality, both DC and Marvel kept this cape-comic fan-boy satisfied throughout 2017. Tom King, with expert assistance from Mitch Gerads, among others, dug deeper into a Batman run that, like the controversial The Last Jedi, seems willing to confront and embrace its core character's failures. Steve Orlando, Riley Rossmo and Scott Snyder offered one of the best standalone Bat-tales in recent memory with Batman/The Shadow: Murder Geniuses, and Orlando and a gaggle of artists continued to build a Justice League of America run that recalls the Morrison/Porter era in the best of ways. Metal is the sort of self-contained crossover that (sorry!) I tend to trade-wait, but titles like Green Arrow, New Super-Man, Detective Comics and Super Sons all proudly kept the Rebirth banner aloft.
Marvel struggled much more to get readers to actually read many of the best comics, including the soon-to-conclude Hawkeye from Kelly Thompson and Leonardo Romero, but, as unabashed mutant gene-trash, I have to celebrate the bounty of readable X-titles coming out from the publisher. While Gold and Blue remain underwhelming, Jean Grey, Iceman and Generation X all recalled the best of various previous eras for the X-Men—and all have been announced as cancelled, so…that's cool. Thankfully, Ms. Marvel, Squirrel Girl and Moon Girl also continued into yet another relaunch without missing a beat. If you ignore the half of the year where we had to tolerate the big Nazi crossover, Marvel felt a lot like Marvel these last few months. (Their Star Wars comics, as I detailed here, were also pretty uniformly awesome.)
Keeping up with so many "newsworthy" releases often shortchanges me for independent books, but a few deserve special mention here: Violent Love from Frank J. Barbiere and Victor Santos proved that Brubaker/Phillips isn't the only killer team in crime comics; Paradiso by Ram V. and Dev Pramanik was an impressive debut that shouldn't get lost in the end-of-year haze; Jason Loo's Pitiful Human-Lizard remains one of Canada's finest exports; and Kieron Gillen, Jamie McKelvie, Matthew Wilson and pals' The Wicked + The Divine remains my personal favorite ongoing comic. Massive disclaimer for a conflict of interest, but Oni Press published the cutest and sexiest books I enjoyed this year: Katie O'Neill's The Tea Dragon Society and Trungles' Fauns and Fairies adult coloring book (emphasis on "adult"). Oh, and Hellboy: Krampusnacht from Mike Mignola and Adam Hughes was horrifying and awesome. More demon goats in 2018, please.
I'll echo Sean when it comes to manga—the Western press is woefully under-serving this section of publishing. Horror maestro Junji Ito released a new collection of shorts, Kengo Hanazawa's I Am a Hero continued its domination of horror storytelling, Masaaki Nakayama's disturbing PTSD Radio entered the American market, and both One-Punch Man and My Hero Academia sustained their masterful cape-comic storytelling, proving that manga can meet and surpass the bars set by Western comics. Kodansha's massive Akira boxed set is easily the coolest single item published this year (even when left out in the snow by careless couriers).
My broad hope for 2018, as I pick up the banner from the illustrious, Image-employed Mr. Edgar, is for all of the awesome shit from this year to shine in the next, unburdened by bigoted YouTube personalities, predatory publishing men and gimmicky industry practices. More selfishly, I'm thrilled that the Gerard-Way-curated Young Animal imprint looks to have a full year ahead, and that we'll see more projects from former Vertigo guiding voices Karen Berger (with her Berger Books imprint at Dark Horse) and Shelly Bond (with Black Crown at IDW) hitting shelves in the next few months. The Big Two is also set for a seismic shift as Marvel architect Brian Michael Bendis sets up shop at DC for the first time—but we're starting to cross into "Most Anticipated" territory. If we can get rid of the Nazis and the abusers, there's some damn good stuff out there, and I can't wait to talk about it over the next 12 months.