Valiant Heroine Faith Teams Up with Hillary Clinton this November
Main Art by Carmen Carnero
Comics
Features
Faith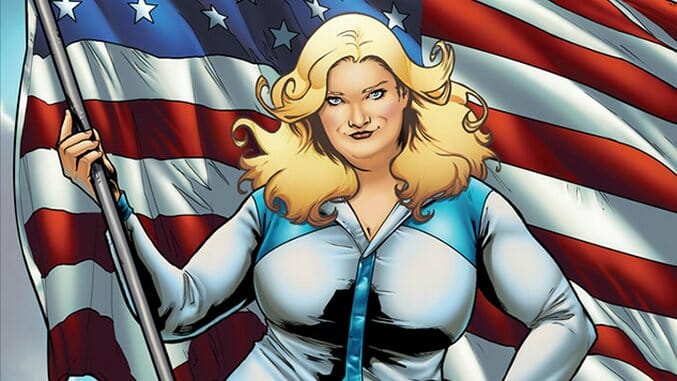 This November, Valiant Comics' beloved super-heroine will participate in one of the most pivotal elections in American history: Faith #5 will feature the titular, plus-size telekinetic optimist in a 48-page election story featuring Democratic presidential nominee Hillary Clinton, written by the legendary Louise Simonson (the original X-Factor) with art by series illustrator Pere Perez.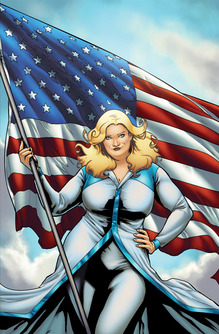 "Louise is a living legend of comics. We knew a story like this needed someone who could come to it to tell a great story that reflects the world around us and encourage our readers to get out and vote," Valiant editor Tom Brennan told Paste. "We knew we wanted to celebrate a historic election, we knew we wanted to encourage our readers to participate in the process and we knew that, as one of Valiant's premier characters, Faith was a young woman tied into popular culture and the zeitgeist of both entertainment and serious news. It's a book that feels like it's happening right now, right outside your door. It seemed like perfect timing."
While Clinton isn't the first real-life historical figure to appear in Valiant's comic universe—or Simonson's work, for that matter—the pressure to tactfully represent the nominee was prominent. "I put Hillary and Bill in the Death of Superman comic a long time ago," said Simonson. She cited her biggest challenge as writing believable dialogue and putting the presidential nominee in situations where she can respond realistically. "You want her to react in a way that's true to her, as you understand it, and yet you're making it up," Simonson explained.
"Usually, you're used to seeing these historical figures or real leaders as texture," added Brennan. "Rarely do we really directly interact with them and make them an active part of the story. That's what happens here; it's Faith's first election, we'll be exploring Faith's world view. She's not comfortable with elections being viewed as entertainment. She takes it seriously. And her run in with one of the two candidates will illuminate that point of view."
On the surface, it seems like a no-brainer that Valiant would have a superhero who's become an inspirational, important role model interact with another trailblazing woman. "Faith is a great character," said Simonson. "She's a light in the Valiant universe, which tends to be grim and scary, because scary is more dramatic than cheerful. She manages to look at things in a positive and to my own sense very heroic kind of way, in that she's willing to sacrifice her own best interest to try to make the world a better place."
In Brennan's eyes, that made Faith the perfect choice for an issue that focused on the current political landscape without any bias.
"You never want to step into politics in entertainment unless you have a good story to tell, and we didn't want to push any candidate as the Valiant candidate of choice," said Brennan. "Valiant's universe was built from the beginning to be as reflective of the real world as possible. Part and parcel with that, readers have seen, and will continue to see, real-world figures included in our comics on a regular basis. Within the past year or so alone, we've seen political figures like President Obama and Vladimir Putin play key roles in series like Harbinger and Divinity."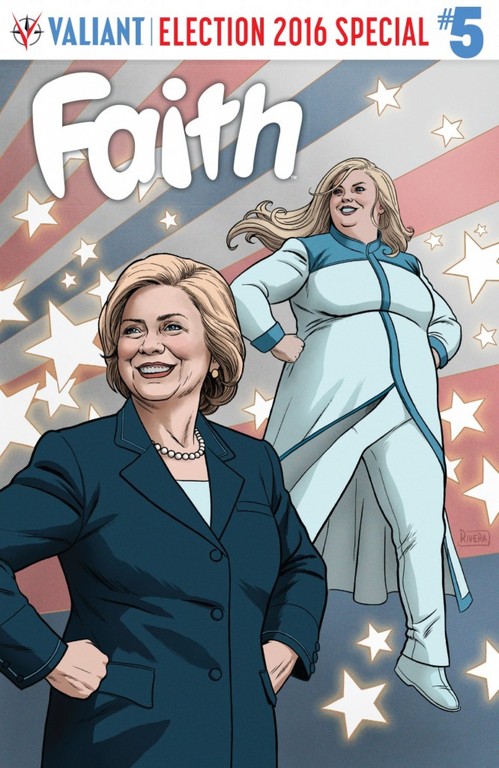 Faith #5 Cover by Paolo Rivera
These creative choices are quickly setting Valiant apart, using comics to appeal to readers in new and unconventional ways. "We in comics reach a batch of readers, and some of our readers may have never had a chance to vote before," said Simonson. "And it's important for them to actually cast their ballots. I hope this encourages them to do so." If nothing else, Simonson hopes the story resonates with readers in the way that the comic has been doing for the past four issues.
"One of the things I like about Faith is that she has a very strong moral compass. It's almost old-fashioned, because what she learned about being a hero is hardly what she learned from comics when she was a kid. I think that for me, Faith is pretty much the epitome of a hero. But she's also a young woman who is very involved in the world and fantasy and stories and real life, and I think maybe she's trying to make the real world as fine a place as it is in her own dreams. I hope people come away thinking that themselves."